All of a Flutter with Butterfly prints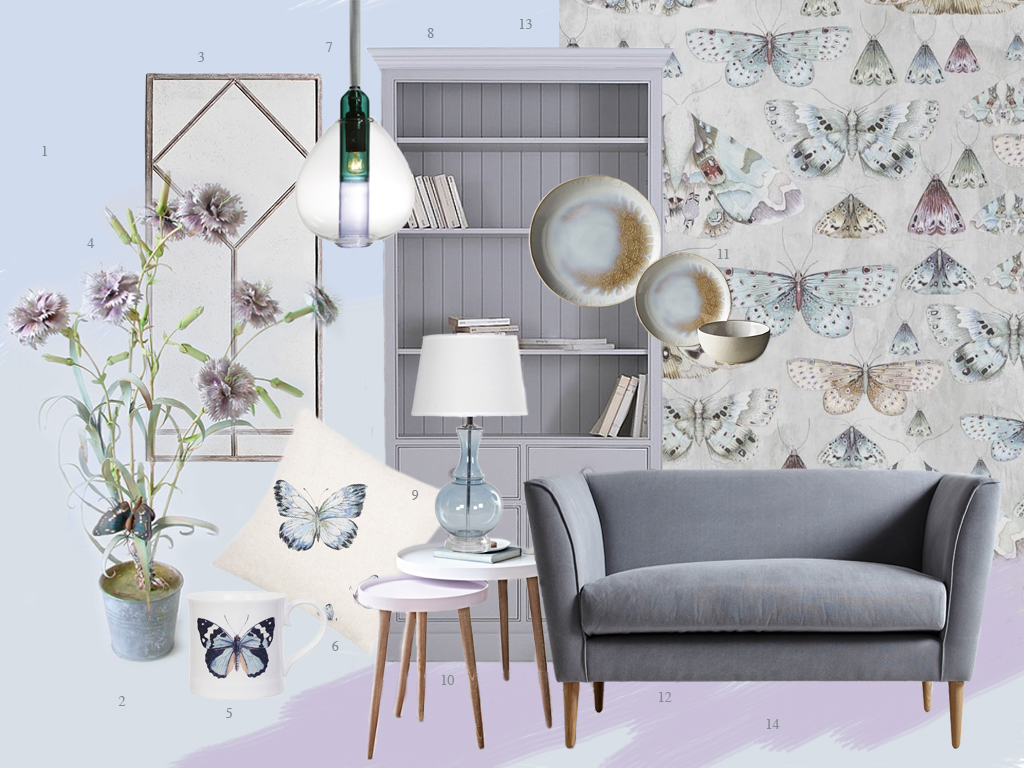 All of a flutter with Butterfly prints 
Inspired by this beautiful butterfly print by Designers Guild –  this look combines a calming collection of soft pastels. This beautiful print comes in several colours and is available in wall paper, fabric and cushions.  For this moodboard I chose Issoria in zinc, which has a lovely mottled concrete background.  Although they say feature walls are out of fashion I do think it works better on just one wall and have added some pastels that I feel could work with it.  If this feels a bit too bed-roomy for you and you want to use it in a living room or hallway you can play safe – just stick to a pale grey and bring some colour in with accessories.  The natural cotton and simple lines of this sofa make it ideal for this look.
This incredibly hyper-real botanical sculpture I have featured is by Carmen Almon , an American artist living in Bordeaux, whose creations are constructed from various metals and finished with oil-paint washes. Carmen's work is only rarely exhibited, but a gallery can be found on her website. Each piece is separately commissioned and being an Artist and not loving repetition each sculpture will be completely unique. 
Find out more about Carmen on our featured artist's page.
The elegant 2 piece hand-blown glass pendant is by Sarah Colson, who I was lucky to discover at The London Craft Festival last year. Her lights are all beautifully designed and hand made to order.
Paint by Fired Earth – Sea Lavender

Paint by Fired Earth – Glass Samphire 

Airadee Mirror by Oka – antiqued glass 

Wild Carnation Sculpture – pieces made to commission by Carmen Almon 

Butterfly Mug   by Angel and Boho

Butterfly beaded cushion   by Laura Ashley 

Hand Blown glass pendant by Sarah Colson – made to order 

Painted Book case with 6 drawers by Angel and Boho

Willoby blue glass lamp   by Sweetpea and Willow

Luna side tables   by Cox and Cox  

Mineral desert plate  by Anthropologie 

Timsbury 100% Cotton weave sofa   by Cox and Cox

Issoria zinc – wallpaper by Designers Guild

Paint by Designers Guild – Mauve Roses  by Designers Guild 
Please note with our Archive mood boards – suppliers may no longer stock the products.