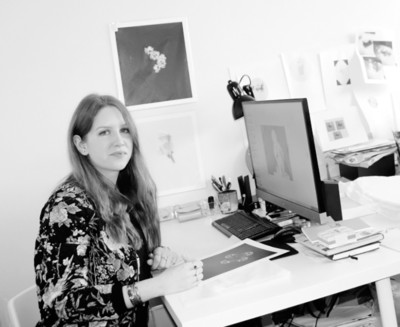 Simone Webb is a contemporary artist known for her beautiful ethereal floral prints.  Her limited edition prints and original works have been in multiple shows worldwide.  She has exhibited in London, San Fransisco and Hong Kong.
Simone's roots are in Oxfordshire, where she studied fine art and graphic design.  Now she works from a studio in Buckinghamshire.  Where she spends her days creating her Floral and Fauna collection.  Photographic prints are painted with acrylics or digitally and the resulting image re-photographed.  Other embellishments to the prints may include gold and copper  leaf, applied after the final printing process.
Simons refers to her work as 'juxtaposing the beautiful with the morbid.  Offering euphoric moments, emerging from stark backgrounds, graced with fragile flowers to instances of despondency.'
I love the way that Simone's work challenges the concept of the traditional floral image and still life.   The beautiful photographic detail of the petals reveal a perfect bloom at it's pinnacle of perfection.  To this she adds painterly gestures.  Showing the inevitability of passing of time.  Beautiful flowers suspended in space as they bloom and decay.
As contemporary art Simone's collection is a reflection on how we are moving forward in a digital world.
You can see more of Simone's work and the prints that are available at www.simonewebb.com