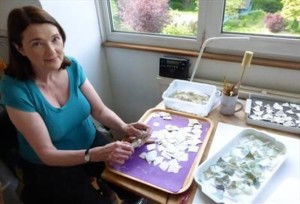 Joy Trpkovic
Joy's work has won several ceramic awards and 
Joy's 'Shoal of Angels' can be found on show at the Museum of Ceramics, Alcora, in Spain.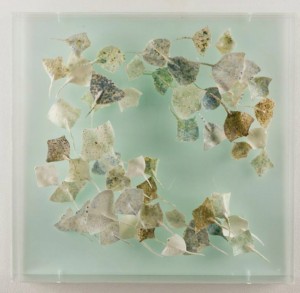 Scoal of Angels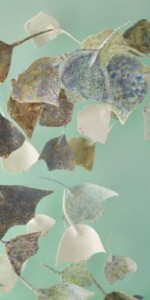 I was totally blown away by Joy's work when I discovered it at Made in London.  It is so delicate and beautiful, it is hard to believe that the pieces are made from porcelain.  Joy's handbuilt ceramic work is inspired by natural forms, marine or land-based.
Delicate translucent funghi, fossis and shells are catalysts for interpretation. She uses the simplest tools – her hands, a wooden stick and a scalpel to carve and pinch the clay to risky thinness.  Hand painted low fired lustres complete the works which have been high fired to 1260 degrees centigrade in an electric kiln.
These wall pieces reflect the dynamic of shoals and their colonies in beautiful delicate sculptures. Joy displays her work in perspex box frames that allow the light to pass through and enhance the delicacy of her creations.
These porcelains are all unique, hand built works and are all individually priced.  Available work can be viewed by appointment or new pieces available on commission.   Sizes range from 20x20x6cm  to 100x60x7cm
Further information and contact details for Joy can be found on her website joytrypkovic.co.uk