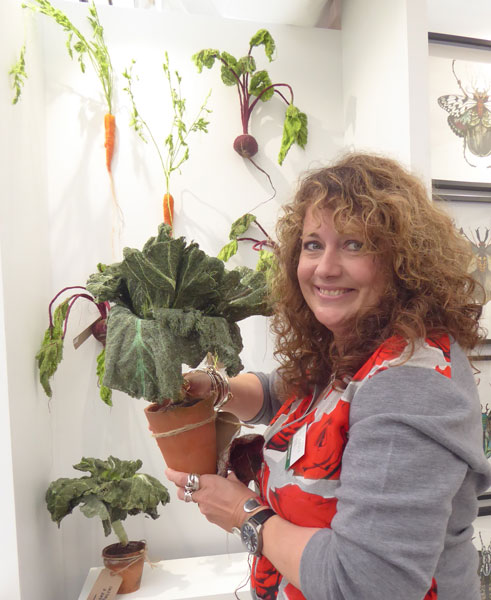 Rachel Nettles uses amazing skills to produce beautiful Vegetable works of art at Cabbages and Nettles.  
After classical training in Fine Art Sculpture Rachel worked in television, making props, puppets and puppeteer.  She also undertook Dinosaur installations in museums across the UK.  
Her textile interest grew from her initial works in the eighties.  With thread and cloth she produced items as diverse as full size bicycles and lawn mowers to stitched ladies in tights.
Now working from her Manchester studio. Her present passion is for free motion machine embroidery.   
Each sculpture is individual and made from sewn layer upon sewn layer of stitch using different machine tensions. Each stitch is made from different thread weights and three different colours. Once the sewing process is finished she sculpts to form her vegetable. Each piece is specially weighted to add to the illusion of reality.
I was fortunate to see Rachel's designs up close at Kew Gardens and the attention to detail is incredible.  From straggling roots to specks of soil.  The work does have to be seen to be believed.  
With some pieces taking Rachel as long as three weeks to produce, their production really is a labour of love. 
You can see more from Rachel at www.cabbagesandnettles.com