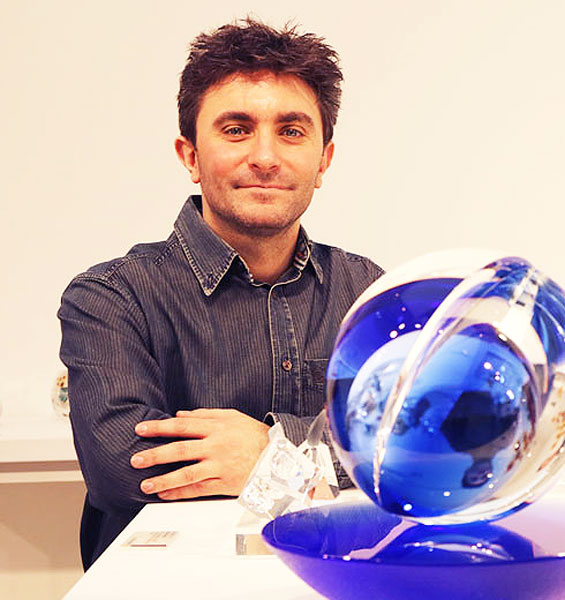 Glass Artist Anthony Scala initially trained in Architectural Modelmaking.  This can be seen in the way that he approaches the design of his beautiful sculptures.  
After studying glass blowing with Peter Layton at London Glassblowing, Anthony developed an interest and aptitude for coldworking. This involves  the meticulous process of cutting and polishing glass once cold. 
Primarily working with optical and blown glass he has recently been experimenting with incorporating cast glass elements into his work.  
Optical illusion plays a big part in Anthony's designs. I love the way that his precise geometrical forms use the reflection and refraction of light to create optical sculptures that change as you move around them. 
 In some of his work Anthony uses wafer thin gold and silver leaf which appear to be floating within his designs.  Other optical sculptures are also created in vibrant reds and blues.  Constucted with meticulous precision.  Using the refracted nature of the glass to create an ever changing 3-Dimensional image. 
Anthony exhibits extensively throughout the UK.  He has taken part in the British Glass Biennale, Modern & Contemporary Glass at Bonhams, Remarkable glass at Contemporary Applied Arts and Collect at the Saatchi Gallery. 
To see more from Anthony Scala – visit his website www.anthonyscalaglass.co.uk