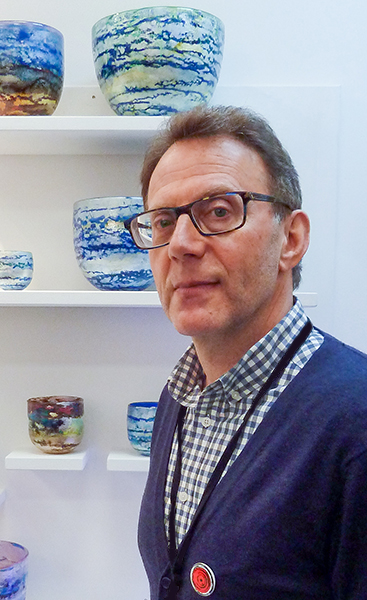 Adam Aaronson has a real passion for glass that began almost 40 years ago.
His fascination with glass started when as a small boy he used his pocket money, to buy a coloured glass vase, as a present for his Mother.  Although, Adam's career started with selling Glass he made the transition to making it in 1986.  Opening his first glass blowing studio in Clerkenwell.
After selling to Galleries all over the world, Adam now finds that he is sought out by Architects and Interior Designers.  He now enjoys working on collaborative commissions – but still leaves the time to develop his own work.
Adam finds inspiration for his beautiful glass creations from the country side of his home, in the Surrey Hills.  Inspired by the mutability of light on the landscape of sky and water.  He is fascinated by the vanishing  point of the horizon – where land merges with sky.  He is a constant colourist.  The Impressionist painters Turner, Whistler and Monet, have also been a significant inspiration for his work.
Each piece that Adam creates is unique, with variations in colour effect and shape.  I can see this influence in his Imaginary Landscape collection .  The free-blown vessels have surfaces fired with silver leaf and complex texture of colours.  He describes their subtle luminosity and swirling, painterly effects as reminiscent of impressionism.  For larger pieces, Adam has a small team to assist him.  He likens his role to a lead Violinist in a string quartet, in the evolving composition of the glass.
A love of his work leads to Adam spending most of his weekends, teaching Glassblowing workshops at his Studio in West Horsley.
To find out more about Adam's collection and workshops visit his website  www.adamaaronson.com