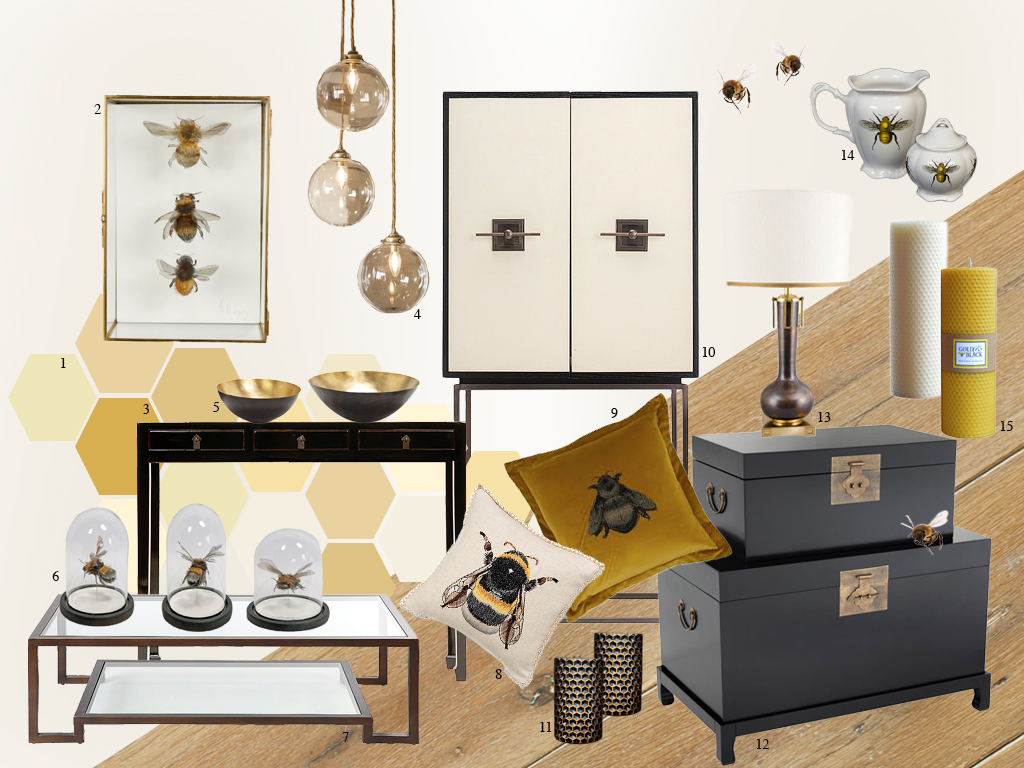 Please note with our Archive mood boards – suppliers may no longer stock the products.
The Inspiration
When, by chance, I saw a post on Twitter of Michelle McKinney's amazing wire mesh Bees – I got very excited and knew I just had to create a Bee- inspired moodboard.
Yes I know that Bees are all about nature and the great outdoors – but I wanted to create a calm and elegant room that would allow the delicate art of these Bee sculptures to stand out.  So, going with my intuition, I decided on a classic black and cream colour pallet and added colour for the walls with antique creams and old gold shade.  To find a ready mixed Paint to recommend to you I searched the colour charts and I found a good selection of neutrals and pale golds at Farrow and Ball.  Go deeper and darker if you dare, but do beware of going too bright. Colours intensify when painted on all walls and you may find after a while that honeycomb yellow is hard to live with. The paint colours I have used in the hexagons are Hay, Pale Hound, Sudbury Yellow, Tallow, Farrow's cream, James White, House White and String.
The Style
I must admit I do love oriental style furniture.  This black and cream design on the moodboard from Houseology (in the style of a cocktail cabinet), somehow creates a feeling of sophistication. Perhaps it's the suggestion that cocktails may be on offer.  To get back to the other style points: there are warm metal tones running through the furniture and lighting.  Brass and burnished copper add to the elegance to the timeless theme.
One of my favourites on this board is the lovely velvet Bee cushion by Timorous Beasties. Another great find was this lovely linen Bee cushion from Marks and Spenser.  I love the mix of velvet and linen and using both for upholstery and cushions works well.  Add linen voile at the windows and reclaimed wood on the floors and you have an oriental elegance meets rustic country feel.
If you want Bees buzzing all over – here are some classic Bee wallpaper designs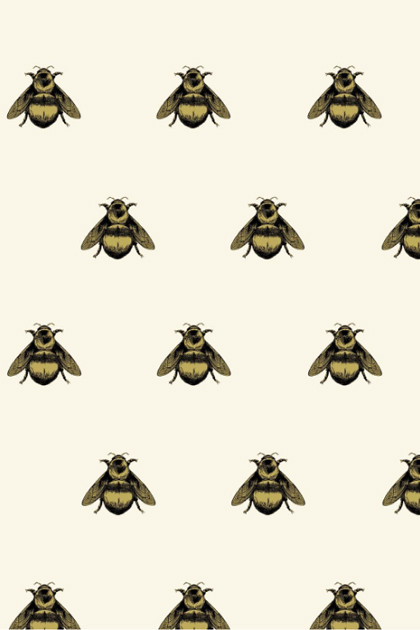 Timorous Beasties – Napoleon Bee wallpaper £90 a roll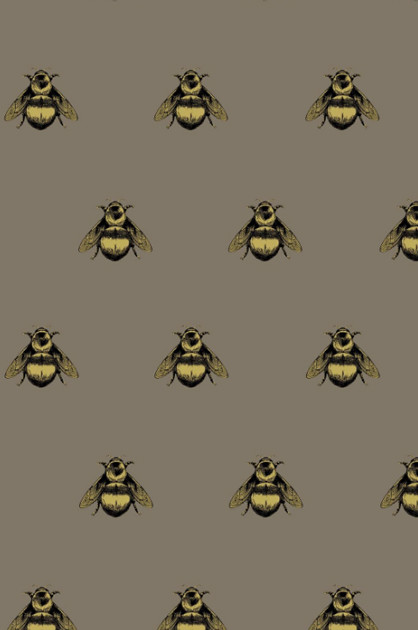 Timorous Beasties – Napoleon Bee wallpaper £90 a roll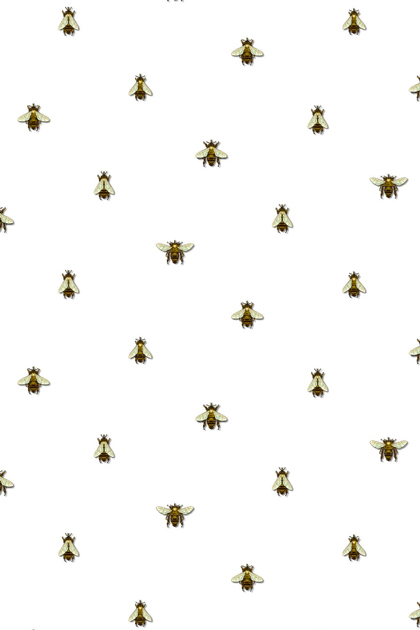 Timorous Beasties – Honey Bee spot wallpaper £180 a roll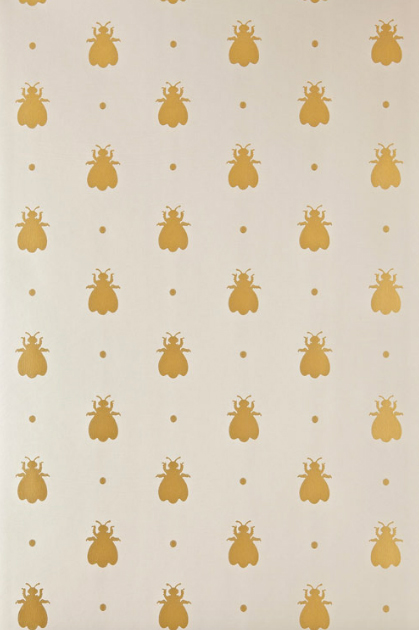 Farrow and Ball – Bumble Bee wallaper £86 a roll
Check out these classic styles of Bee designed wallpaper.  The Napolean Bee by Timorous Beasties and the Bumble Bee by Farrow and Ball both come in several colours.  The Honey bee spot by Timorous Beasties also comes in a Bee Stripe design.