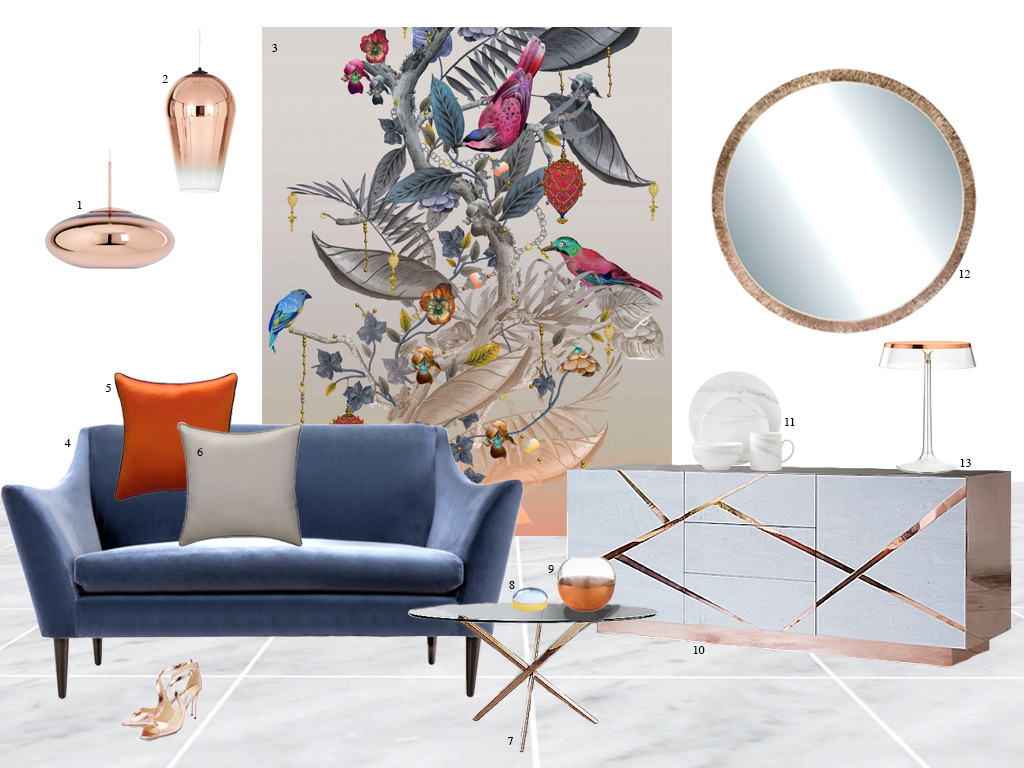 Beauteous Botanical  
Baroque botanical meets cutting edge contemporary design !
It was definitely love at first sight when I first discovered this wallpaper designed by Kit Miles.  Named Ecclesiastical Botanica – it certainly lives up to it's grand title.  Kit's draws his illustrations, which are slightly surreal, by hand. Beautiful tropical birds, flowers and foliage intertwine with chains and jewelled ornaments. If a full-on wall of this elaborate design is too much for you, then a just a single panel or the matching cushions may be an option.  See the other colour options below.
Kit Miles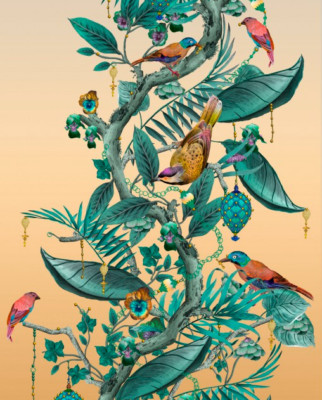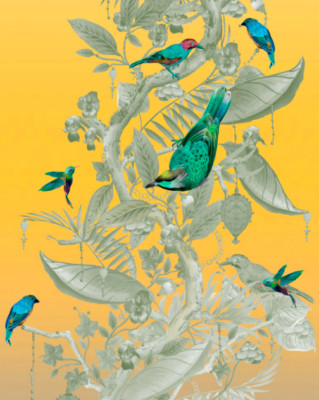 With such a decorative print I confess, being a creative soul, I am very tempted to go for a full-on Baroque-y theme.  After recently seeing Disney's Beauty and the Beast –  ornate Baroque furniture with swirling decorative mirrors and lavish ornaments came to mind.  But then I reconsidered.  Decided it could all look a bit OTT and would make a beautiful design theatrical.  So, after much consideration and in danger of breaking everyone's bank balance. I am going for a pretty top end of the market moodboard. Showing you some stunning design-led contemporary furniture.
This Odessa cabinet by Tom Faulkner was an amazing discovery-  it is just perfect for this moodboard.   The sleek lines and geometric slashes of warm polished bronze make it a real statement piece of furniture.
Tom is fully committed to manufacturing in the UK.  He works with a team of meticulous artisans in Wiltshire.  His pared down designs are inspired by his love of geometry, architecture and nature.  Wood, marble, glass and metal are the natural materials that he uses to make up his stunning designs. Tom has a showroom in Lots Road where you can view his collection and appreciate the quality and scale of his work.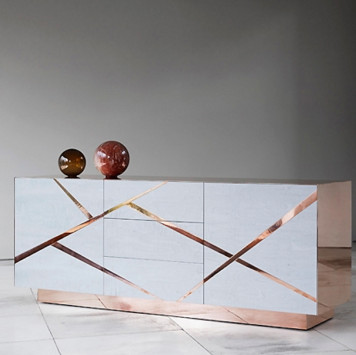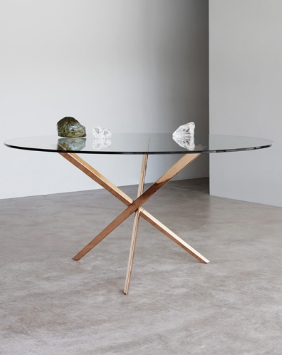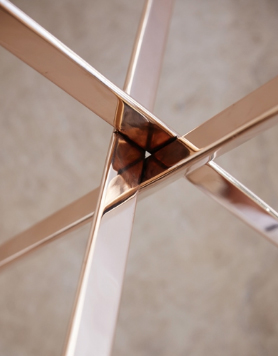 The Villiers round Omega mirror (100cm diameter) is handcrafted in steel and powder coated before being finished with bronze paint.  It really works great with this design.  The Bon Jour Table lamp gives a contemporary feel and both mirror and table are available at Amara . Also a great find was this cute copper Tuppeny Vase at Kelly Hoppen .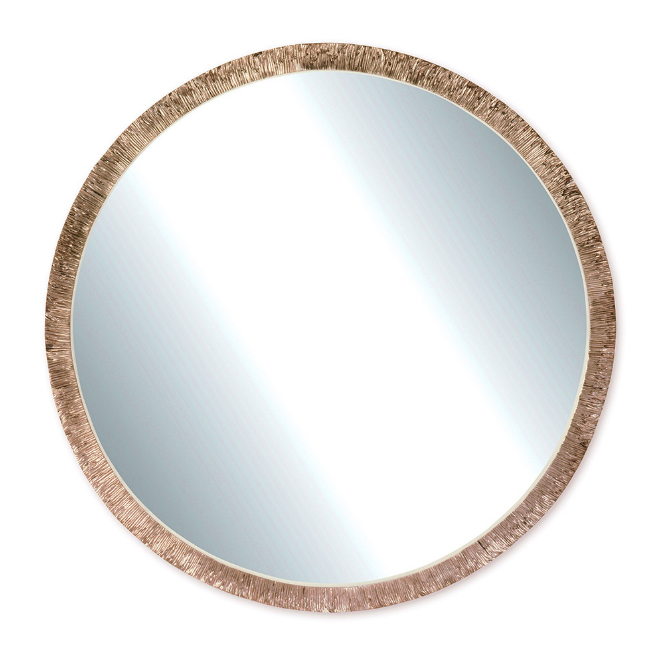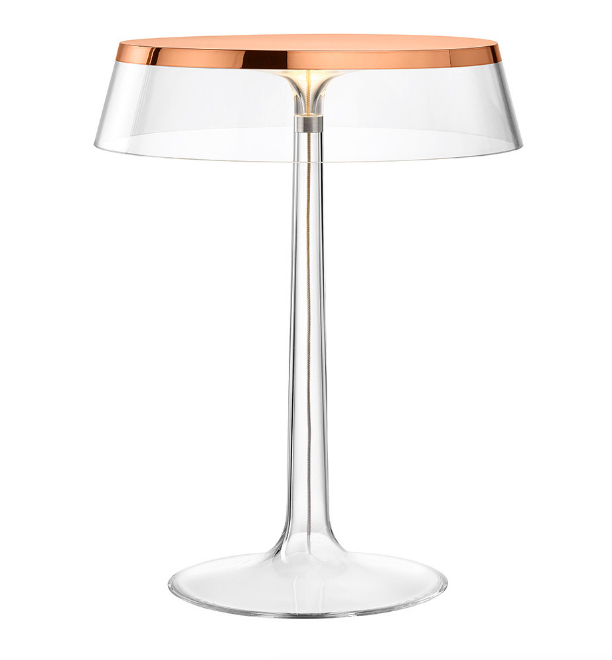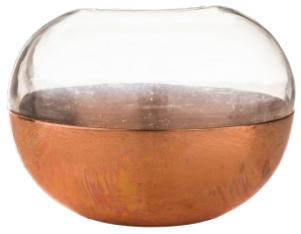 The elegant lines of this Hepburn Sofa from The Conran Shop work perfectly for a minimalist (yet still a bit  glamorous) style.  Focusing again on beautiful form and elegant lines, this copper lighting range at Tom Dixon is hard to beat .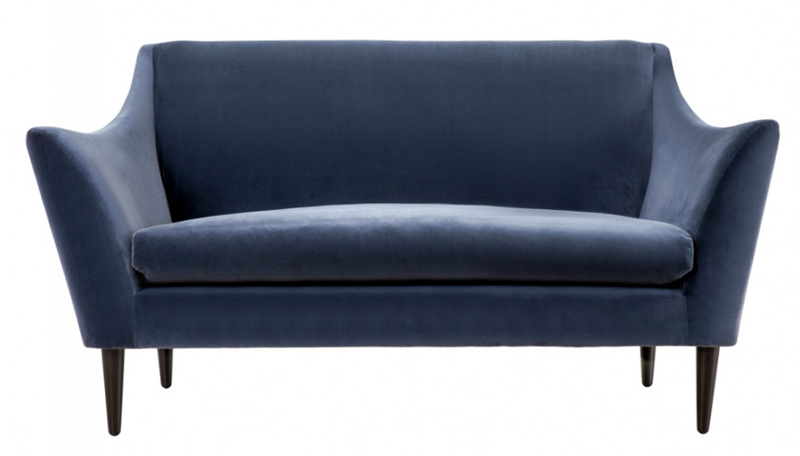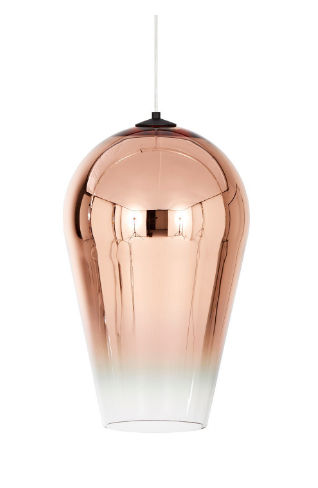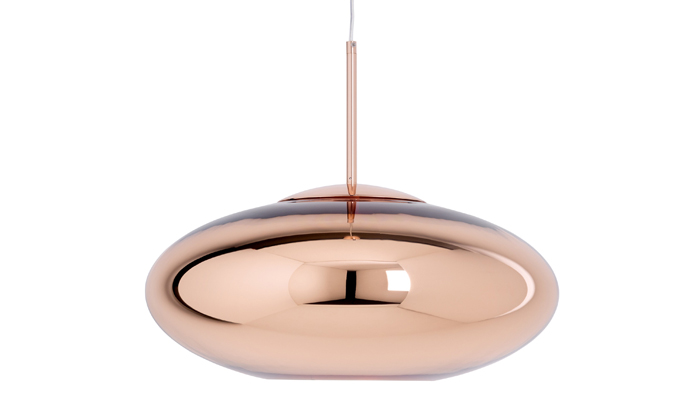 Down to the detail now and some simple stylish accessories.  These Globo boxes look really precious and come in different sizes and colours at Jonathan Adler .  For sophisticated dining Vera Wang has designed a range for Wedgwood .  Vera Imperial with a white/grey marble design.  Finally the cushions at Andrew Martin in a variety of coloured silks are great to add a contrast of textures with a velvet sofa.