Club Tropicana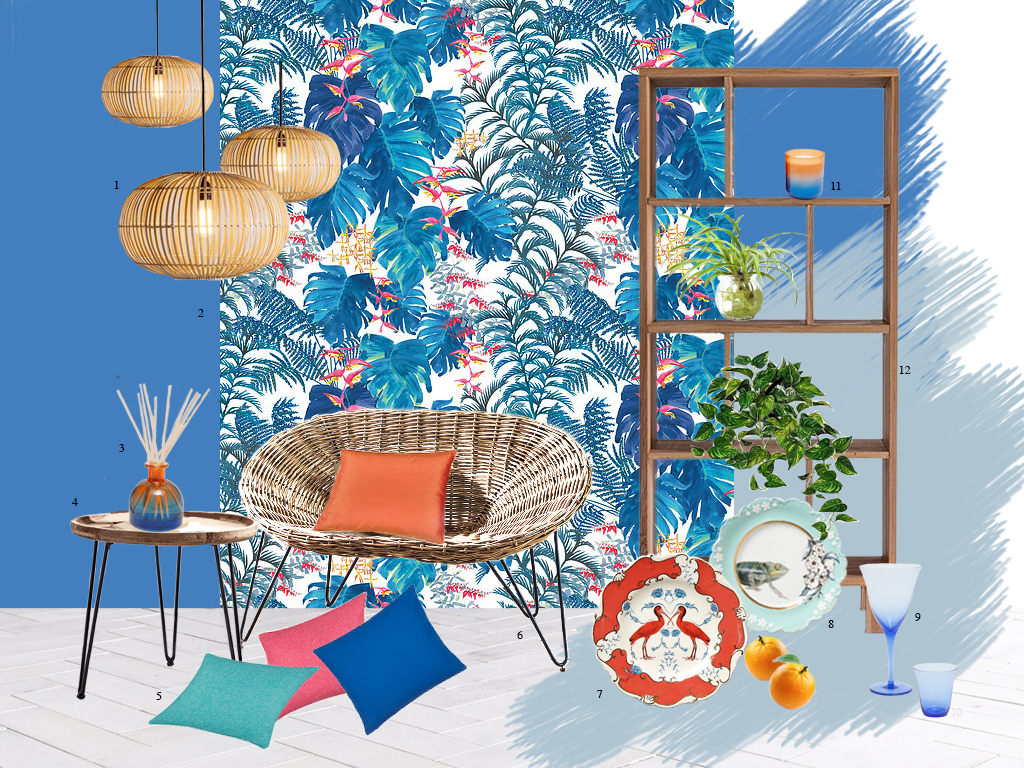 Welcome to Club Tropicana
Please note with our Archive mood boards – suppliers may no longer stock the products.
The Inspiration
I was totally inspired by this fabulous wallpaper designed by Petronella Hall.  Yes, this Tropical design does come in the more ubiquitous Tropical green, however, it's more exciting to show some alternative ways to styling a Tropical look, isn't it?  Ok – so we have the Tropical blues with a breezy blast of bright accessories.
The Style
I must say this moodboard is for real colour enthusiasts. Those joyful souls that are not scared to be that little bit daring and steer away from the neutral. Well this beautiful blue tropical print definitely gives you a happy holiday vibe.  Can you imagine this in a conservatory with plenty of sunshine and a cocktail or two?
Far removed from the traditional green palms of my deeply Tropical moodboard I am giving this Tropical design a twist with a retro mashup.  The rattan chair and a room divider bookcase makes this a fun flash back to the 70's.  I found Cox and Cox have a great range of Rattan designs to choose from. This cone chair was by far my favourite (as it  has a contemporary feel) and also comes in a single version, which I would love .  The rattan pendants at Grace and Glory are perfect for this casual look – but buy more than one. They look good suspended in a group at different heights.
Anthropologie have a great range of 'Blooming botanical' accessories . I have had my eye on these plates at Anthropologie for quite a while (wouldn't they look fabulous on a wall?). I am so happy to find a moodboard for them.  Zara Home is also a good place to find more unique accessories and has an exciting range of coloured glass.
Take a look at the Grey version of this wallpaper on our Tropical Hygge moodboard for a chilled out alternative.