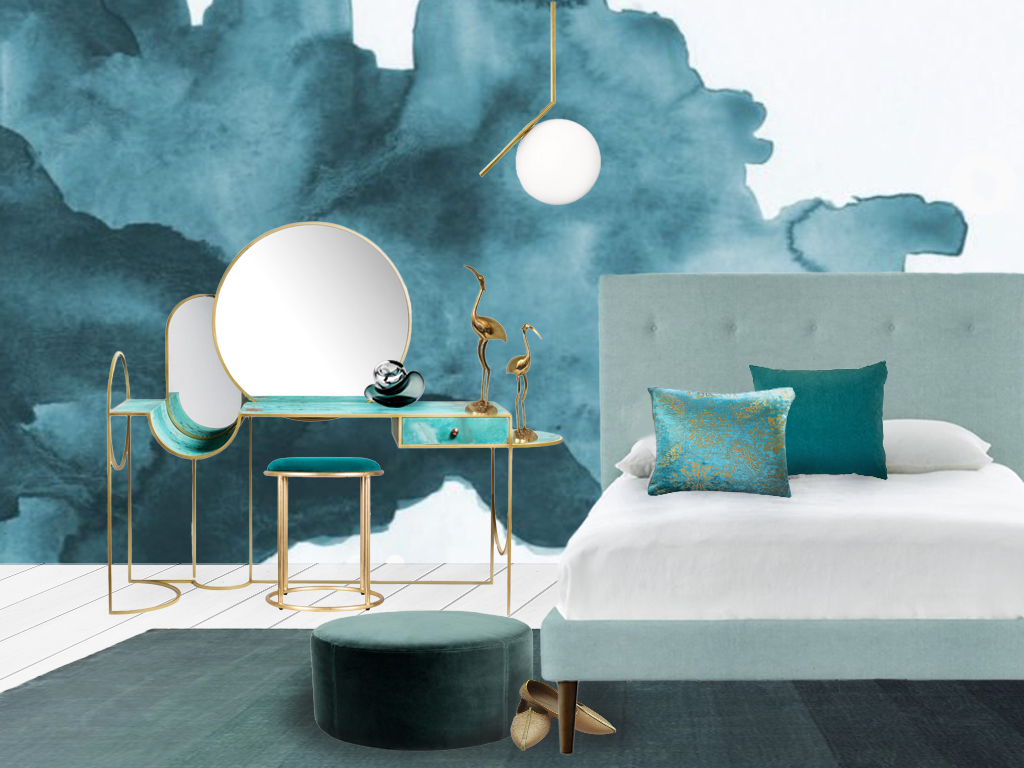 'Celeste' by Laura Bohinc
It's not that often a Console/Dressing Table takes centre stage.  But the 'Celeste' Console by Lara Bohnic at Bohnic Studios has been widely featured in the magazine edits.  I'm not surprised, as it's a pretty stunning.  The unusual finish is a blue/green verdigris patinated copper.   I have never lusted after a dressing table before – but this would definitely make it onto my wish-list.
This designer has hits this years trends of both curves and linear design.  But apart from that, her work is so unique that I can see it become an iconic design of the future.  I also have to show you the Lunar chair by Lara Bohnic . This collection is inspired by planetary and Lunar orbit. With two enveloping crescents for armrests and a smaller backrest which, like a moon, circles its planet on an orbit of its own.  Not sure about comfort, but for design appeal it's pretty celestial!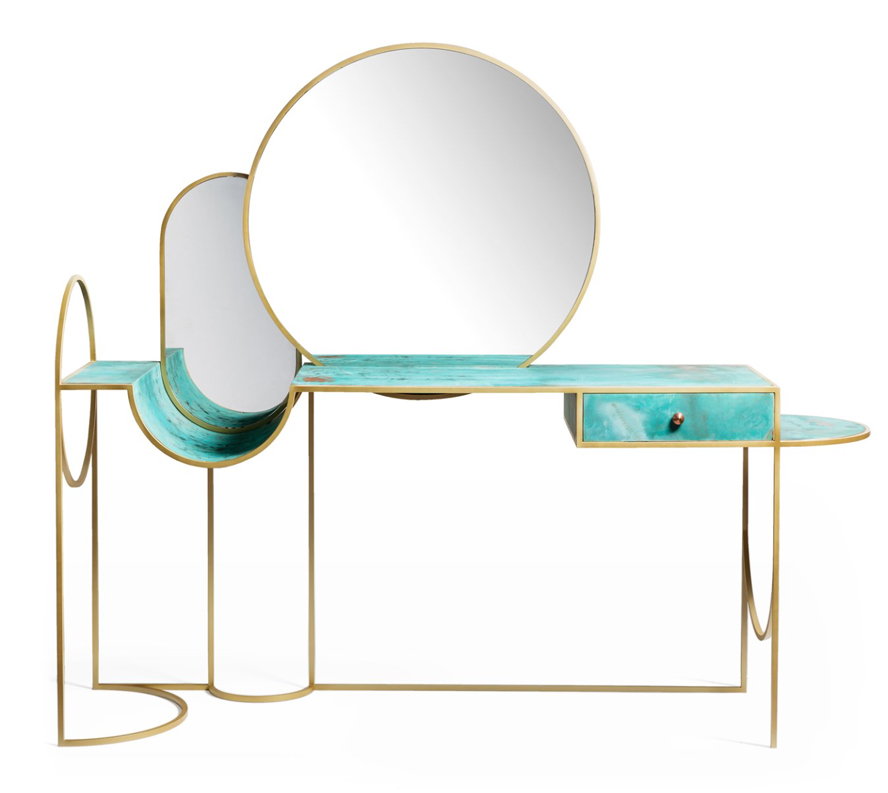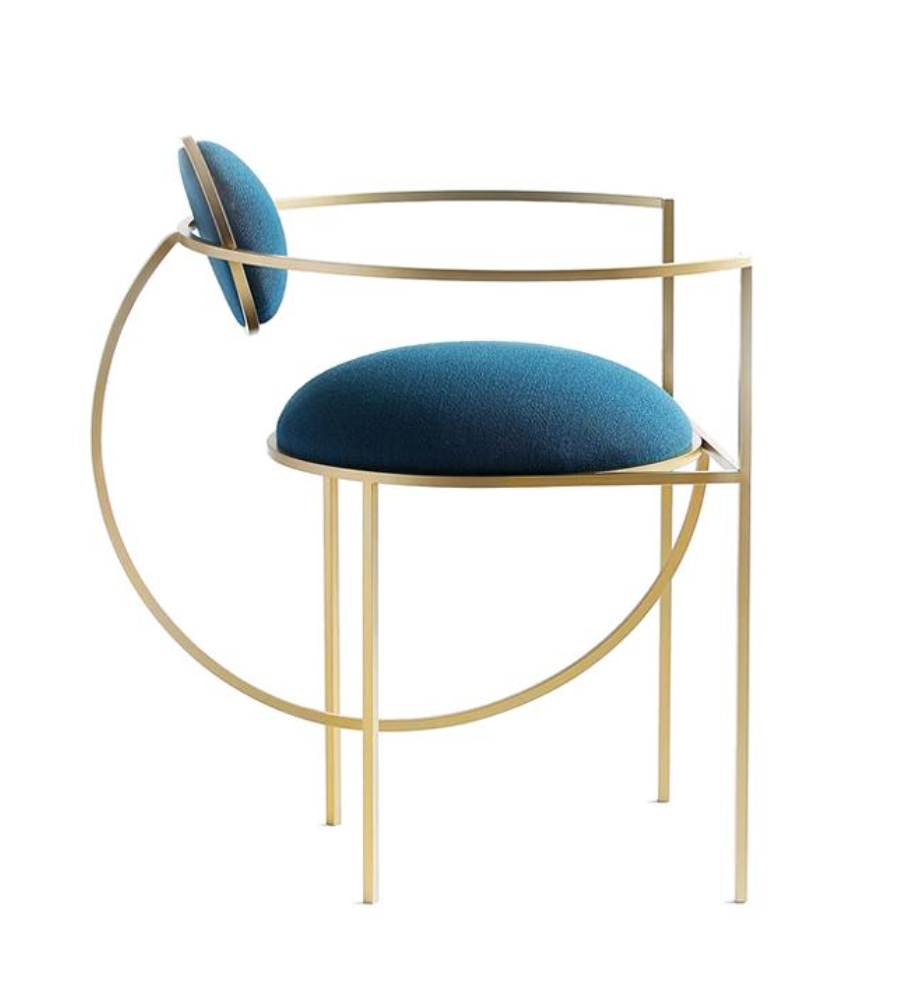 After trying a lot of options for the wallpaper, I thought it would be interesting to go for a Mural.  I have often spotted this watercolour design on Pinterest and was curious to see how it would look.  I found this Teal watercolour mural on Muralswallpaper – and its called 'Rush'.   When choosing such a bold design I find it's best to keep the room quite minimal.  Just a few well chosen accessories work best.
I must show you some of the other designs I considered.  There was so much choice and I did have to try them all out to decide.  My source for all the designs was also Muralswallpaper and you can find my other options in Teal below.  The Soft Stone and paler shades I found rather too subtle and the bright quartz design a bit overpowering.
My search for a gold/brass metal bed in a contemporary curve design hit a bit of a wall.  So I decided to go for a simple upholstered design.  I found this design called the Polka Bed at Designers Guild .  It is upholstered in a heavy weight stubby linen and offers an amazing option of 78 colours in their best selling plain fabrics.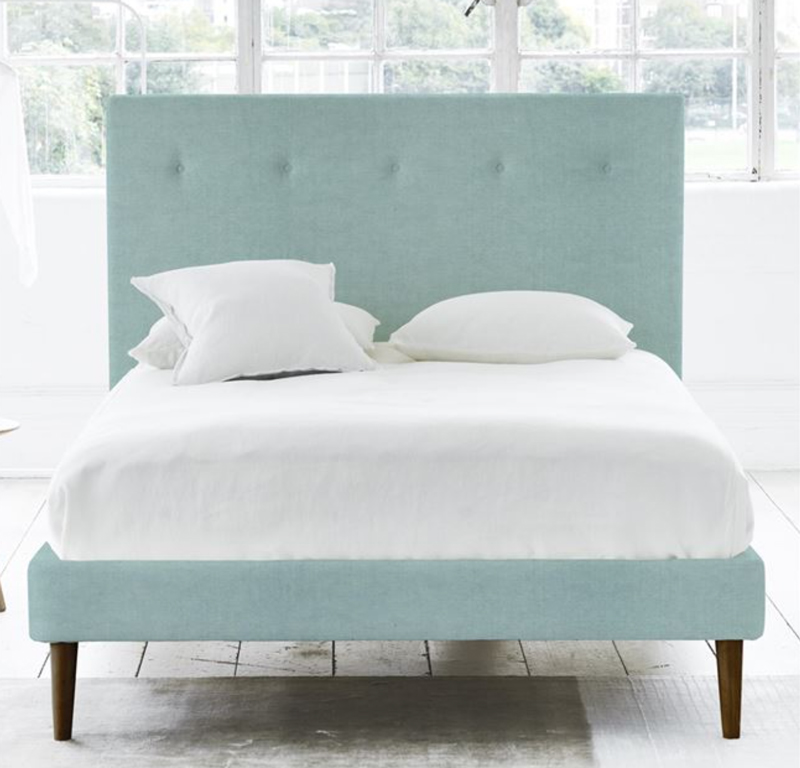 The Zora Dressing table stool with velvet upholstered seat was a great match from Cult Furniture .  This velvet ottoman from Att Pynta is by Swedish designer Amelia Widell and can be used as a footstool, pouf or even a coffee table.  This comes in two sizes and Att Pynta are worth checking out for their great range of velvet upholstery – some fabulous colours and designs.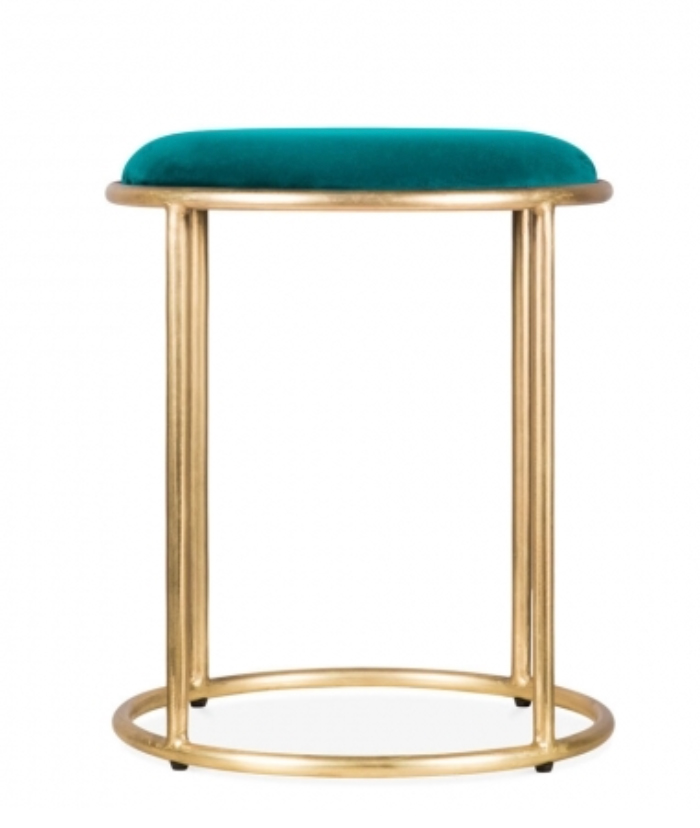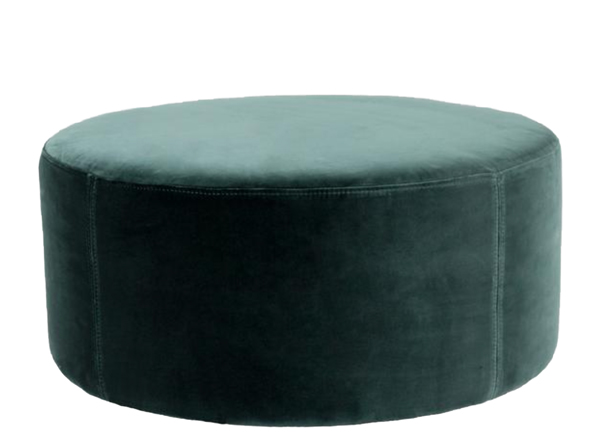 A simple glass orb fits in well with the Contemporary Curves Design.  This pendant is in handblown glass and brass, designed by Michael Anastassides for Flos, and available from Amara .
The Capisoli teal rug is from Designers Guild.  It's handwoven in a new resilient fibre, has an ombre design that graduates from deep teal through to blue grey and is available in three sizes.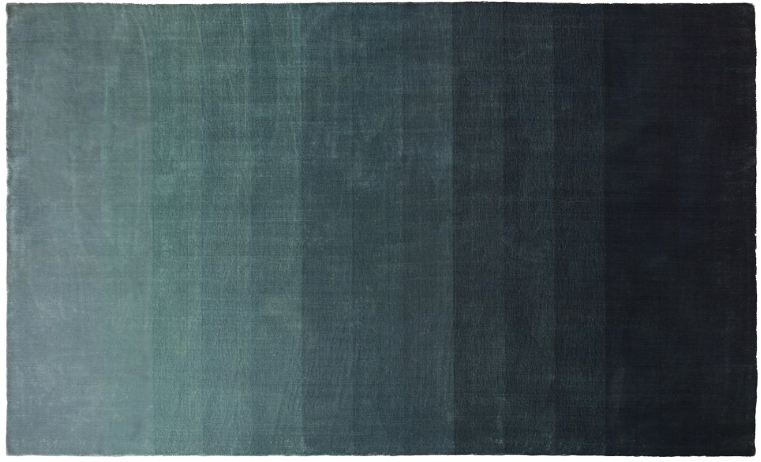 The Teal velvet cushion is available at Love your home and the Italian velvet teal and gold damask cushion is made to order from Swan Court on Etsy .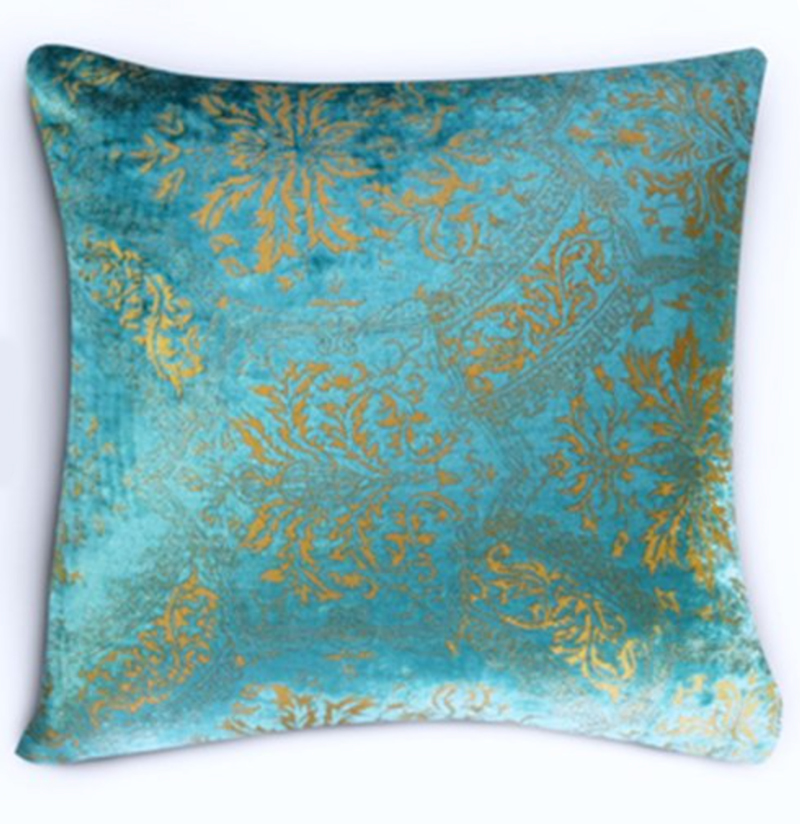 Accessorising has been kept to a minimum. This beautiful glass sculpture called Symbiosis VIII is available by commission from artist Laura McKinley at The London Glass Blowing Centre.  The pair of beautiful 1970's brass herons are online at 1stDibs.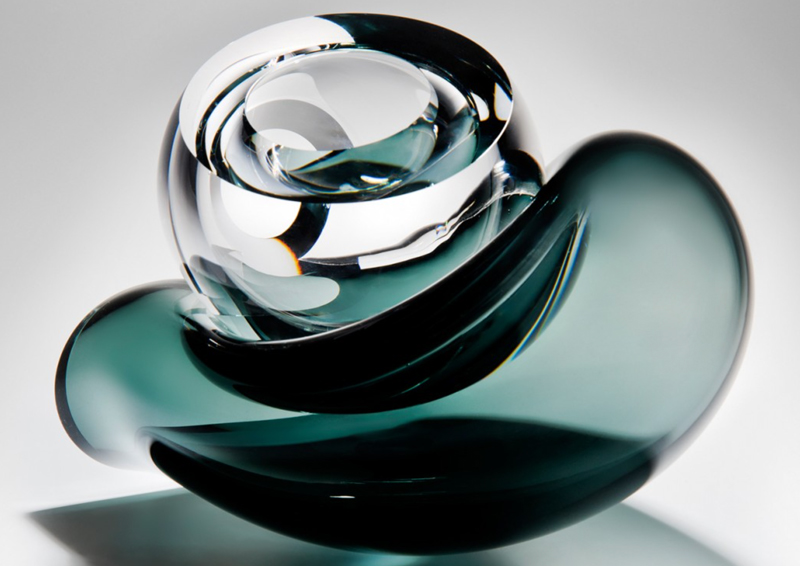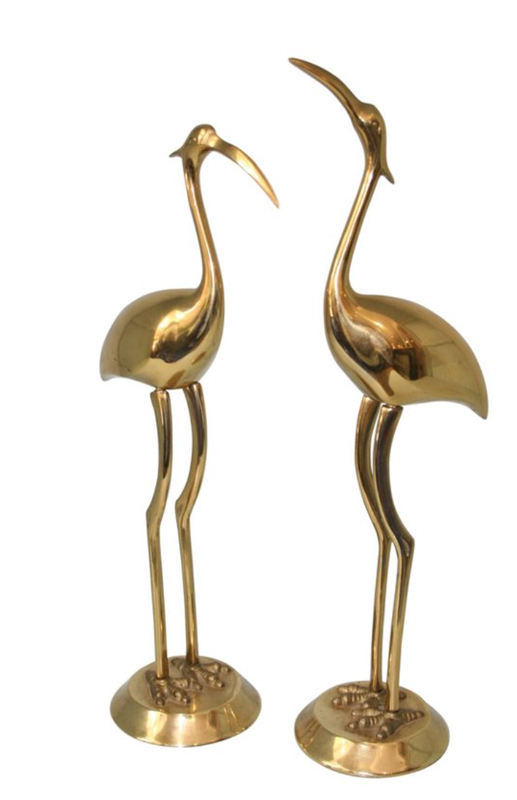 So there we have our Contemporary Curves mood board – I hope this has given you a little inspiration.  Interior trends are there to make life more exciting, to create new directions and can also be a fun way to experiment and find a style for your home.  For further inspiration why not checkout our Mood Board Selector.