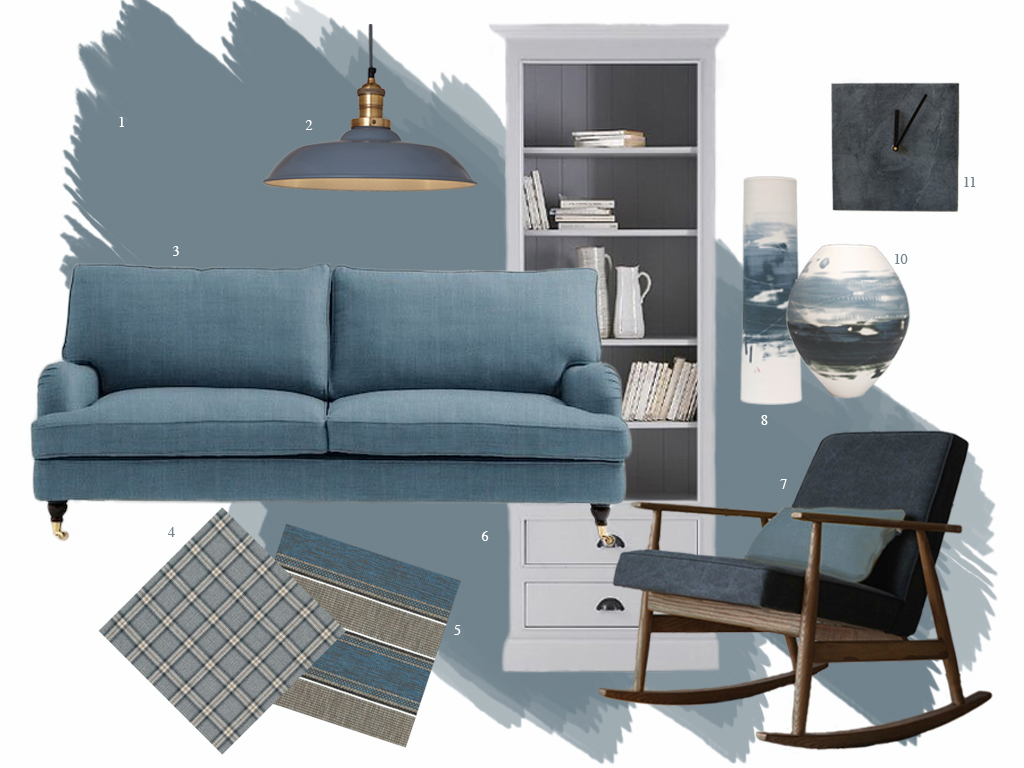 Dulux colour of the year – Denim Drift 
Using Dulux's Demin Drift for inspiration.
Although this moody blue/grey can work well in a contemporary style we have chosen to give this board  a cosy country meets mid-century-modern look with painted furniture, natural stone and handcrafted ceramics.
Since I have discovered this Mid-century-modern range by Rose and Grey – I have really fallen in love with their rocking chairs.  I ordered several sample of Denim blues and grey for the moodboard and eventually decided to feature Dark Denim a deep grey/blue.
The sofa is a relaxed style from Love-your-home.  It comes in several sizes and fabrics and colours and from the samples they sent I chose a Linen fabric in Cerulean Blue. The addition of the brass casters give it that period look – but Love your home also have several modern designs that can be covered in a wide range of Linens and Velvets if you want to go for a more contemporary style.
These handcrafted ceramics are by Ali Tomlin ,  a designer/maker that I met at The British Craft Fair last year. Her porcelain forms are thrown, unglazed and sanded to give them a delicate paper-like quality. They are all handmade so each piece will be slightly different – but the blues and greys she has used on these hand painted pieces match beautifully with the moody blues pallet. 
A natural wood furniture would work well with moody blues pallet but when I found this range of painted furniture from Angel and Boho – they had such a great selection of paint shades to chose from that I felt they were ideal for creating the tone on tone look that Dulux were all about this year.
Dulux Denim Drift

Croft Collection – brass trim ceiling pendant ceiling light   John Lewis  

Florence 2 seater in Cerulean Blue Linen, Love-your-home 

Morlich Tartan fabric, Osbourne & Little

Talamanca fabric, Osbourne & Little

Narrow Breton two drawer bookcase  Angel & Boho 

H. Lis Fox Rocking chair, Rose & Grey  

Cylinder vase  Ali Tomlin

Oval vase , Ali Tomlin 

Marble wall watch  Rose & Grey  
Please note with our Archive mood boards – suppliers may no longer stock the products.