Tropical Hygge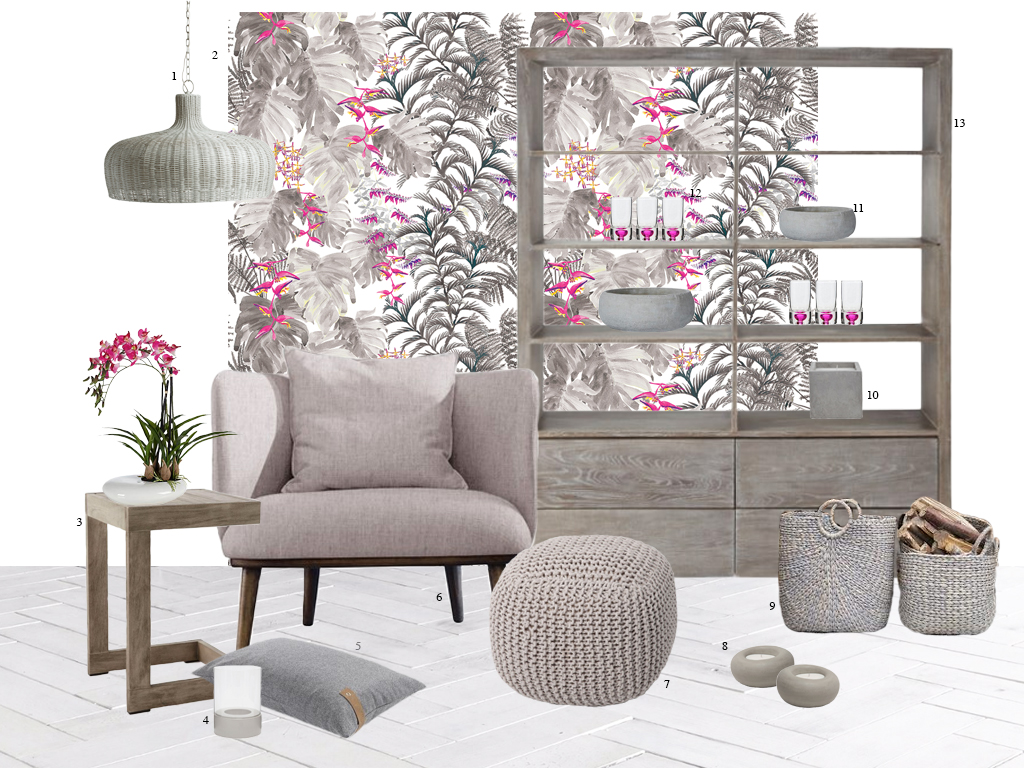 Get ready to chill with Tropical Hygge
Please note with our Archive mood boards – suppliers may no longer stock the products.
The Inspiration
The Inspiration for this board was the beautiful Tropical wall paper print by Petronella Hall. I really love the colour combination of grey and fushia.  Vibrant fushia pink used sparingly against a grey background always looks stunning.
The Style
As this Tropical print in grey has a some-what relaxed chic feel to it, I couldn't resit giving it a chilling Hygge style-mashup.
For relaxed rustic charm I found this white-washed baltic wooden bookcase from Maisons du Monde. I added a grey Linen covered chair from a great mid-century collection at Love Your Home and this simple side table from West Elm.  With a solitary note to the tropical theme I added a grey rattan light pendant from Cox and Cox and (I confess, just because the colour fitted perfectly) these great shot glasses from Debenhams.  The rest of the board is total Hygge with accessories from Zarah Home and The Little Shop of Hygge.  Concrete bowls,  stone candle holders, woollen cushion and knitted pouffe all create the relaxing Hygge mood .  For a lovely rest full snug or bedroom this look is heavenly.
So there you have it, a unique Tropical Hygge haven . So sit back, light the candles, find your favourite book and chill.
See the Tropical Blue version of this print on our Retro Style 'Club Tropicana' moodboard