A visit to The Celebration of Craftsmanship and Design 2017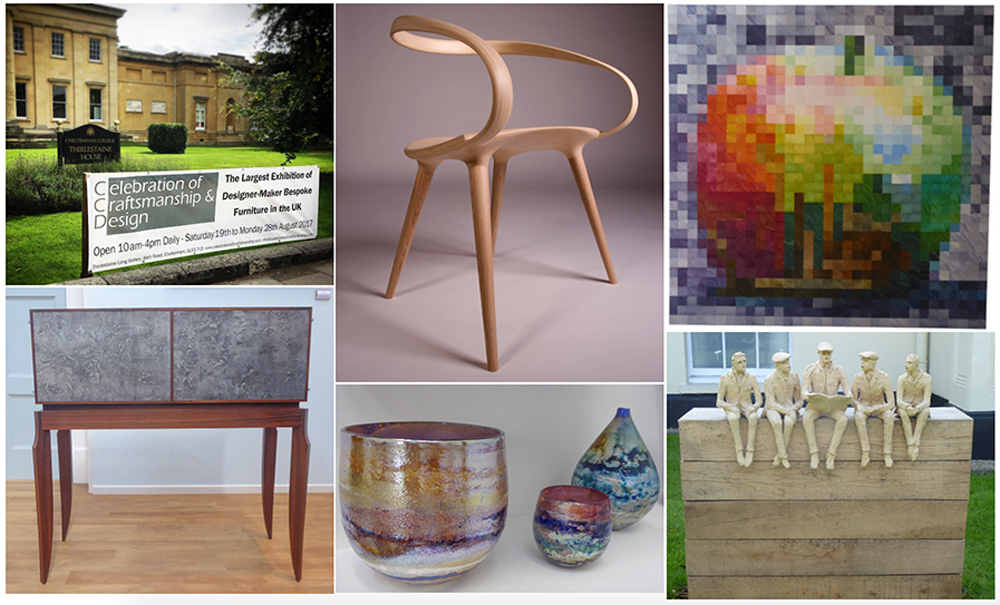 A sunny bank holiday weekend and where better to spend the day than at the Celebration of Craftsmanship & Design exhibition, in Cheltenham.  For a Stylist that loves to see great craftsmanship, beautiful materials and the best of contemporary design, this show is a pure delight.
Having been totally wowed in previous years – this years show was no disappointment.  I was lucky enough to be able to chat to many of the talented designers.  Exhibition organiser Jason Heap was also on hand to help and I questioned him on this years trends. He felt that although the designers are all very diverse in their designs – he did notice an increase in the use of raw, natural wood this year.
Furniture
I have selected my highlights from the show and apologise to all the talented designers that I have not been able to feature. The show seems to be growing year on year. To see more of the exhibitors and prize winners make a visit to the Celebration of Craftsmanship & Design website.
I start my selection of highlights with some natural wood tables.  This Oak Burr Coffee Table is by J Griffin Design.
Made from Oak Burr & English Walnut.  The split top is locally sourced, with bowite keys installed to prevent movement as well as accentuate the natural faults in the wood.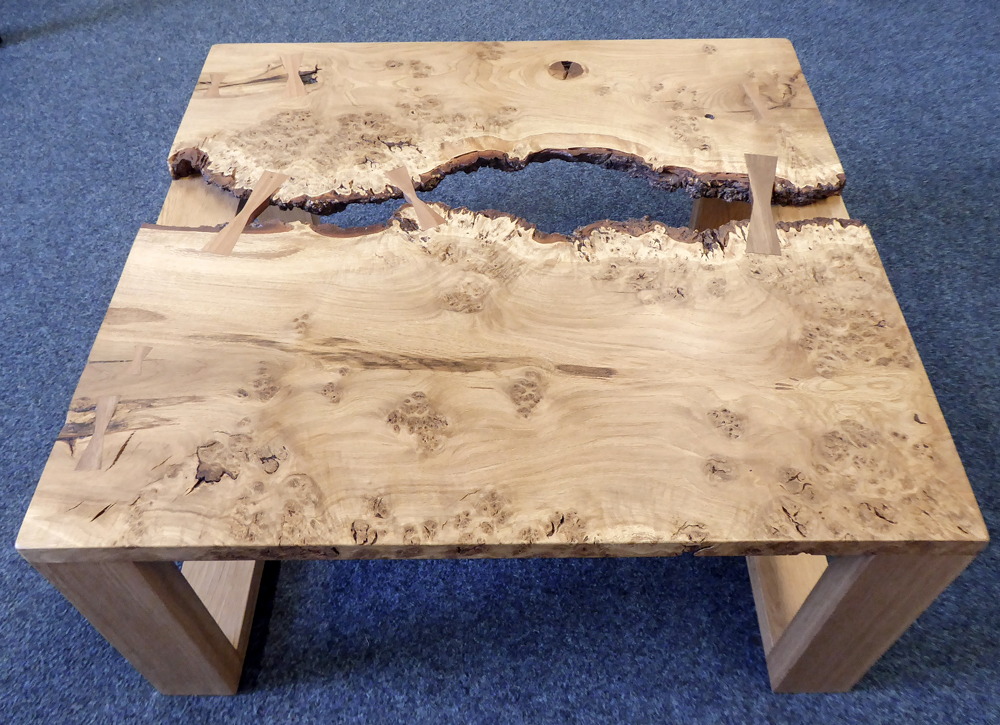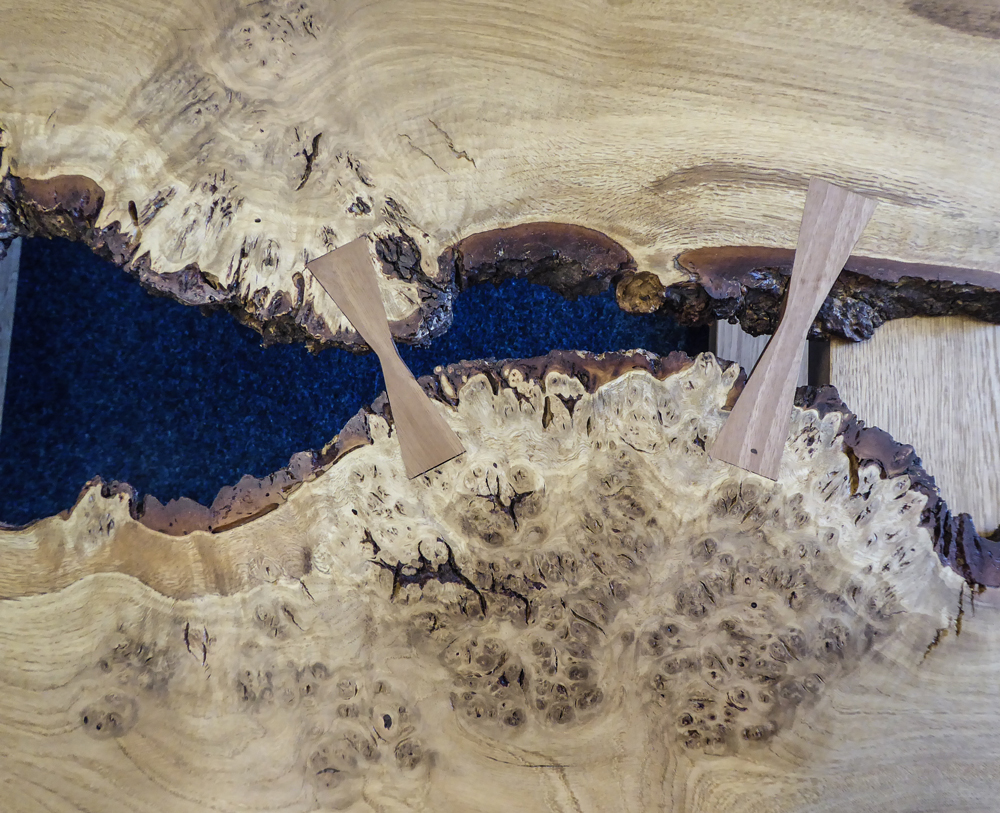 Nathan Millar Furniture were showing this Coffee Table Oak, Burry Horse Chestnut & Glass
Incorporating contemporary looking 3 way mitres and the stunning raw edge of the Horse Chestnut.
Also echoing the natural theme the 'Ghost' clock 2. by Suzanne Hodgson  Burr Elm, Aluminium & Quartz Mechanism.
Echoing the period when everyone had a mantle clock, the ghost is the next step, states Suzanne, an afterlife as a piece of Art.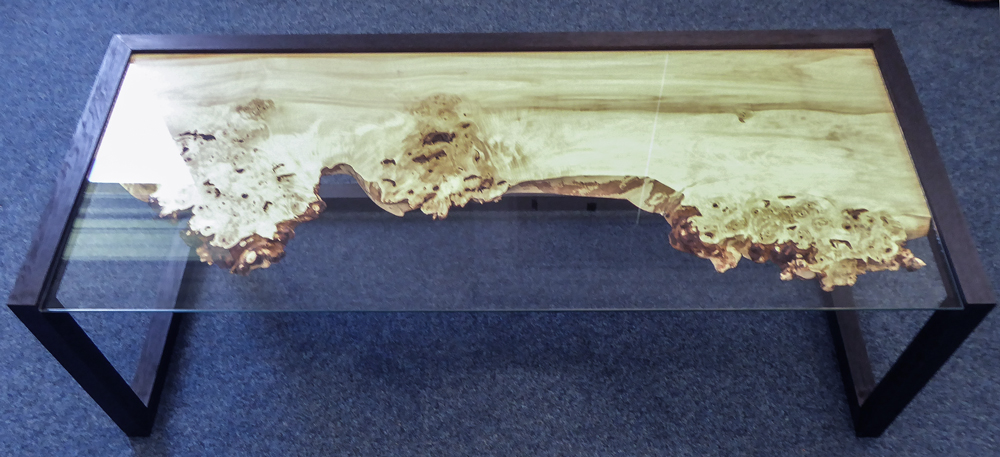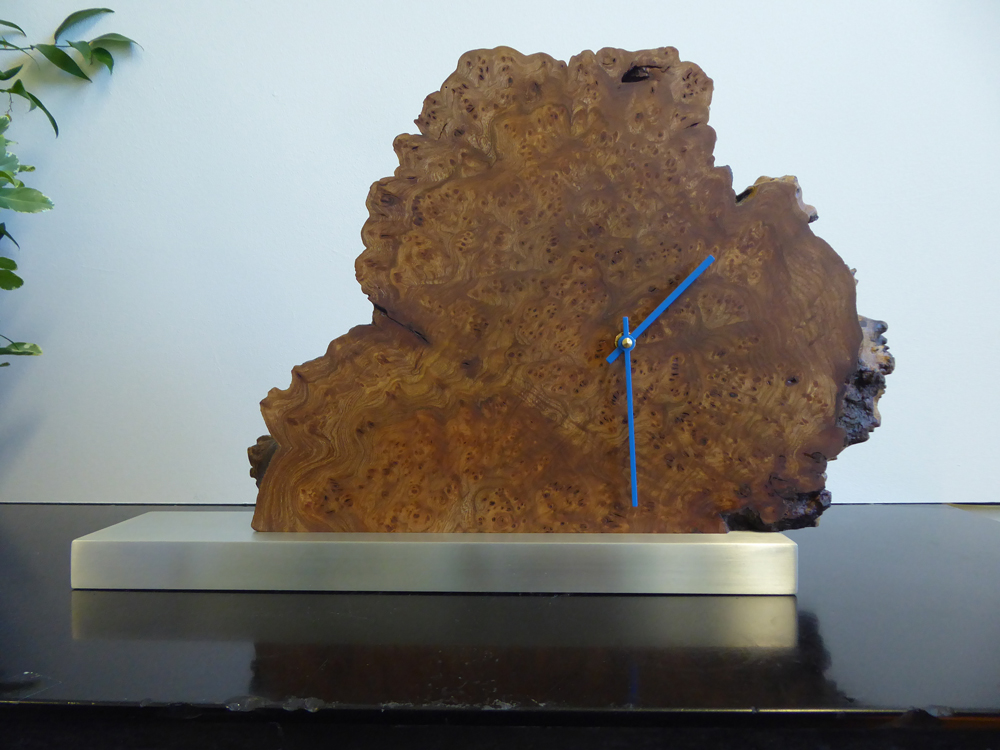 It was great to meet Thomas of  Thomas Whittingham Furniture  I had a demo of his latest show stopping design – where the drinks cabinet pops-up and appears from it's cleverly concealed compartment.  Thomas loves creating pieces especially for the exhibition and I was intrigued to hear about the Green Slate veneer that he has used in this design.
This piece, called 'Riven', is made from Ripped Ash, Ripped Olive Ash and Green Slate. With Thomas finding his inspiration from waves breaking against the rocks on the North Cornwall Coastline.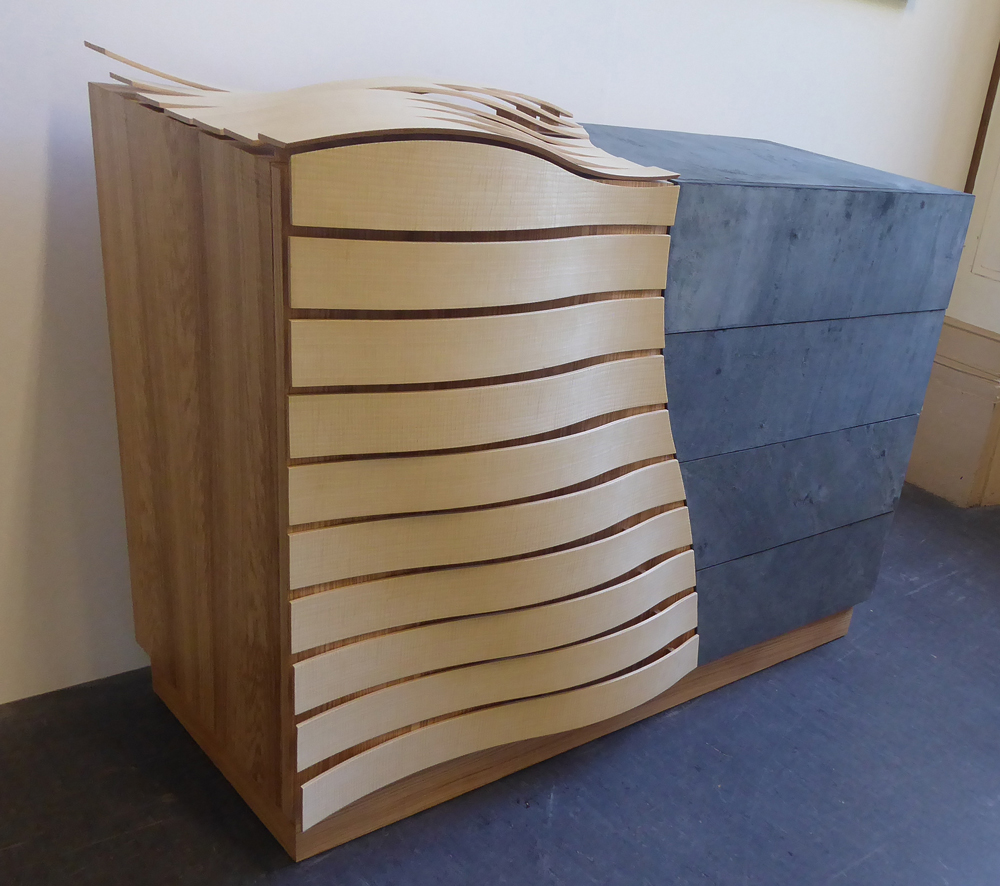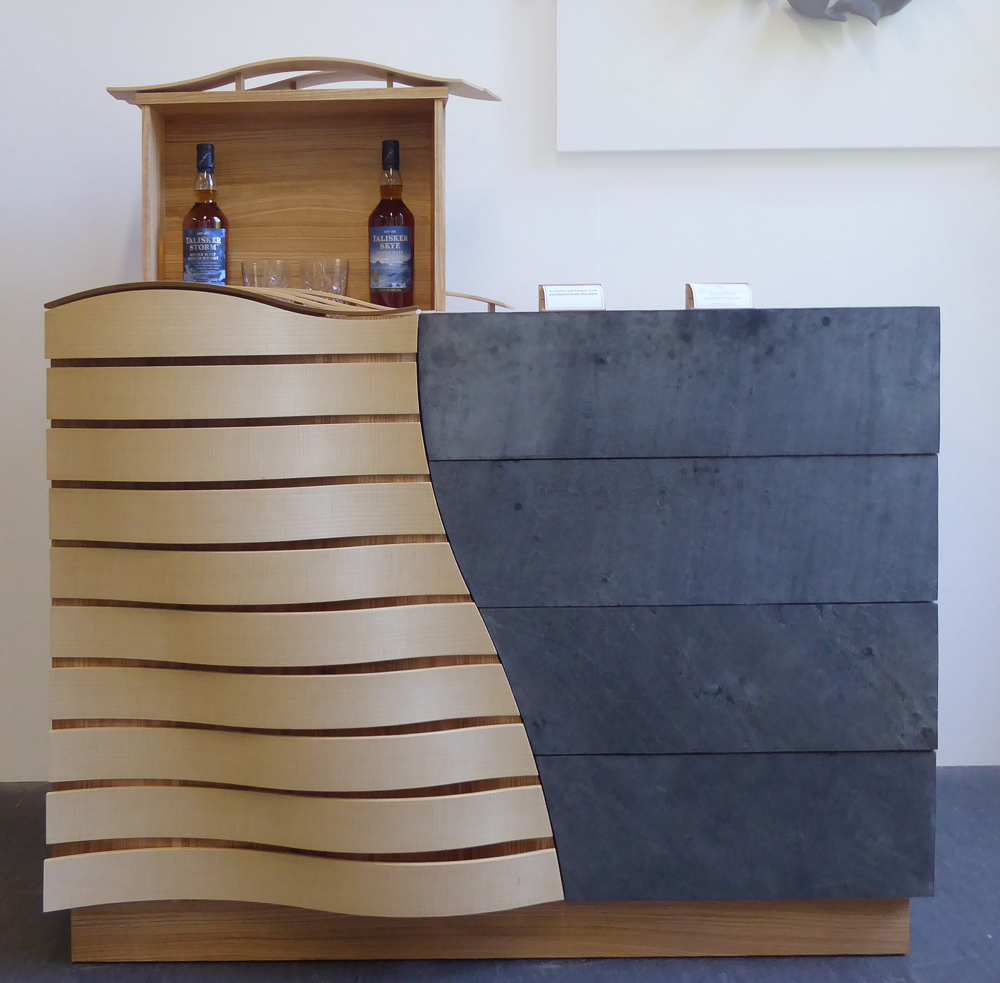 It was good to meet a designer from France Daan Koers 
Showing some striking pieces – my favourite being the'Oxyde SN50' Cabinet an elegant design featuring Tin.
Indian Rosewood (sawn veneer), African Padouk & Wiped Tin  Daan's description states – 'Anatomical materials and surfaces; the clearly defined structure of the furniture and the rectilinear veined rosewood are opposed to the irregular drawings of the tinnen front.'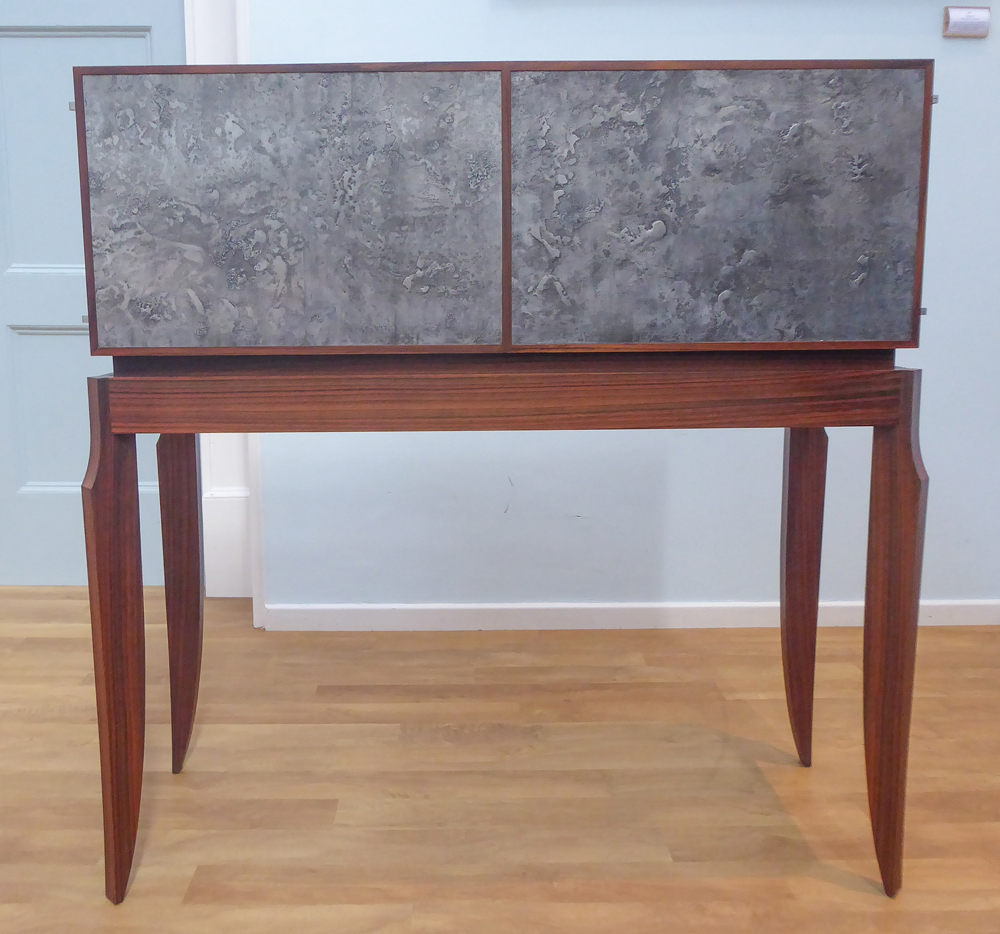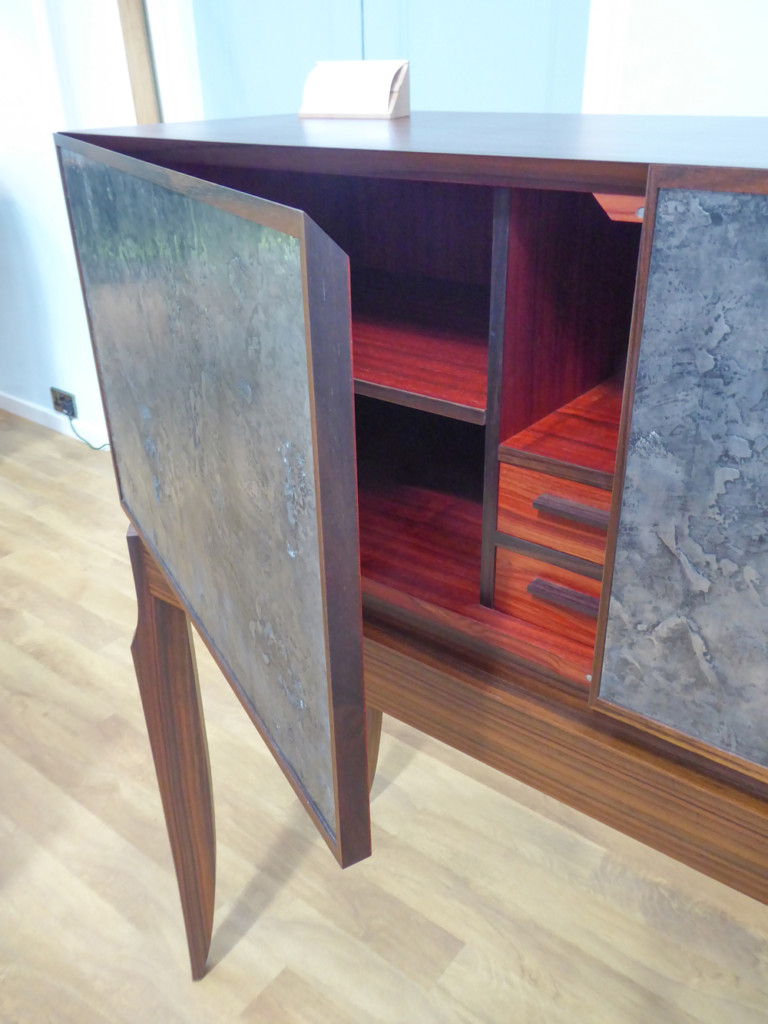 I just had to find the chair by Jan Waterston that I have greatly admired on Twitter.  A beautiful design slightly marred on my own photographs by the busyness of the background – so I have used a promotional shot to show you how beautiful this chair can look.
Another interesting piece that  Jan was showing is 'Pleat' made from Shou Sugi Ban Oak, Bleached Oak &Oak . After failing to be able to open the tambour doors, Jason Heap stepped in to demonstrate that you have to put your hands around them and sort of give them a soft bash/hug to open.  In Jan's words about this piece he is 'combining the ancient technique of Shou Sugi Ban, steam blending and bleaching, a pleated pattern is created, evolving as it is engaged with.'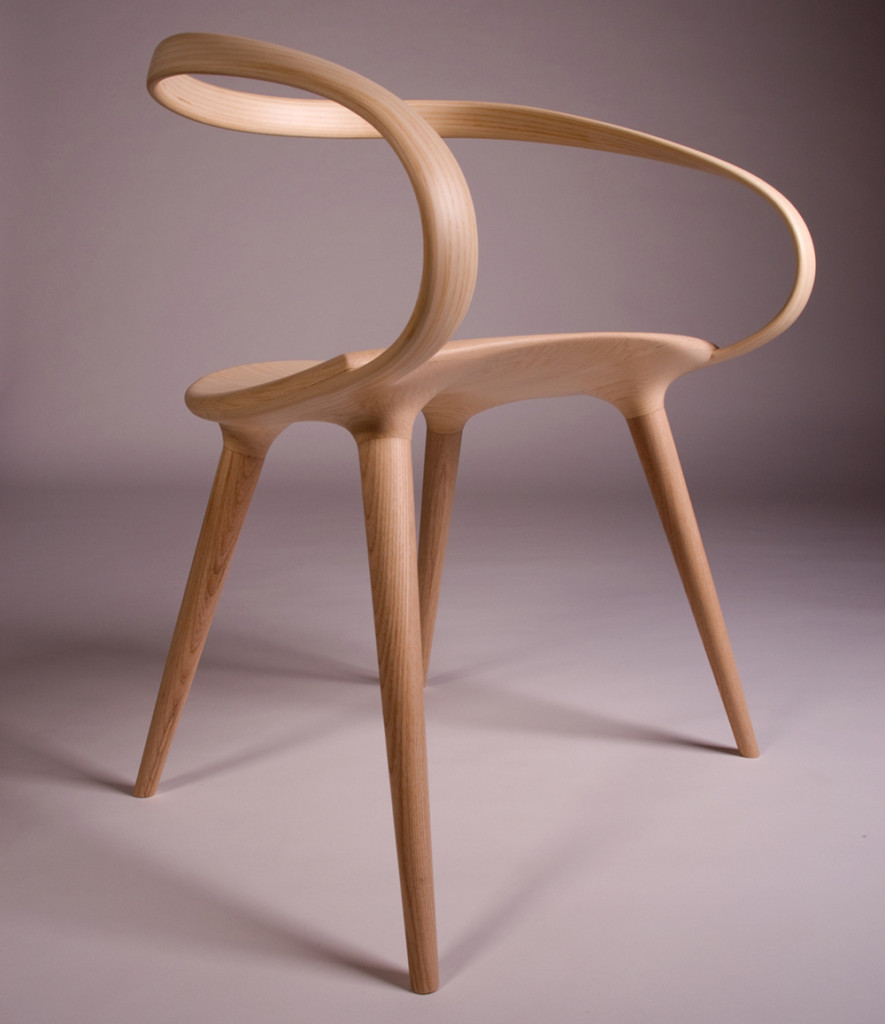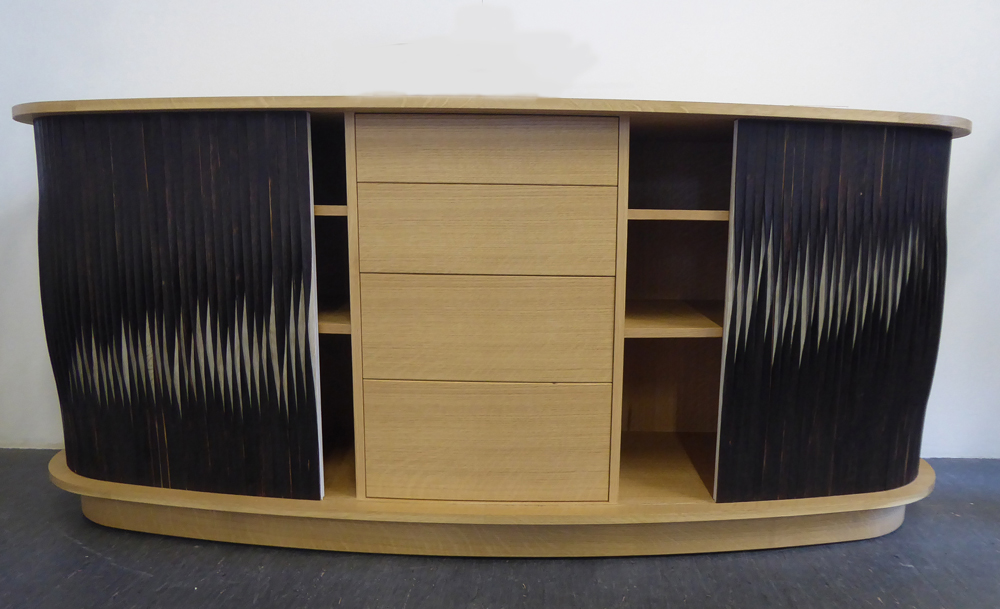 It was hard not to be impressed by the 'Blackwell' Console table by Four Limes Design
A rather elegant design in Rosewood, Ripple Sycamore & Glass
I read with interest that it was 'inspired by a visit to Blackwell House, a masterpiece of 20th century design built by the architect MH Baille Scott on Lake Windermere.'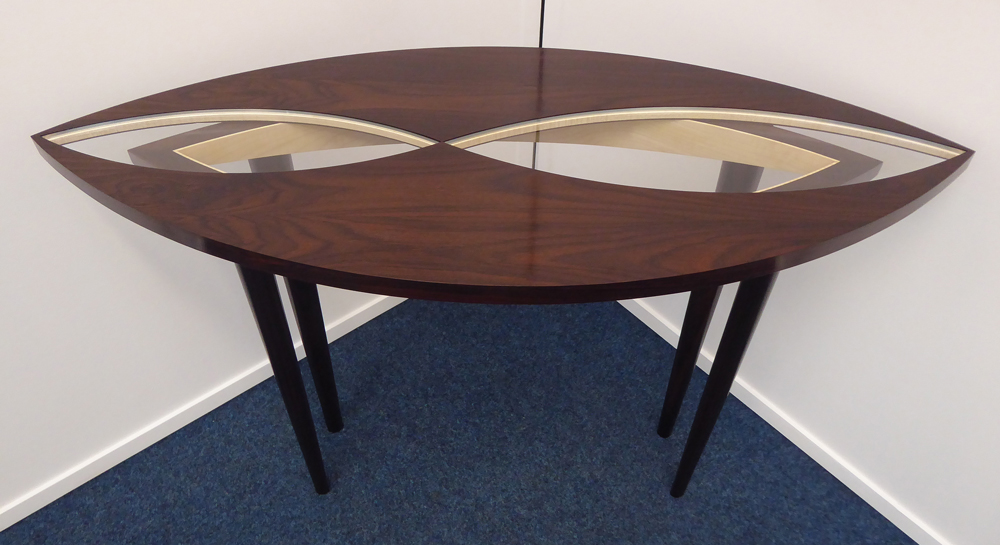 I was delighted to have the chance to chat to Kevin Stamper – as I have long been admirer of his beautiful art-based designs. Kevin's usual signature style is his unique pixilated veneer images.  Narrowing the distinction between Art and Furniture it is not surprising his collections now encompass Wall Art. These wall hanging images are created using pressure dyed sycamore veneer squares. Below you can see the Apple One design 990cm x990cm x 60cm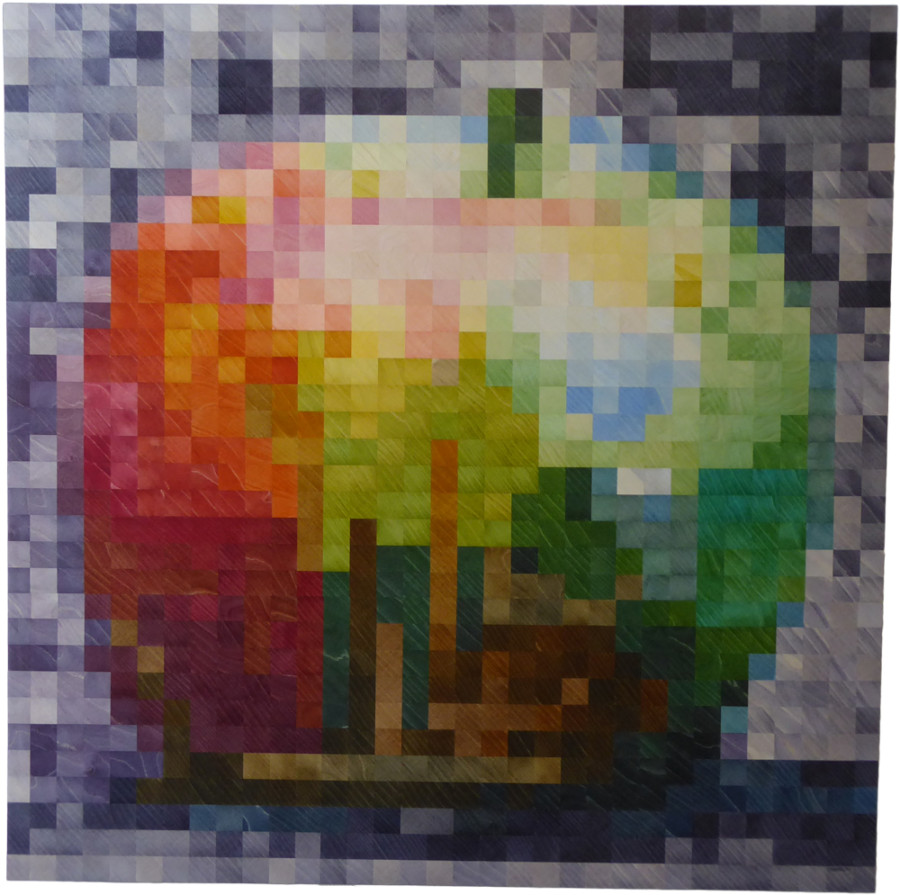 Kevin was also showing an elegant cabinet that he had made from beautiful American walnut curl or crotch veneer. The cabinet features mitred joints and doors all around to give a seamless appearance. The leaves of veneer are book-matched on the top and on the doors to create a fascinating and intriguing design.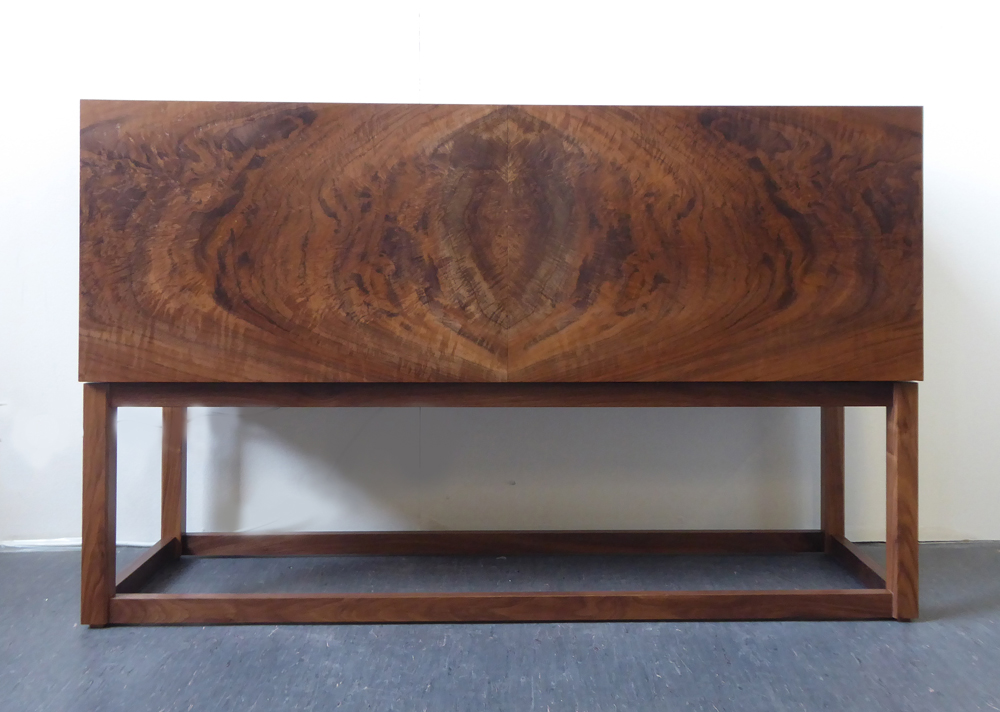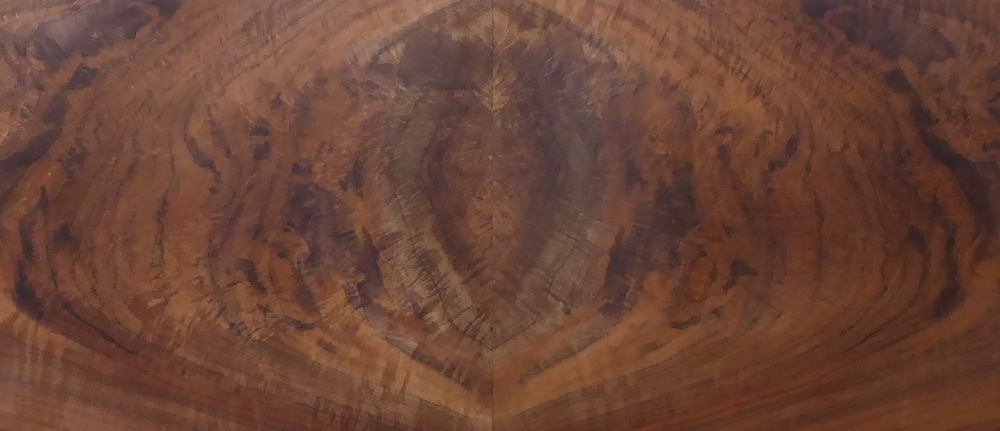 Lighting this year featured the 'Teasel' Lampshade by Alice Blogg
Alice uses locally sourced wood; Ash, Cherry, Sweet Chesnut, Oak, London Plane & Walnut
A perfect statement piece to a room, creating shadows as the night draws in.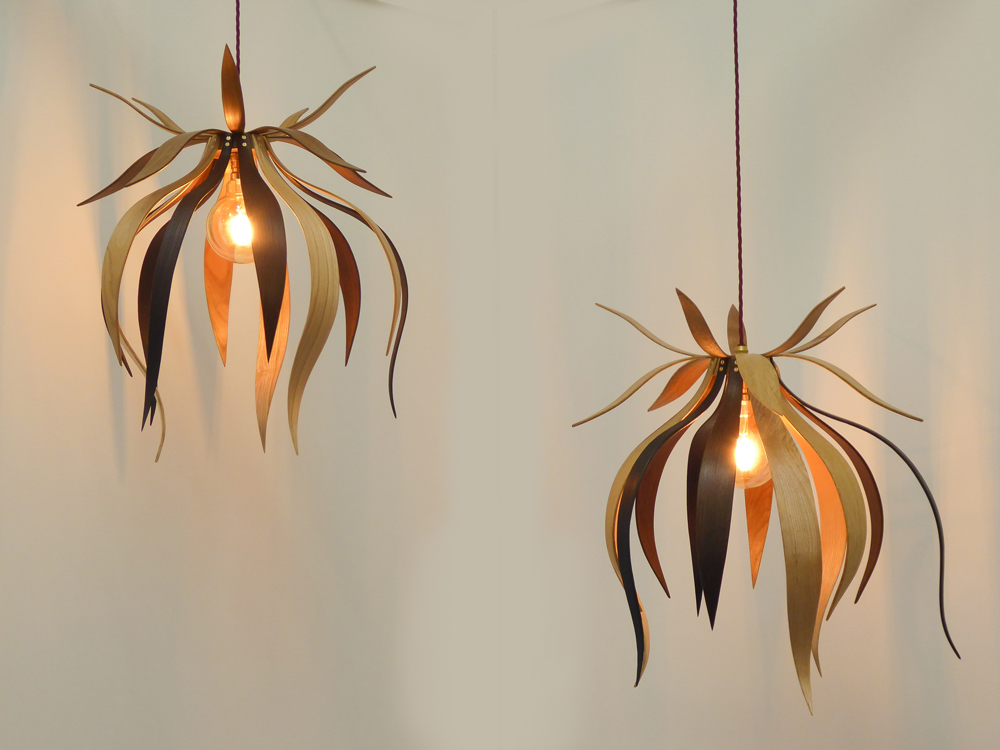 On the theme of lighting it was great to chat to Dan Morrison see the new creations from Blott Works.  Dan's latest creation is 'Beacon' Both the floor standing lamp and desk top are a limited edition of 15 and were proving very successful at the show.
Made from Oak, Aluminium, Copper, Brass, Concrete & Stainless Steel the 'Beacon' combines the idea of a flower and a flame. As with all the Blott Works creations they cross the line between art, function and interactive sculpture. With the Beacon engineered to open like clasped hands.  You can also see more from Dan Morrison on our 'Meet the Makers' pages.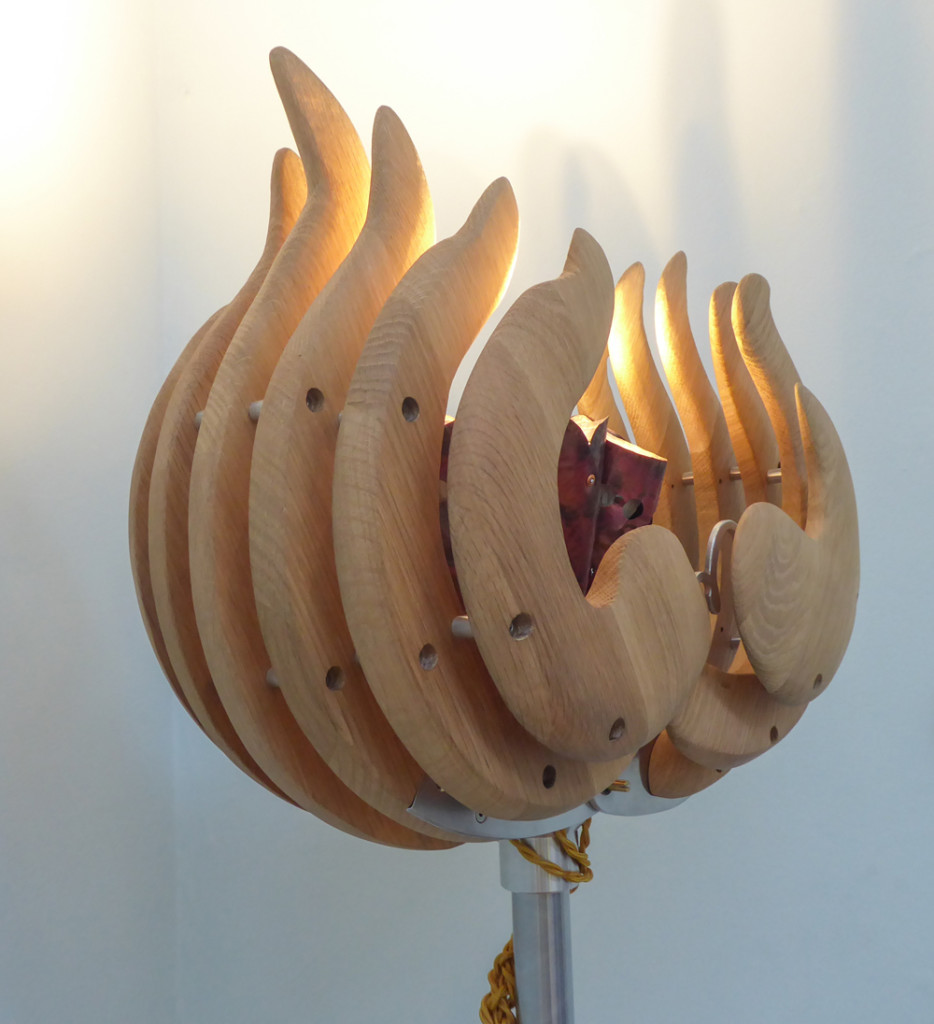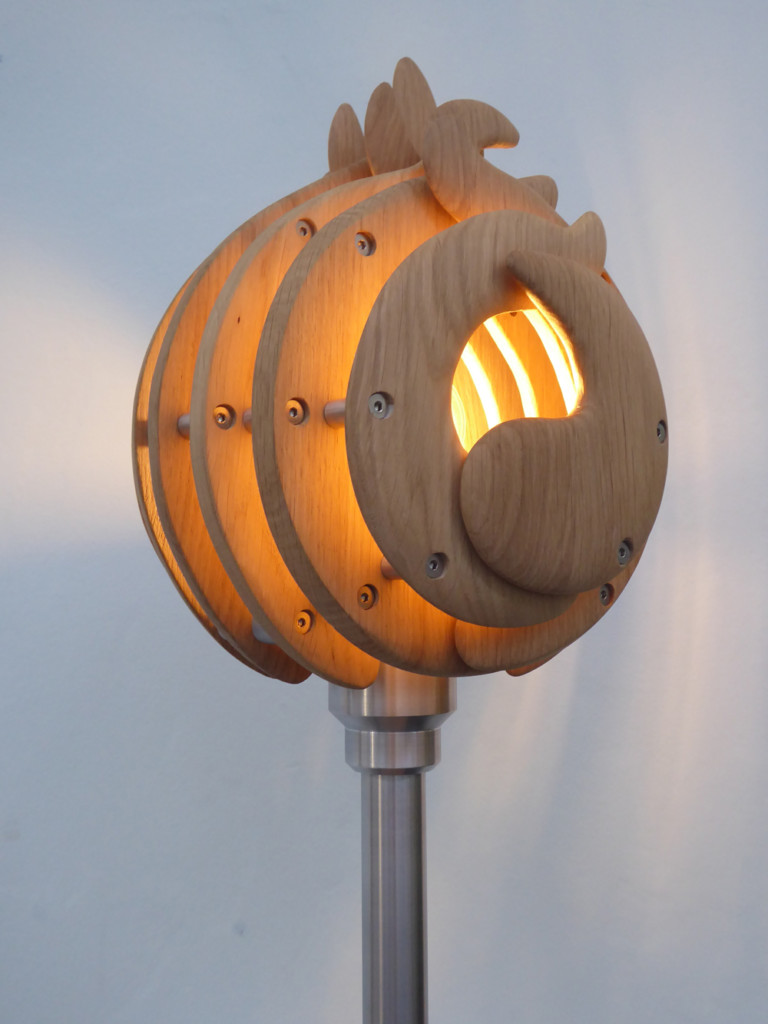 Another designer that was looking forward to seeing was Sally Burnett designs in Wood
It's hard to believe the vessels that she creates are actually made from wood. On close inspection you can see the grain on the beautifully crafted collection.
Made from Sycamore & Acrylic – 
The flowing decoration was inspired by the ripple in the pice of crotch sycamore from which the first piece in the collection was made.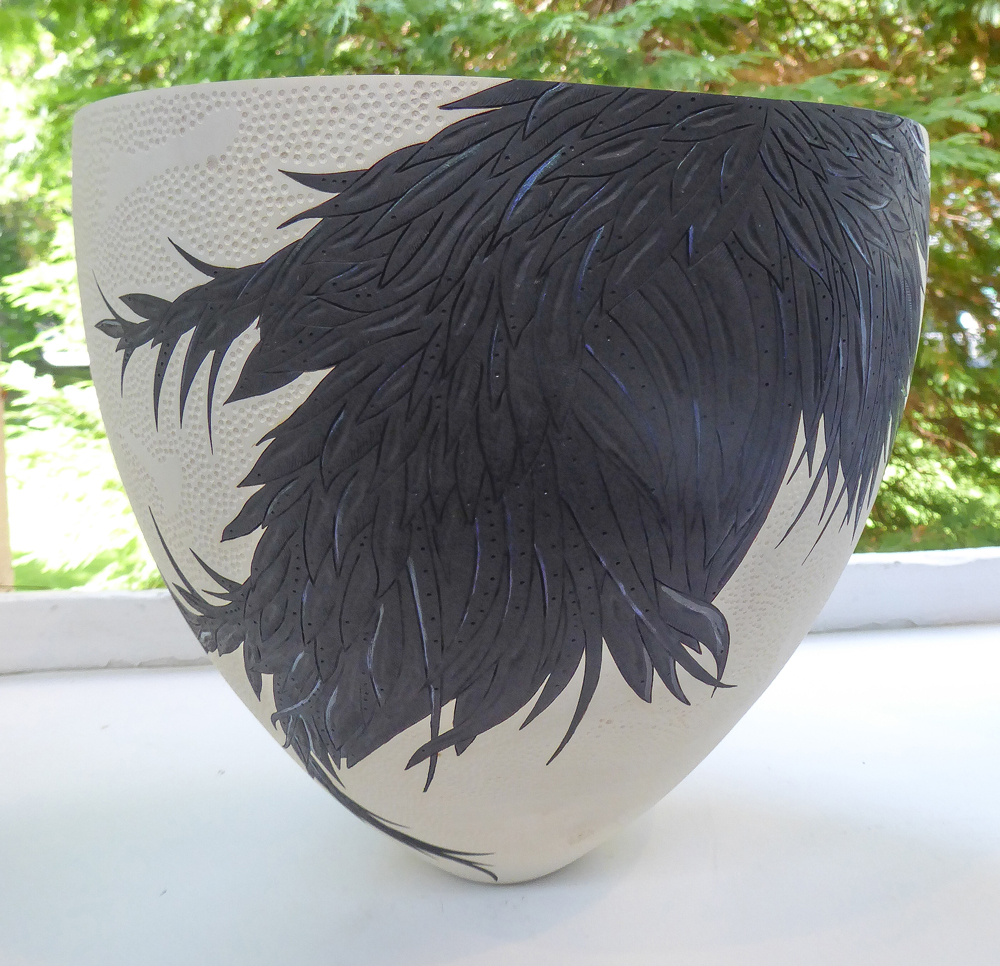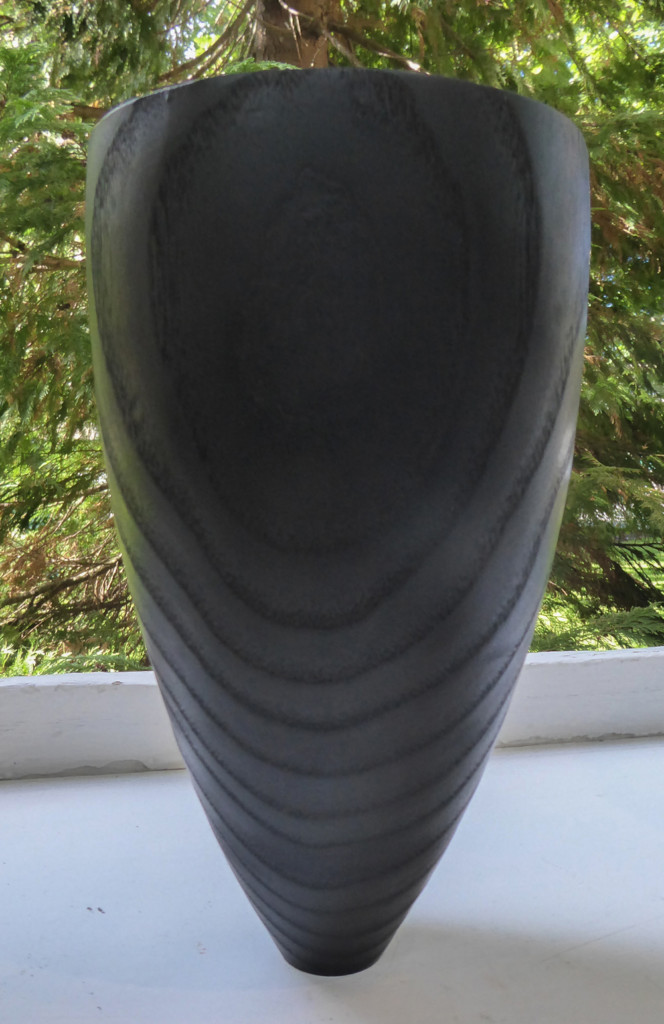 Carrying on the Black and White theme the collection by Simon Conolly  looked very striking.  'Ellipse' and 'Revolution' are two of his wall sculptures.  Made from high fired stoneware clay. His compositions are inspired by winter murmurations of starlings on the Somerset Levels.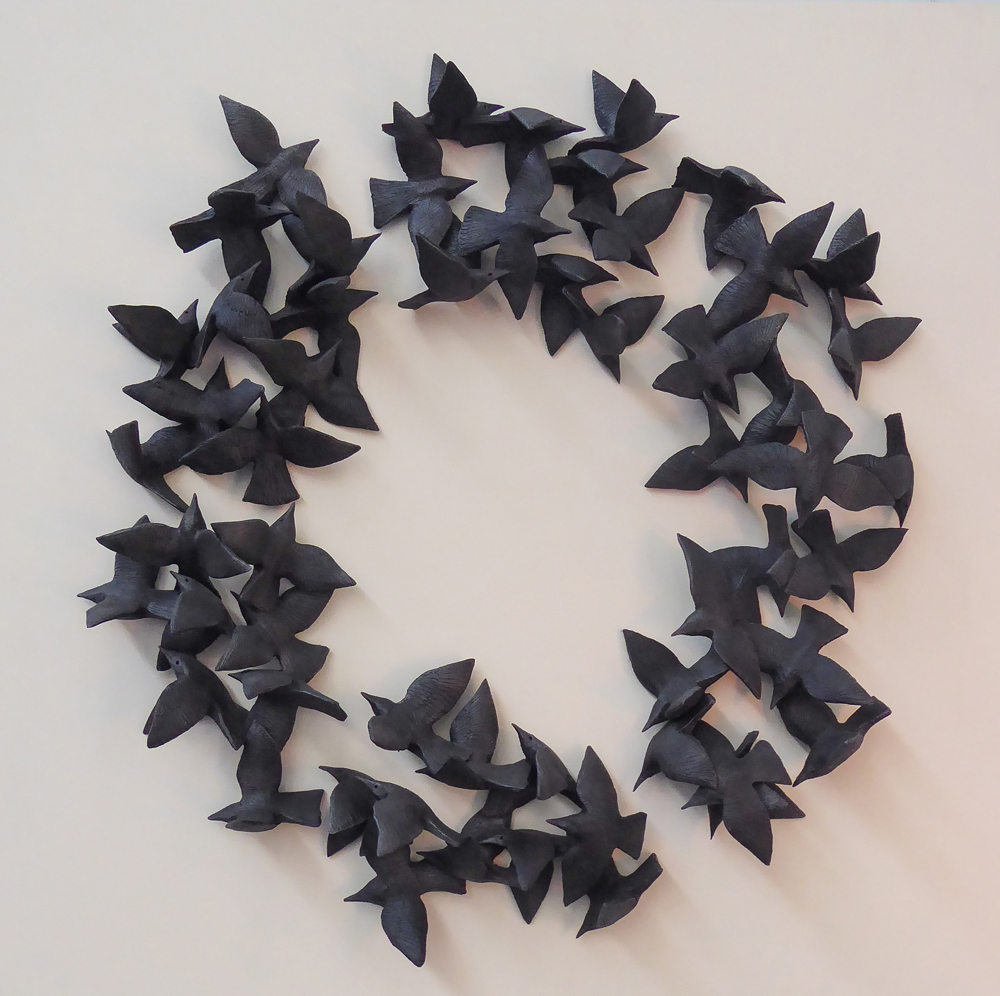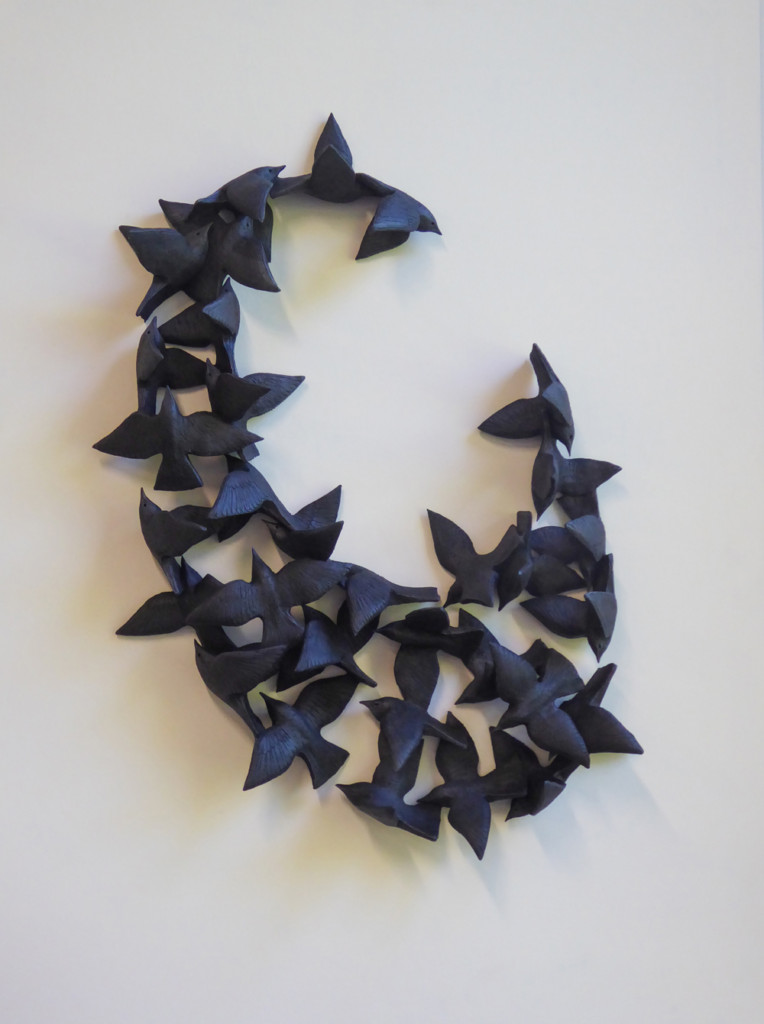 I always admire the beauty of hand-blown glass and it was great to see a wall of shimmering designs by Adam Aaronson.  His 'Landscape' vessel is free-blown Glass & Silver Leaf .  With Adam taking his inspiration from the natural world and the play of light on the landscape and water.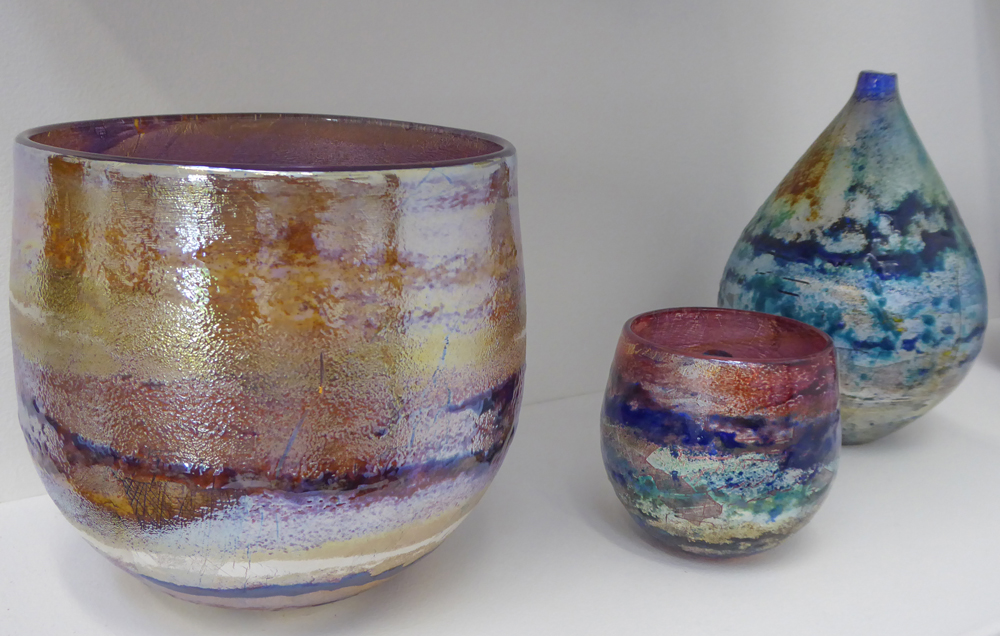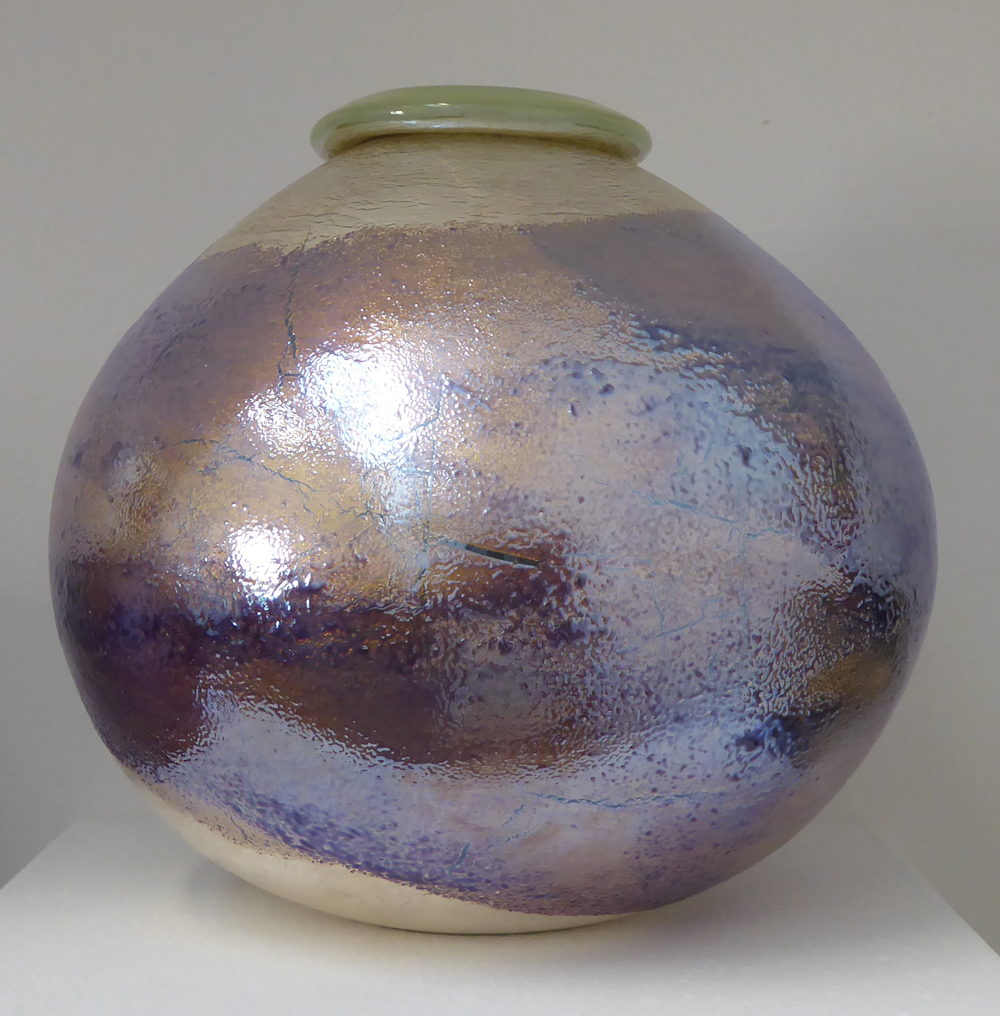 And finally 'Talking Cobblers'
In the grounds on the way out I was greeted by more sculptures – with the amusing creations by Simon Conolly catching my eye.
Simons piece called 'Talking Cobblers'  is made from Fired stoneware & Oak
'Talking Cobblers is what happens when 2 or more men are gathered together.'  Please note this is a statement by the male artist and any resemblance to the truth (in this blog) is purely coincidental.
Finally I would like to pay my respects to all the Craftsmen and Designers that create such unique, showcase pieces. Usually more for a labour of love of the craft, than profit.  Often teaching and sharing their skills, to enable them to carry on making.  So check out some of the links to websites above.  You can discover more of their designs, or find courses to develop your own talents.