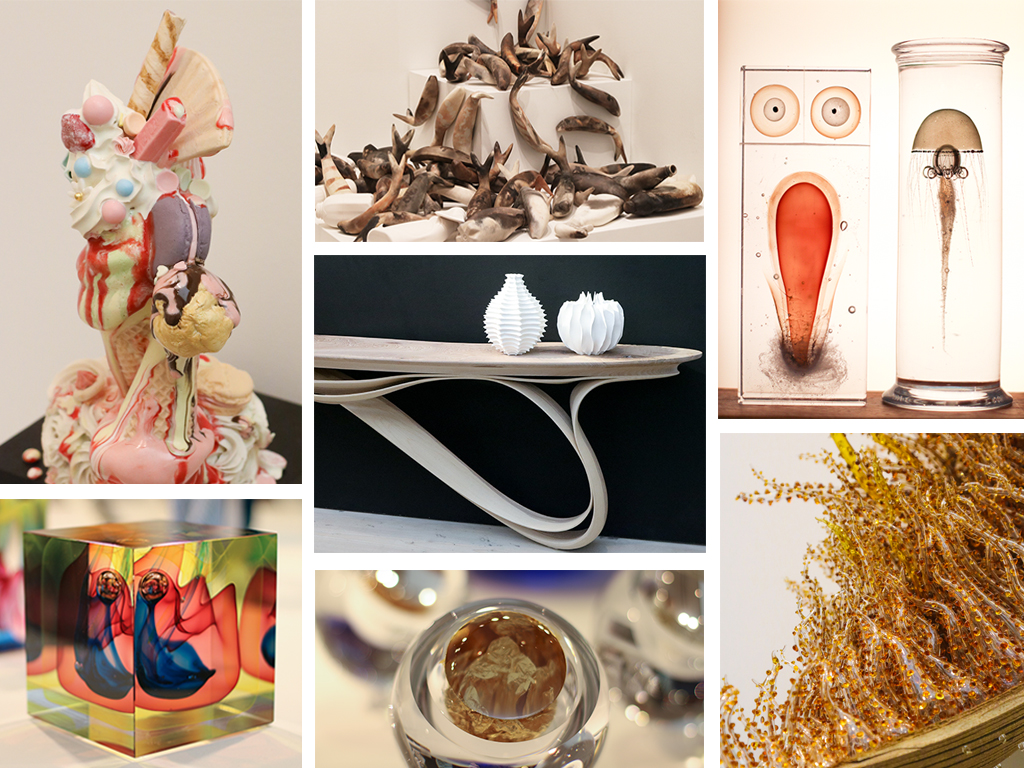 Collect 2018
I had no expectations when I arrived at the Saatchi Gallery for Collect 2018.  This was my first visit to the show and I was amazed at the size of the event.  With 40 Galleries and over 400 Artists – just so much to see.  The event is run by  Crafts Council and I must say, the quality of most of the exhibits was exceptional.  I was feeling a bit like a child in a sweet-shop, it was so exciting and there were just so many talented designers.
At times it was really hard to believe your eyes.  I was surprised by –  clay that looked like plastic, porcelain that looked like paper, glass that looked like foam and textiles and threads that looked like paintings.  Sometimes it was hard to believe that anything was what it appeared to be.
As there was so much to see, I have just had to narrow it down to my personal high-lights.  I have edited my 100's of photographs to share with you some of the amazing exhibits.
It's difficult not to be swayed by personal taste and I always tend to focus on the what appeals to me.  So you may find this review led by the artist in me.  I am totally wowed by the beauty of glass, in awe of the skills of fine porcelain and love elegant designs in wood.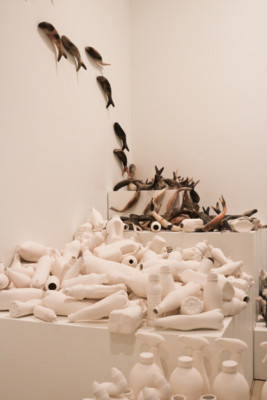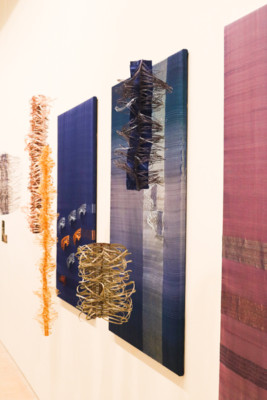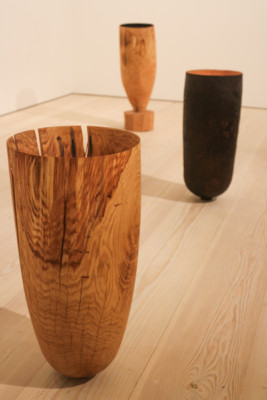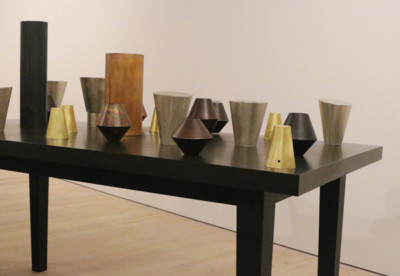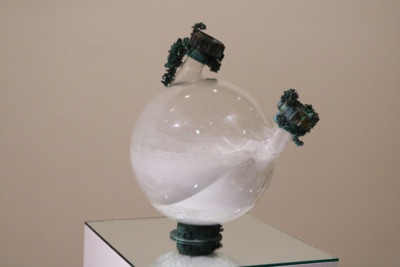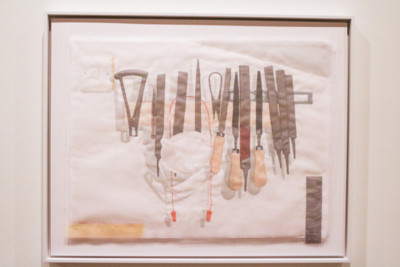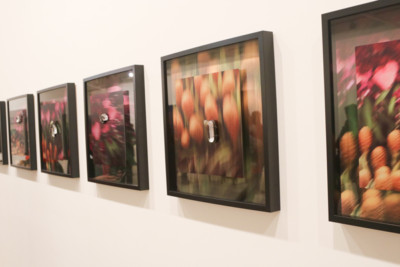 Quite intriguing was my first stop – the Open section at Collect 2018.  Two rooms filled with Installations from 14 Artist's.  This area gives artists a chance to create work that makes a statement.  And to go a bit art speak-y –  to produce an installation that is more about its narrative than aesthetics.
Mella Shaw chose to high-light the plight with plastic pollution in the Oceans.  Her fish and plastic containers were amazingly all cast in clay.  Katrin Spranger's work is inspired by raising the awareness of the global water crisis.  Created from glass and copper, the materials associated with storing and transporting water.
Emily Jo Gibbs focus is the decline of making skills with a gallery of stitched craft depicting images.  Metalsmith  Juliette Bigley won the prize in this section for her over-size 'Table' installation. She creates her vessels and spaces them apart to explore how we relate to objects in the world.
After all the though provoking fine art installations it was great to venture down to another floor and immerse myself in the beauty of the work on show.  My first wow moment was on the London Glass Blowing Stand.  The amazing effects that you can achieve with coloured glass is mind-blowing!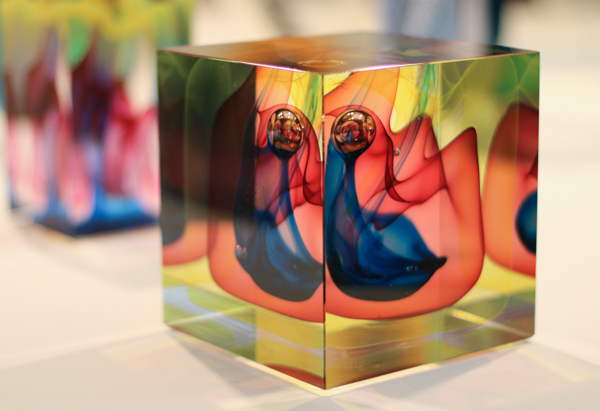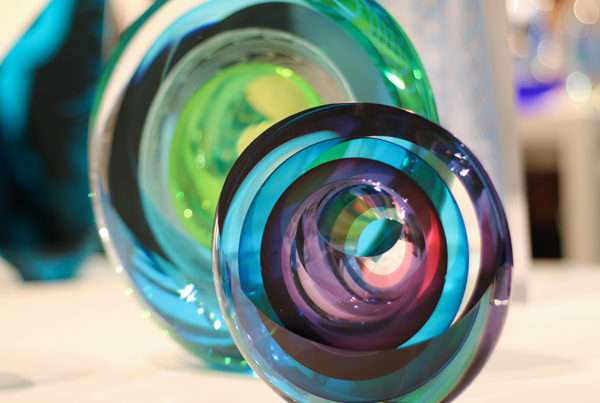 What a brilliant collection of Glass artists, each one creating in their own unique style.  It was good to chat to Director Peter Layton about the different artists.   Anthony Scala was also on hand to talk about how he produces his amazing designs.  Optical glass seems to be the key to achieving the beautiful quality of his work.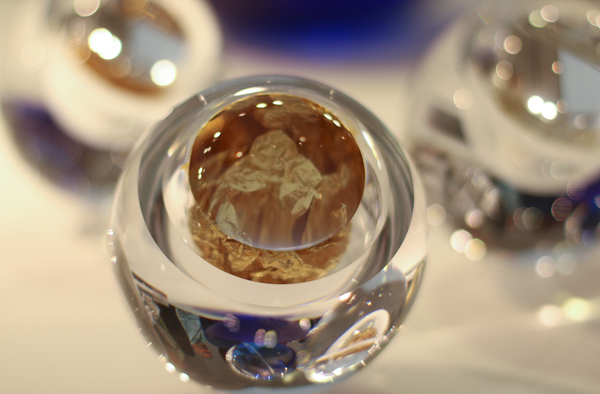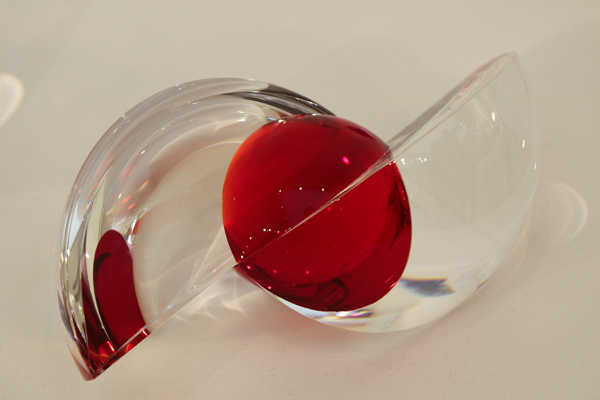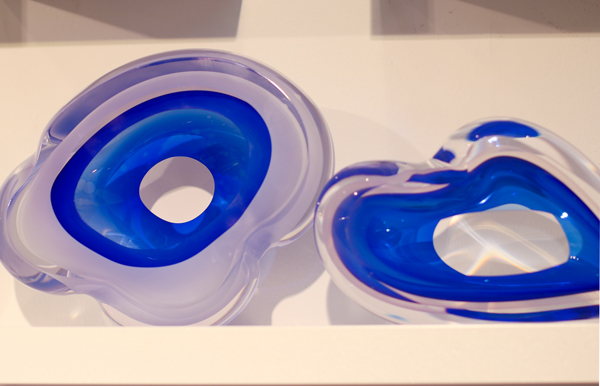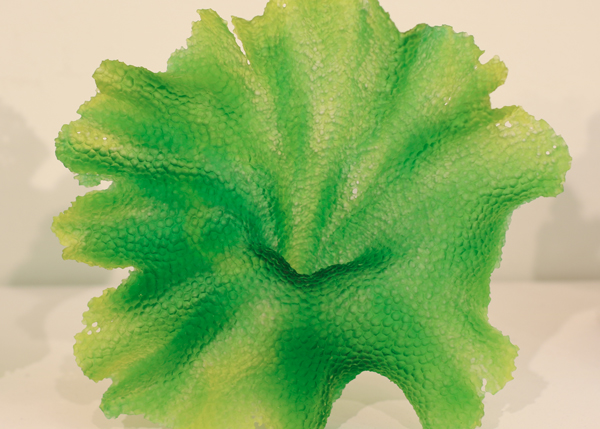 Vessel Gallery were showing some other glass artists that I admire.  Enemark & Thompson, who create these curious orbs with translucent organic strands of white and gold.  Also featuring James Devereaux, who chips away at his of glass forms, to create beautiful sculptural shards.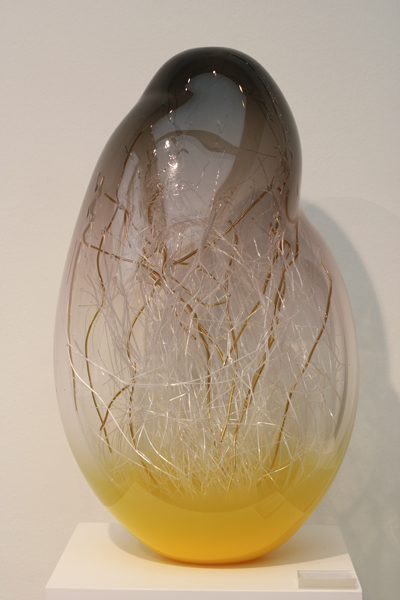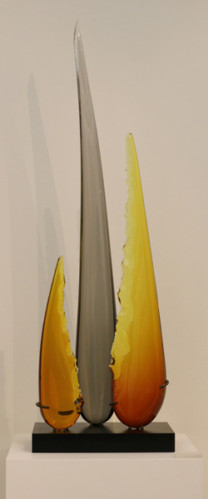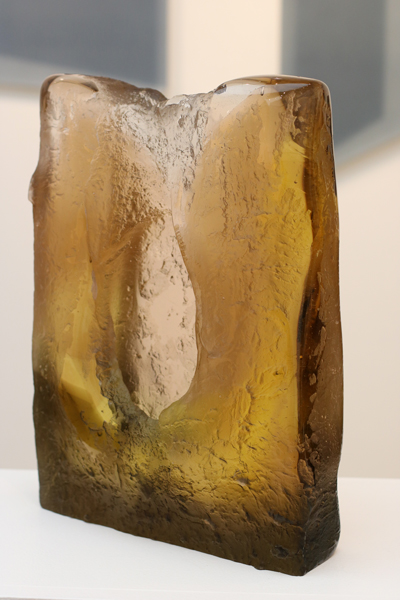 Bulleye Projects were showing Joseph Harrington and Anne Peters.  Joseph Harrington uses ice as a modeling medium.  The ice is eroded and sculpted with salt, then cast into glass.  I love Joseph's work and have included it before on our Etheral Seascape mood board.
You could be forgiven for thinking, as I did, that the leaf below is created from some kind of synthetic material.  They are actually kiln-formed glass.  Anne Peters creates these delicate leaves, along with sheets of wafer thin paper in loosely bound pages.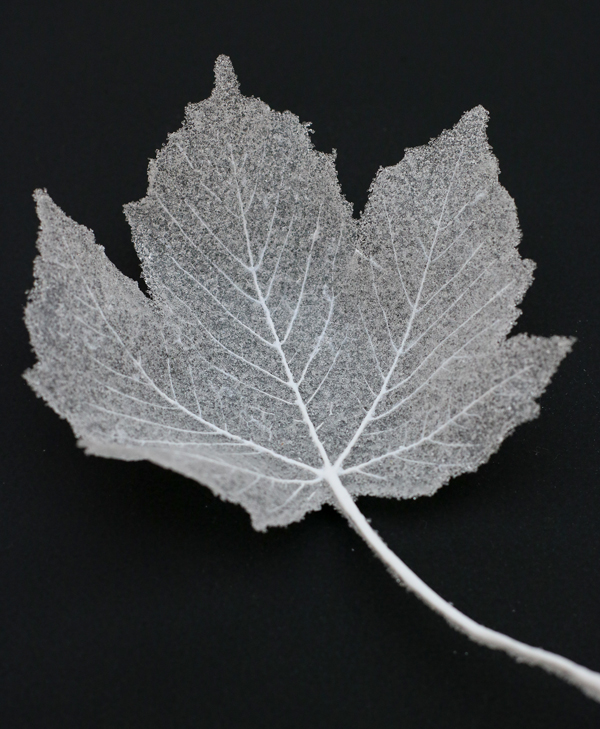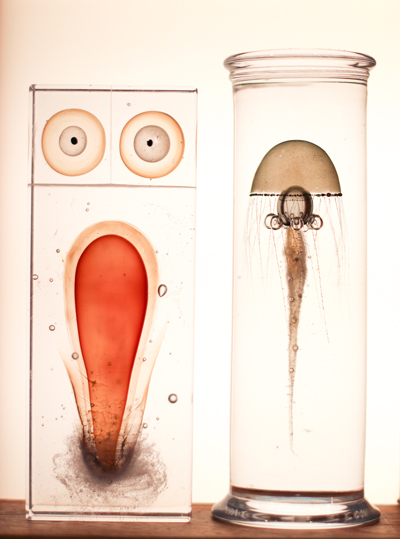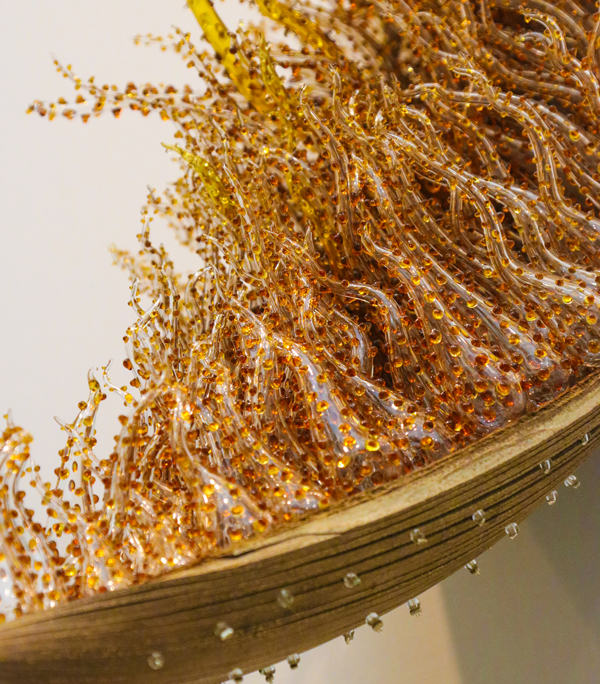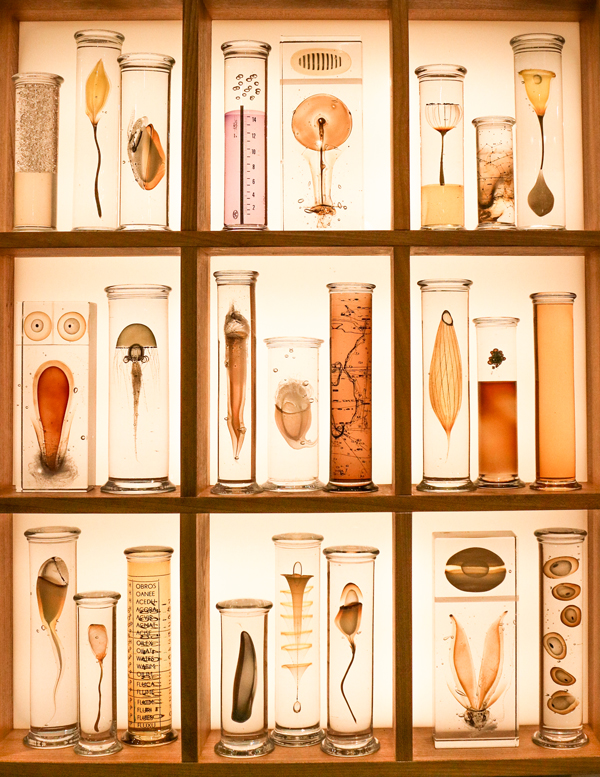 One of the widest varieties of Ceramics I found at The Cynthia Corbett Gallery.  The Still Life painting by Dirk Staschke, created in clay, reminiscent of the Dutch Masters, was interesting to see.  His representation is more painterly than realistic and all set in an ornate gilded frame.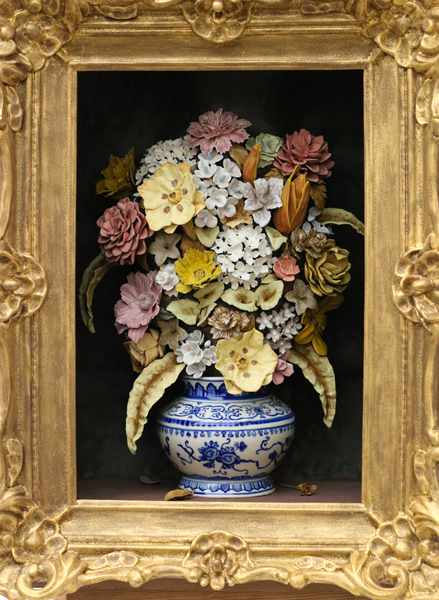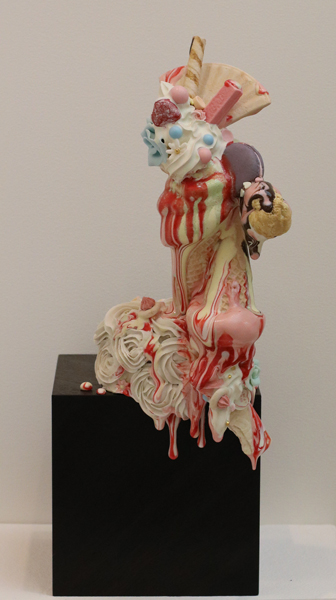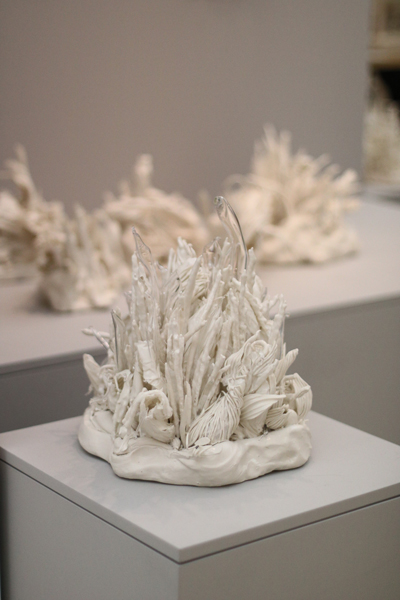 Another fun ceramic artist is Anna Barlow.  Her melting ice cream creation's are quite bizarre.  Created in a very painterly way, they look good enough to eat.  Her skill with modelling, finishes and glazes is genius.   Lucille Lewin's white sculptures, in porcelain and glass, are inspired by early microscopic photographs of the natural world.
Jo Taylor shows her signature style, sculptural ceramics, in a rainbow of beautiful colours.   Alissa Volchkova's ceramics explore the progression of time, by the transformation of an 18th century Wedgewood vase.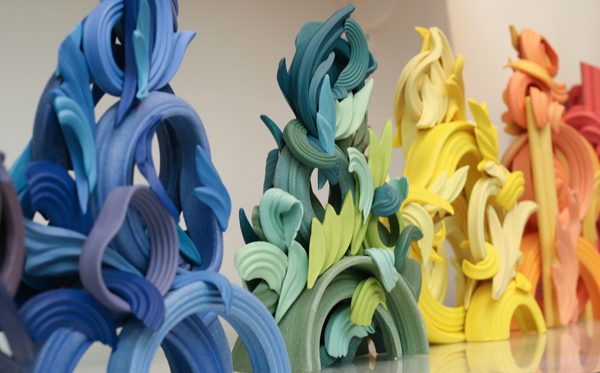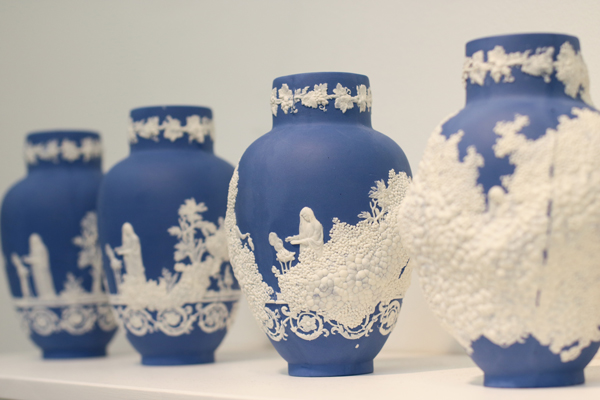 It was good to see the work of Phoebe Cummings (who won the Woman's Hour Art Prize this year).  The studies she exhibited were made from wire, wax and clay.  This porcelain installation by Valeria Nascimento was also achieving a lot of attention and a real delight to photograph.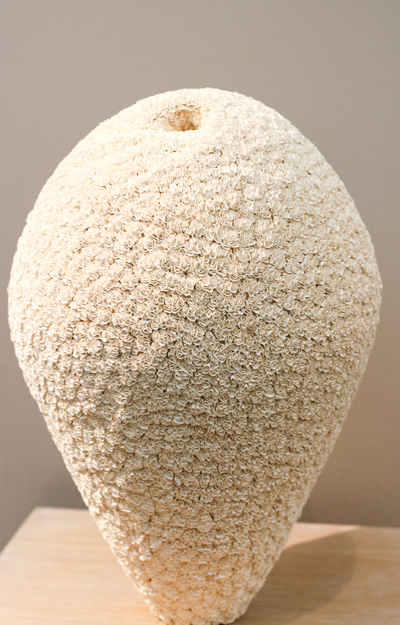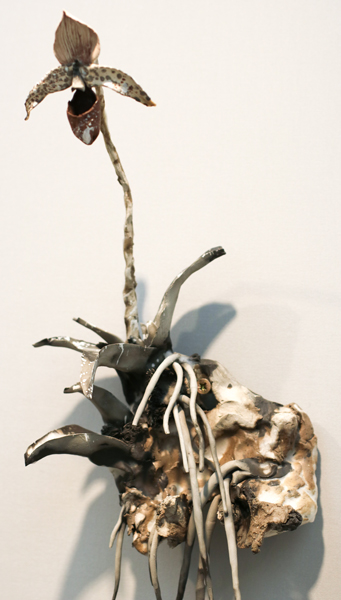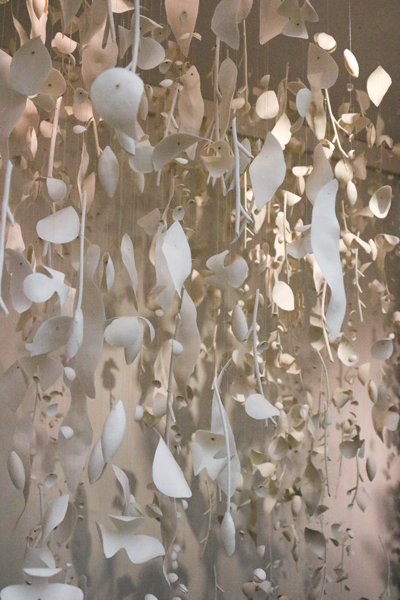 I just wanted to finish the ceramics section with these amazing porcelain flowers from the new  Ting-Ying Gallery by Peter Ting and Zha Caiduan.  So delicate they look like paper – just beautiful.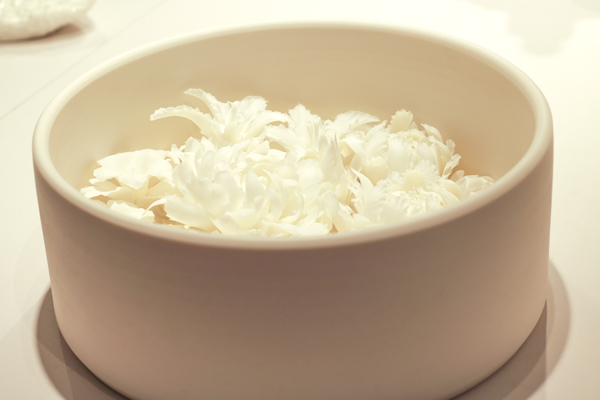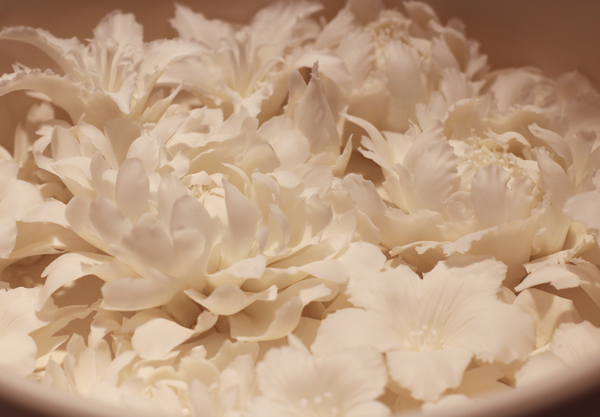 Sarah Myerscough Gallery had a great mix of both elegant and interesting designs.  I loved this consul table and shelf by Joseph Walsh. Elegant flowing lines and sculptural design does it for me every time.  Perfectly styled, with sculptural wood vessels by Marc Ricourt.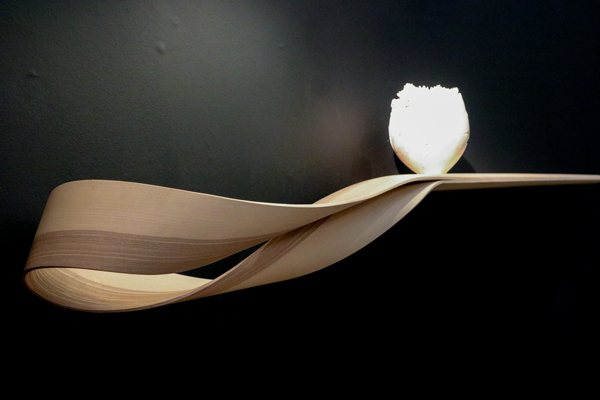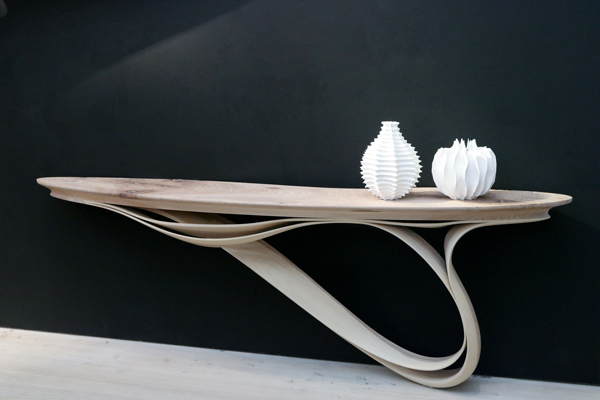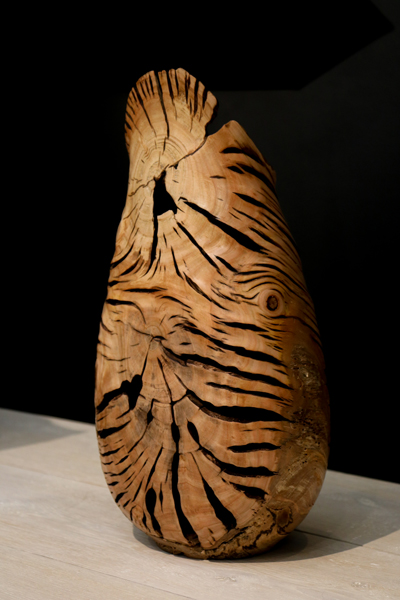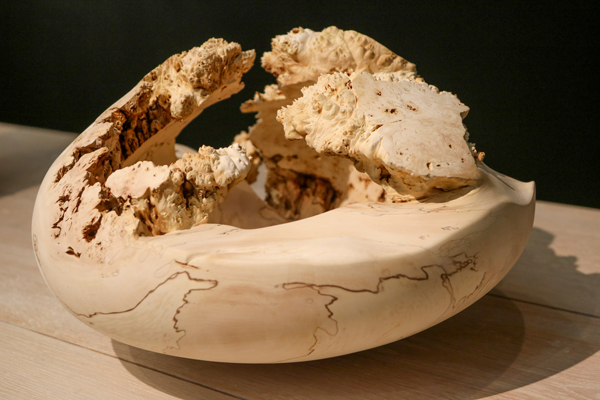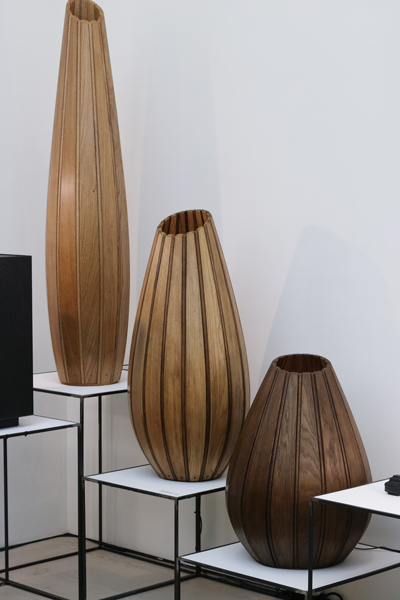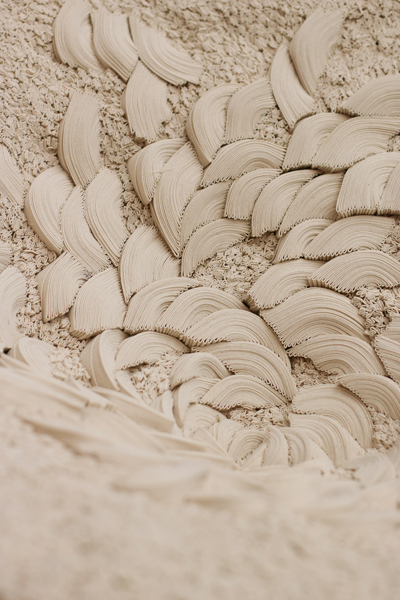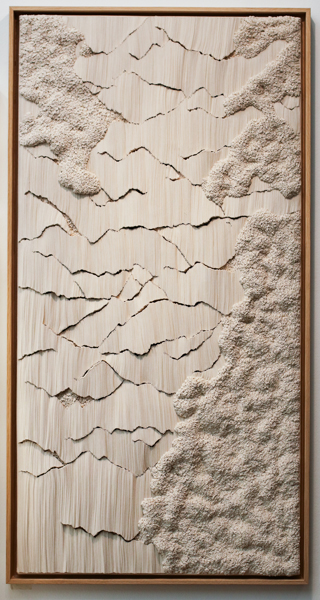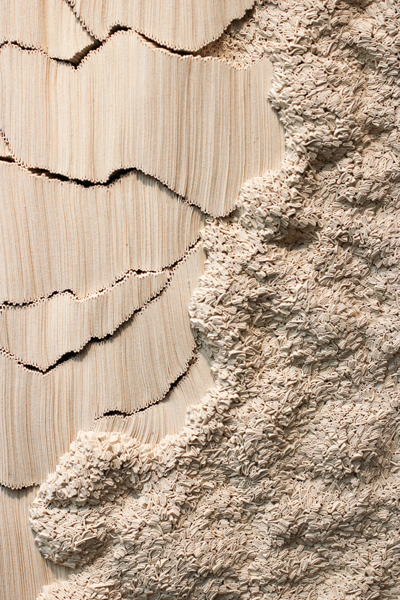 Maison Parisienne featured Textile artist Simone Pheulpin.  The wall art was so effective, with the design revealed in the shadows, cast by light over the textured surface.
At the Tansey Contemporary Gallery, textile artist Carol Shinn, nearly fooled me with amazing paintings.  You have to get very close up to see that they are created with thread.  She calls it freehand contemporary stitching.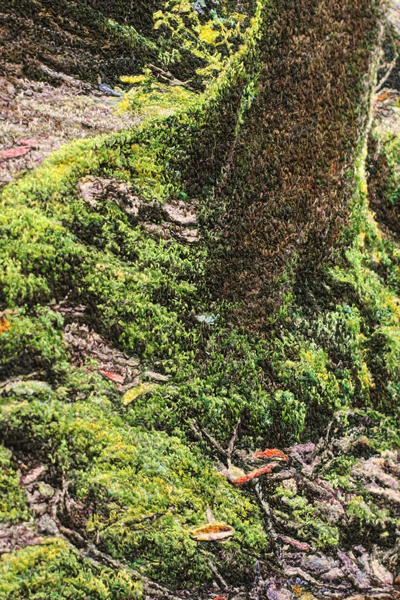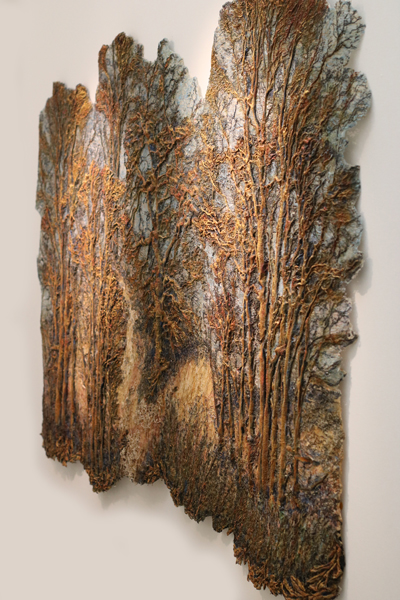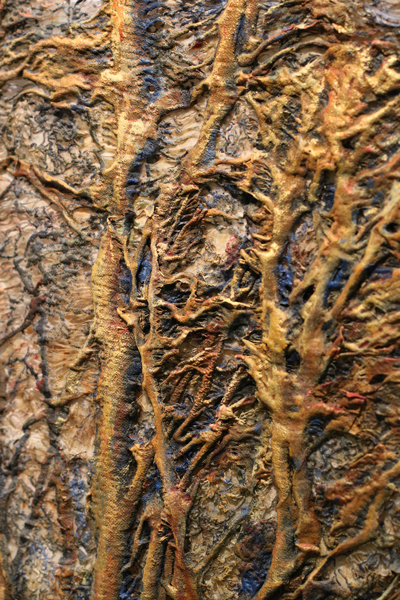 If you didn't get to Collect 2018 , I hope you have enjoyed our high-lights of the event.  For people that love to see great craftsmanship, it's definitely an exhibition worth putting in the diary for next year.
We would love to hear what you thought of the show – so please leave your comments on Collect 2018 below.