Midnight Magic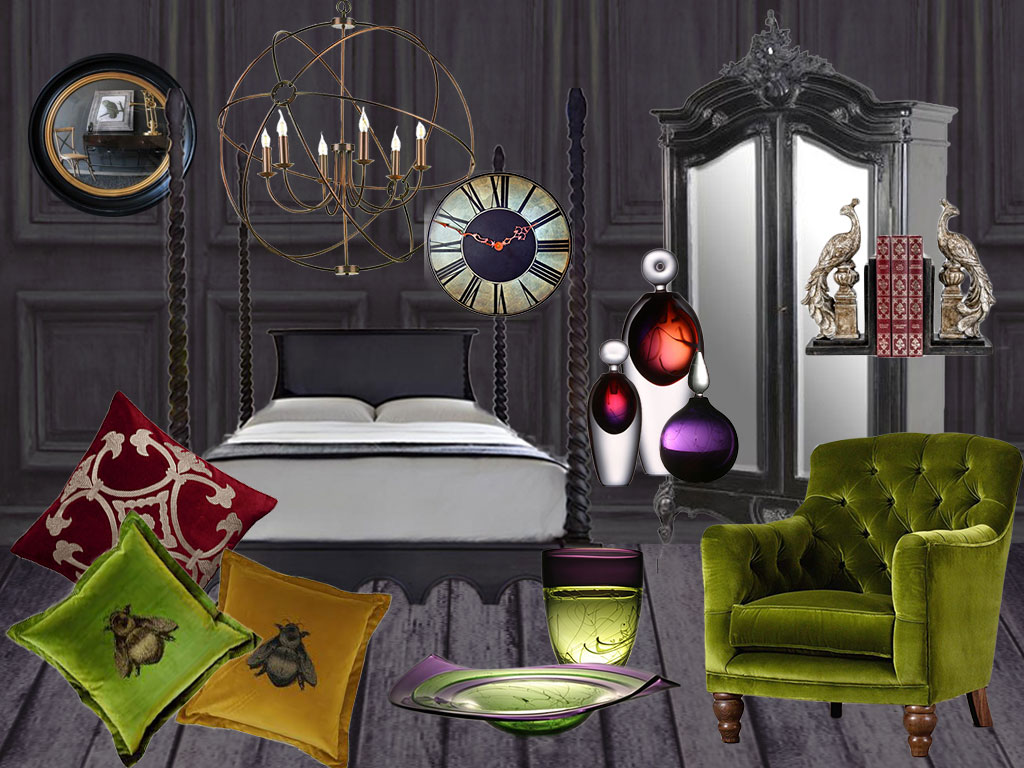 The new trend for velvet upholstery brings a real sense of luxury to any home.  I love this rich olive green velvet, which looks amazing when accessorised with the beautiful jewel colours of this handmade glass by Stuart Akroyd.
I have presented this in a gothic style magical bedroom, with this wonderful four poster by And So To Bed and elaborate armoire from Out The Interiors. For see more gothic accessories visit the artefacts.co.uk website, where they have a fabulous range of clocks and mirrors.
To give this a board a contemporary feel I have created a background of painted wood panelling in a smokey grey. To give a more traditional feel to your room, replace this with an aged and distressed dark wood, to create that magical Harry Potter old mansion house style. 
Black and gold 52cm diameter convex mirror    outthereinteriors.com

Venetian four poster bed    andsotobed.com

Ophelia Cushion   oka.com

NapoleonBee Cushion   cimmerman.uk

Napoleon Bee Cushion  cimmerman.uk

David Hunt 6 light orb in Antique Copper    castlegatelights.co.uk

Large wall clock 33cm diameter  decorative artefacts.co.uk

Cirfunkerance bowl and Ludic bowl    stuartakroydglass.com

Elipse bottle and Ludic bottle  stuartakroydglass.com

Double fronted  Black Armoire   outthereinteriors.com

Peacock Book ends    indianajane.co.uk

Tufted Glove Velvet chair  in Olive   authenticfurniture.co.uk
Please note with our Archive mood boards – suppliers may no longer stock the products.