Ethereal Seascape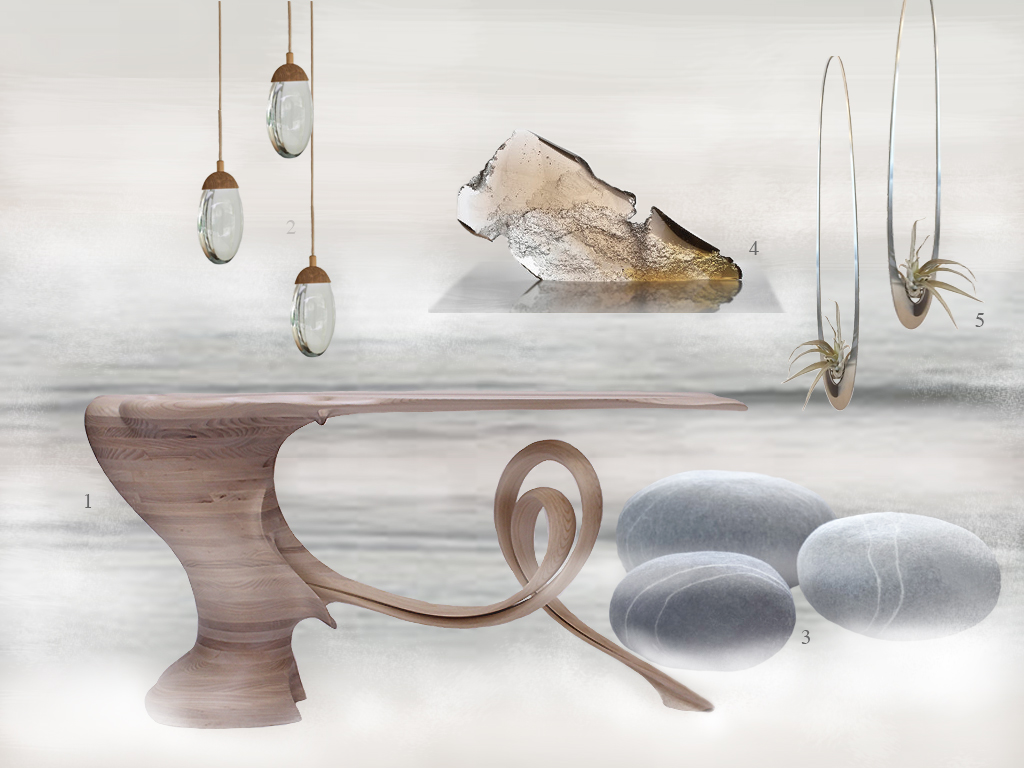 1 Waiho console Table  – Robert Scott |  2 Beach Pebble Lights – Ochre |  3 Pebble cushions by Vlada Hom from  Etsy |  4 Glass sculpture Canyon falls ii   – Joseph Harrington  |  5 Air plant hanger – Alex Thomsen by Epekho – Etsy  
Please note with our Archive mood boards – suppliers may no longer stock the products.
The Inspiration
The sun rises on a beautiful misty shore line.
Roberts Scott's furniture is the inspiration behind this Ethereal seascape moodboard.  I first encountered Robert's work on exhibition at the Cheltenham 'Celebration of Craftsmanship and Design', in 2016.  Being enchanted by his Aeliona console table – he soon featured on  our 'Meet the Maker' pages.  Taking inspiration from the erosion of wind and water on rocks, Robert has created designs from layers of Ash – sculpting them in to beautiful time worn creations.  I particularly like the form of the Waiho console table.  Combining the erosion of the elements with spiralling wind and waves.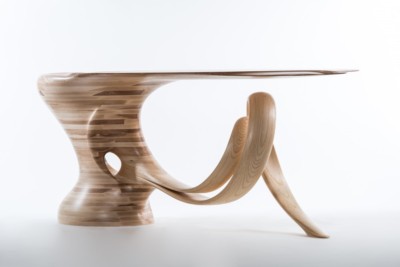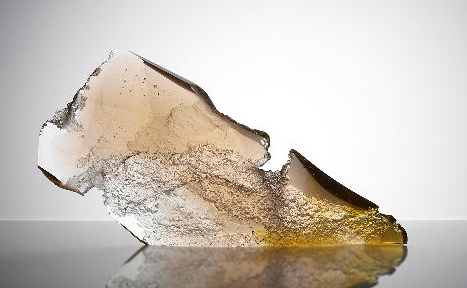 An ideal addition to the scene is this amazing sculpted glass of artist Joseph Harrington.
Joseph has developed a unique working method using ice as a modeling medium. The ice is eroded and sculpted with salt then cast into glass, capturing a moment in time as the ice is melting.
Continuing with the simplicity of form I have chosen lighting by Ochre.  I love the simplicity and elegance of their designs and this Beach Pebble design fits perfectly. Sold as separate pendants 12.5 x 4 x 21cm in solid glass with oak top and LED.  They look great suspended in a group at different heights.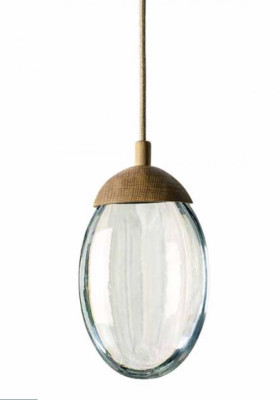 I wanted to keep the board very minimalist and have just included carefully chosen accessories.  Both designers are to be found on Etsy.  The pebble cushions from Vlada Hom fitted perfectly.  The air- plant hangers, designed by Alex Thomsen echo the simple style, form and light ethereal theme.
It would be great to know what you think of our Ethereal seascape, so please let us know. To see more of Robert Scott's designs, click on the link to his page below or visit his website www.robertscottstudio.co.uk