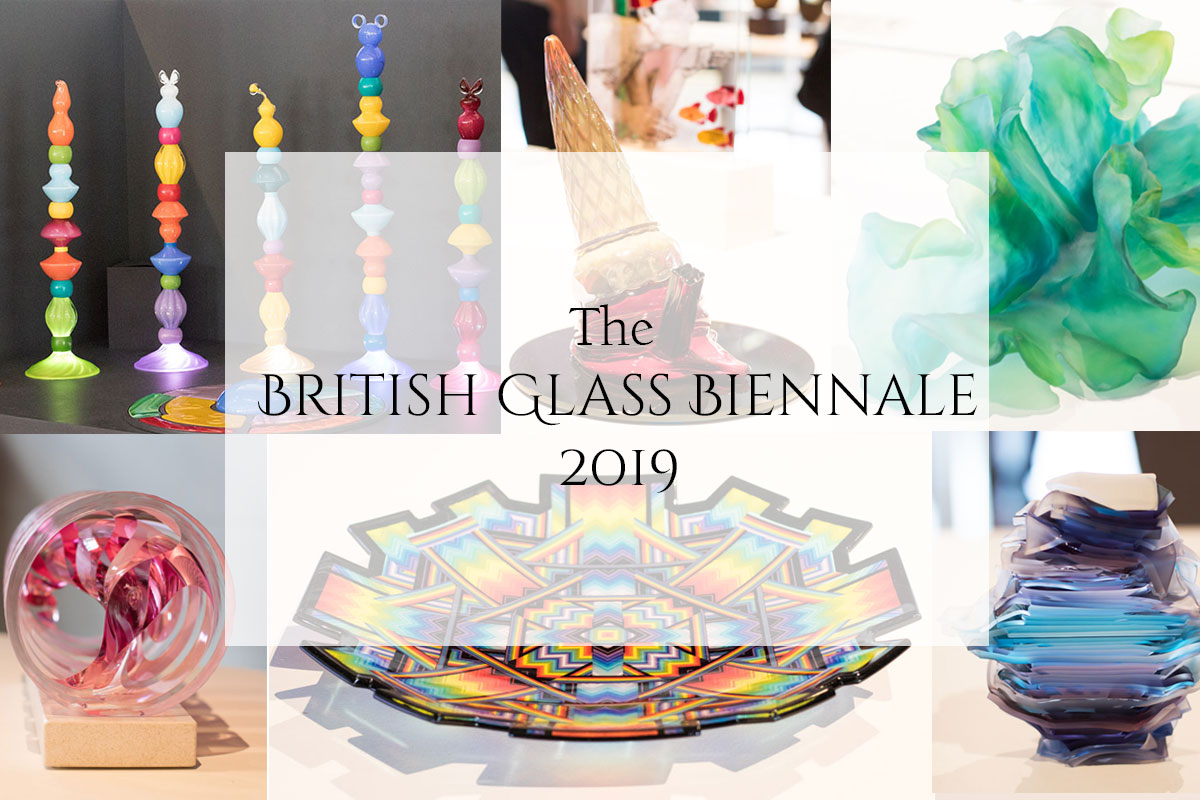 The British Glass Biennale is the flagship exhibition of the International Festival of Glass.  From over 200 entrants, 74 glass artists were chosen.  A selection of established artists, emerging talent and students.  All chosen to represent the most diverse and outstanding contemporary glass art. 
This is the first time I have visited this exhibition and I was very excited to see such a diverse collection of work.  There was a great feeling of excitement and a very busy and lively atmosphere.  Just so many demonstrations and exhibitions to see.  Although, next time, I may not choose to go on the first day of The Festival, as this made taking photos of the exhibits rather challenging.
The Small and the Mighty
From Video screens to Installations, the work is captivating, from the minute that you step inside the exhibition.  My first impression at the entrance was the great contrast in scale of the works on show.  Starting with this mighty creature called 'Ambition'.  Jonathan Michie has been awarded The Glass Society International Award for his creation in water jet cut glass, and steel.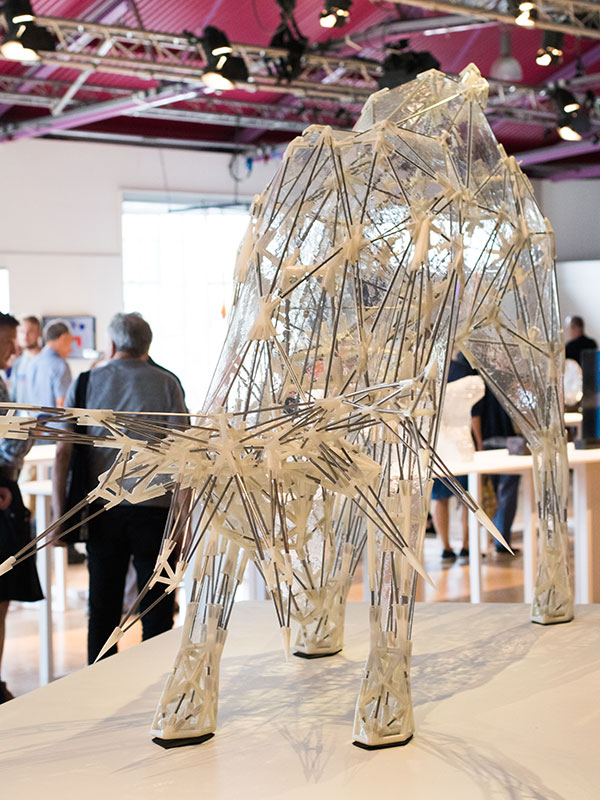 In contrast at his feet lies the exquisite 'Wee Blind Mouse'  – blown and sculpted by Julie Johnson.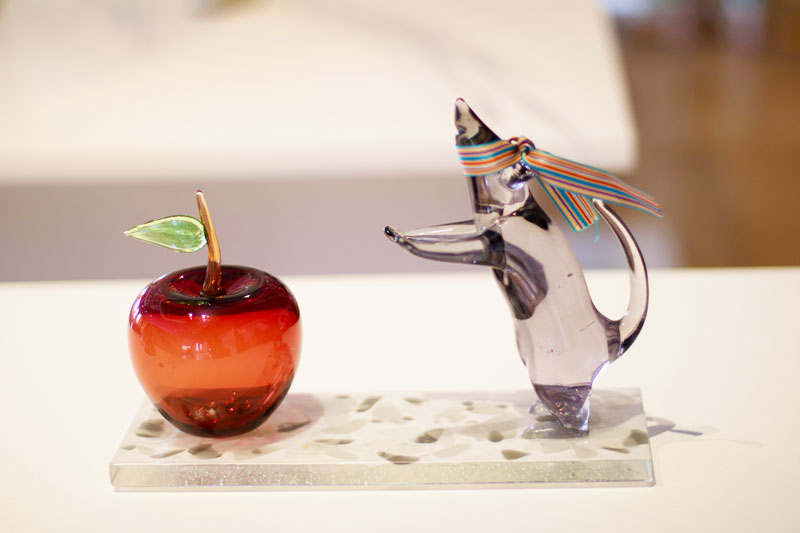 Creating with Colour
This amazing bowl is by Ian Chadwick, called 'Medicine for Gamonbozia'.  It's not suprising that it's another winner – achieving The The Glass sellers' Art and Craft Award.  Ian used rotational symmetry as a tool to achieve patterns which exhibit a hypnotic, op-art effect.  Kiln forming techniques produce sheets of striped, coloured glass which are then deconstructed and reconstructed into mandala-like patterns.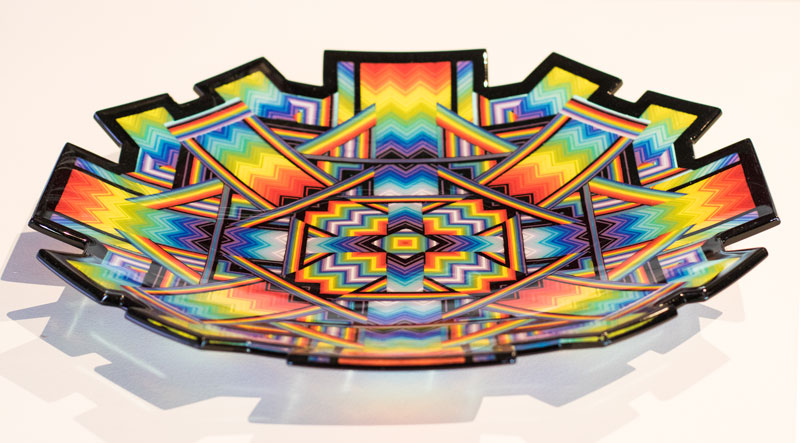 Also competing in the colour stakes we have Muna Zuberi's stained glass, 'Teenage Landscape'.  A 3D landscape, depicting elements of significance to his teenage years.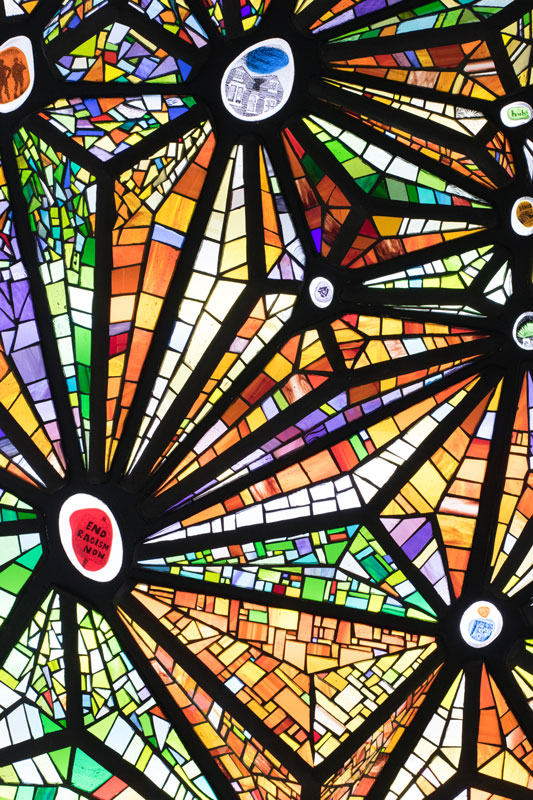 You can't miss the vivid colours of Vicky Higginson's 'Artefact IV' .  Her objects in brightly coloured, handblown glass represent ideas and behaviours that are attractive but ultimately harmful.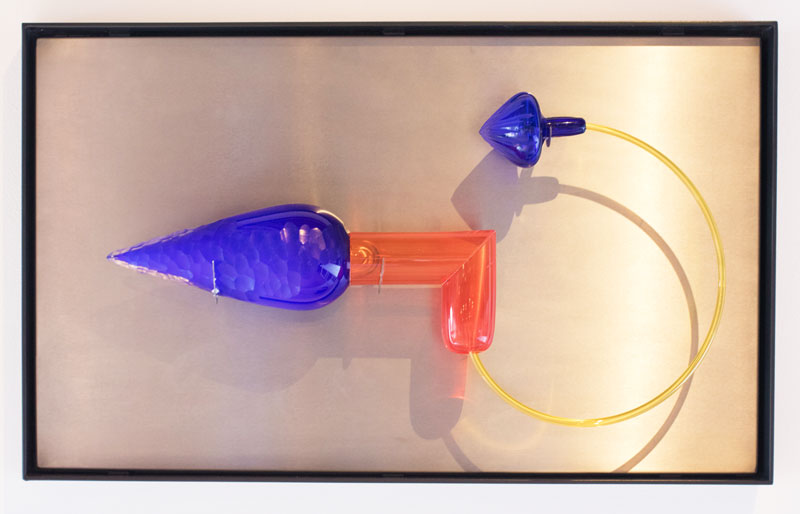 Let there be Light
Max Jacquard is exhibiting his Semezen Pendant while Marzena Ostromecka combines colour with music.  Her interactive 'Play_zone' is a real triumph.  It attempts to transform the perception of glass as a fragile material. Inviting the audience to touch and experience sound and colour.  I couldn't resist this and I waited patiently to have my turn to play!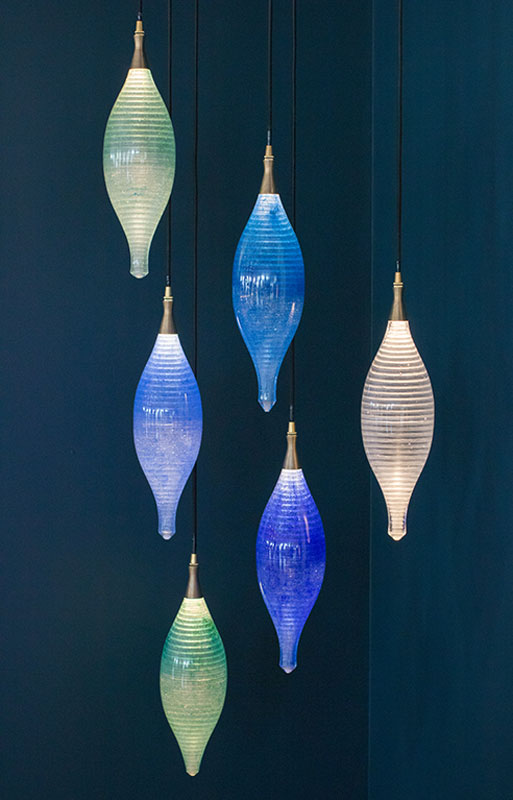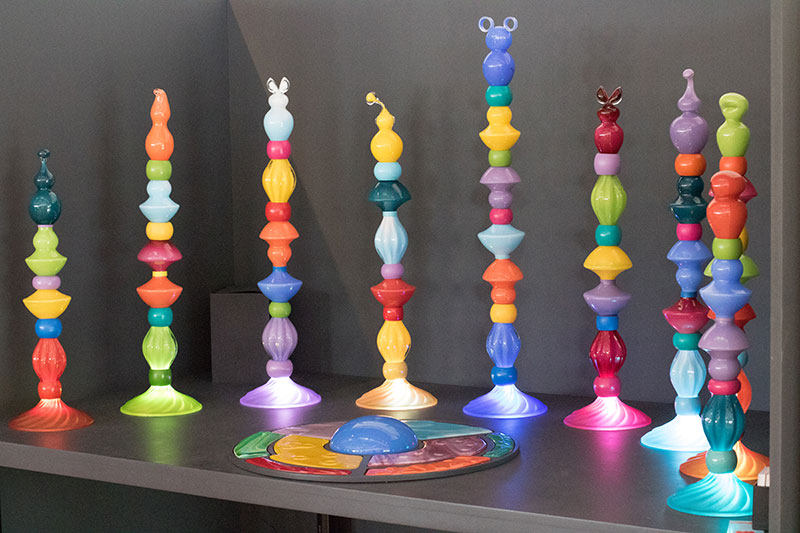 Moving Images
I was surprised at the different inventive ways that the artists had used glass to create art.  This Lenticular piece by Helen Slater was particularly effective.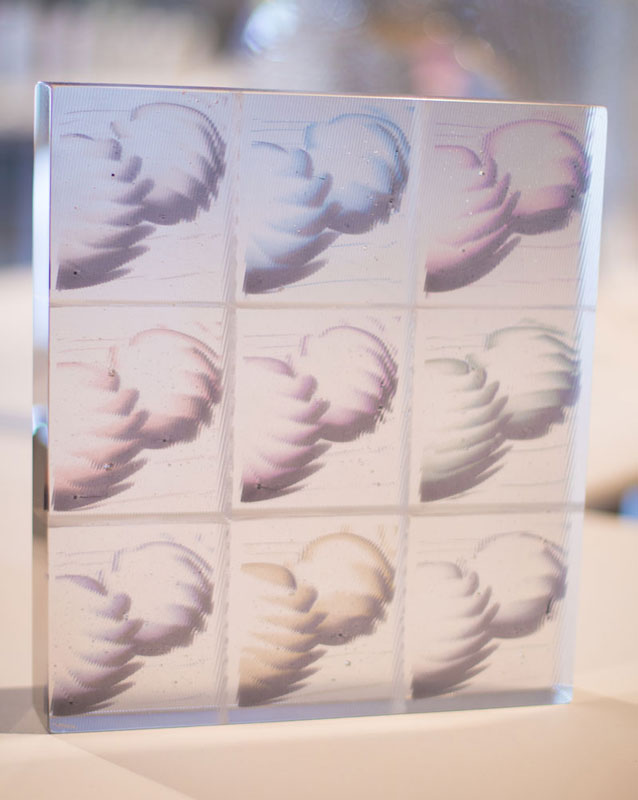 Video – courtesy of Helen Slater
Clearly Beautiful
Two well established glass artists on show this year were Cathryn Shilling and James Devereux.
James creates beautiful shards with inner swirls of gold and silver.  He contrasts perfect, graceful lines with Chipped, rugged blade-like edges. 
Whilst Cathryn uses kiln-formed glass cane to create her masked and cloaked human forms.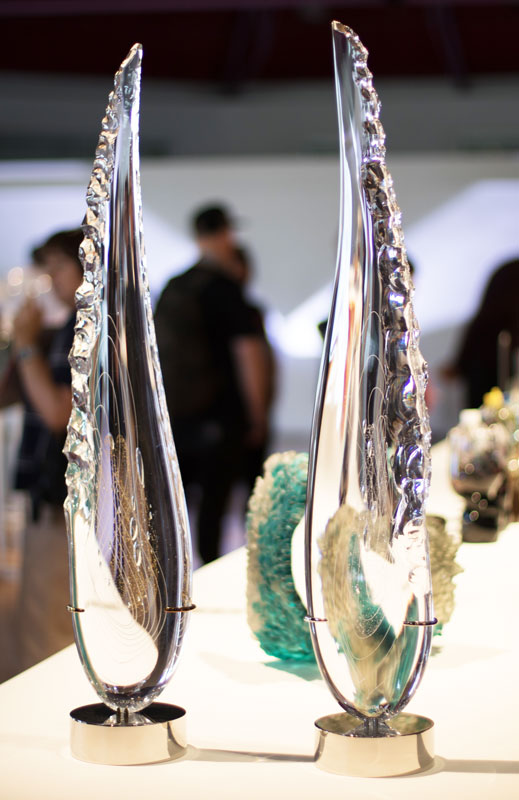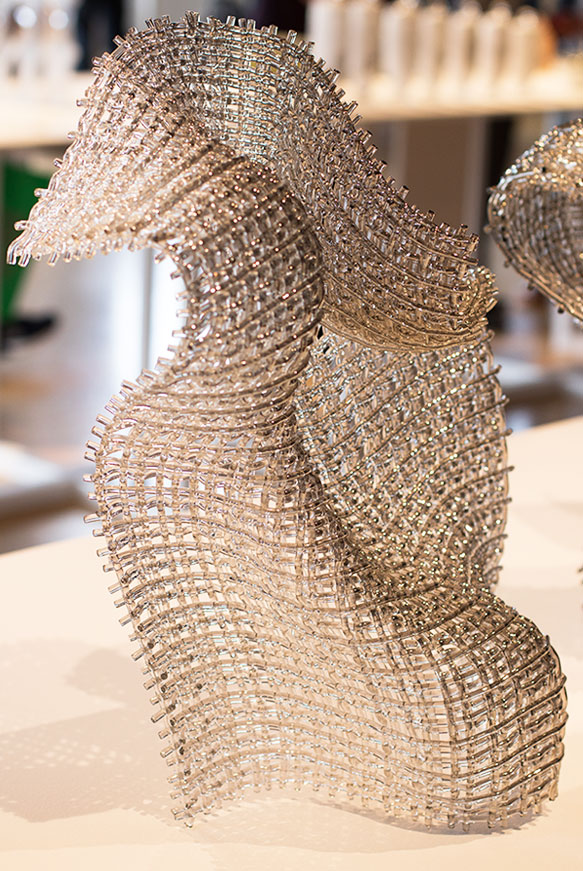 Globes
The work of student Jinya Zhao is both beautiful and surreal.  With a combination of glass blowing and cold working techniques.  Creating China's landmark cities, abstracted in ethereal misty orbs.  
'Misam', is a creation by Bruno Romanelli. The glass is cast and polished to perfection.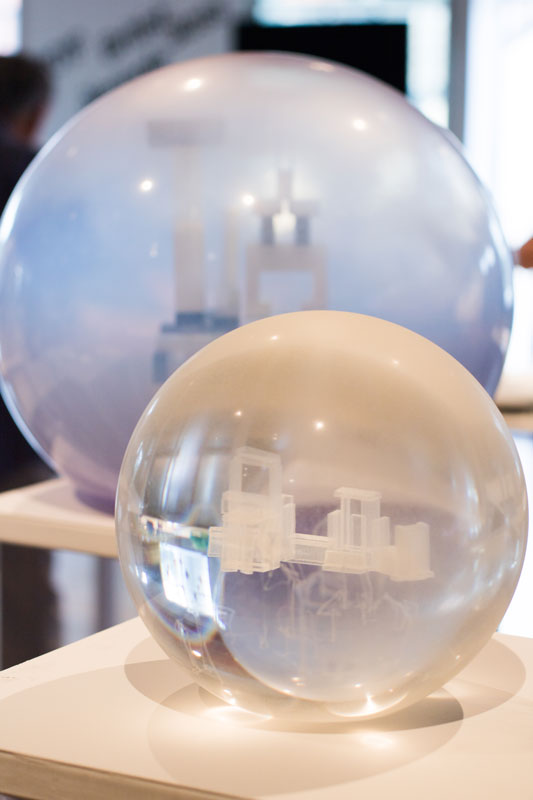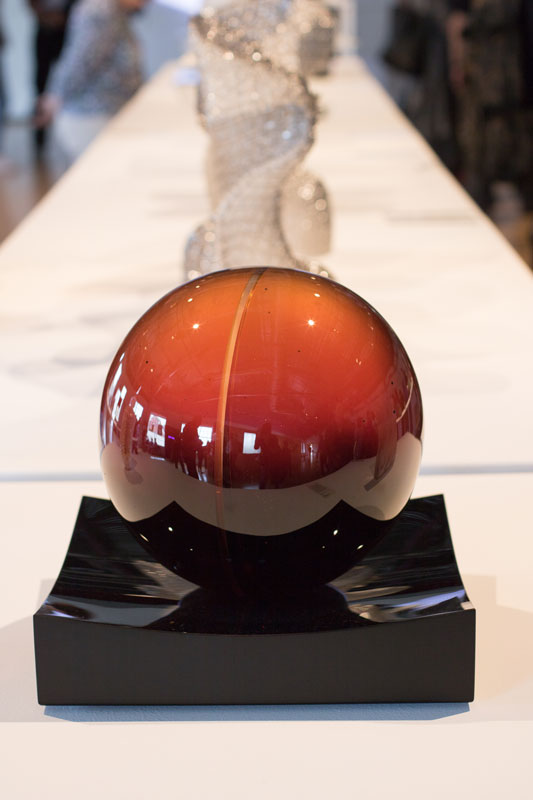 'Wave' is a work by Lola Lazaro Hinks, using the distance created between glass and space, to create an illusionary dimension. 
Space is also an element in this pink spiral sculpture 'Faceted Thoughts' by Phil Vickery .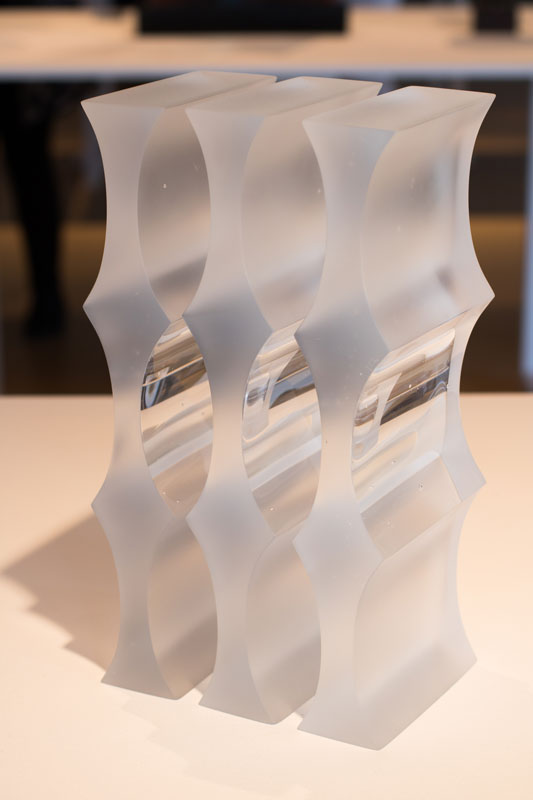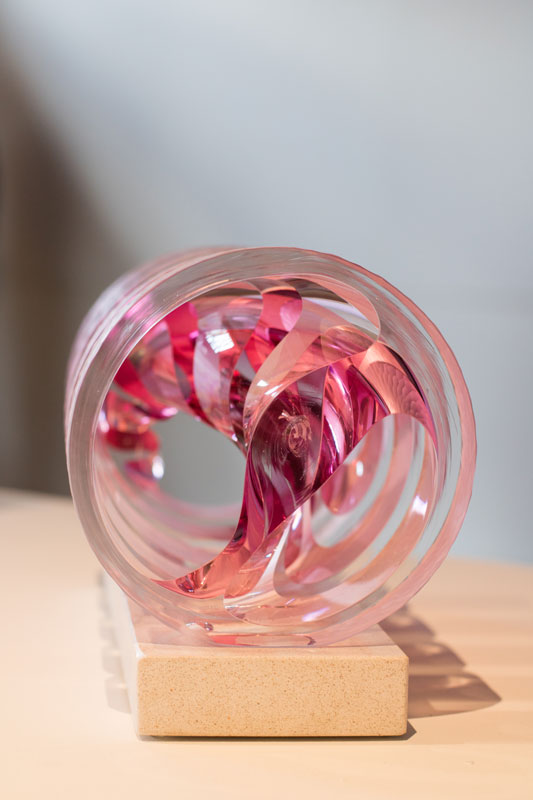 Paul Stropler has developed his own techniques of turning wax on a lathe to create his mould. Then also rotating glass whilst grinding and polishing medium is applied. 
Katherine Coleman creates the illusion of a smaller vessel suspended in a larger one, with her lead crystal Mushroom bowls.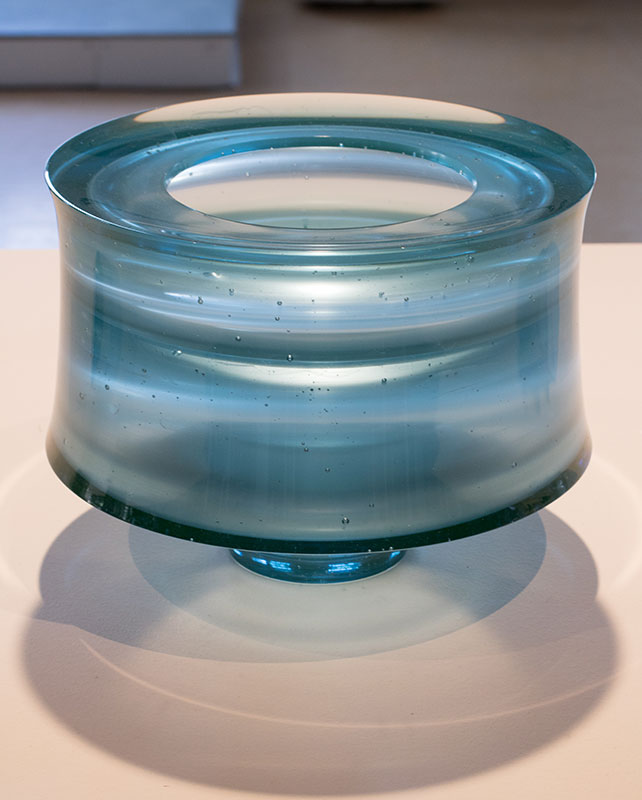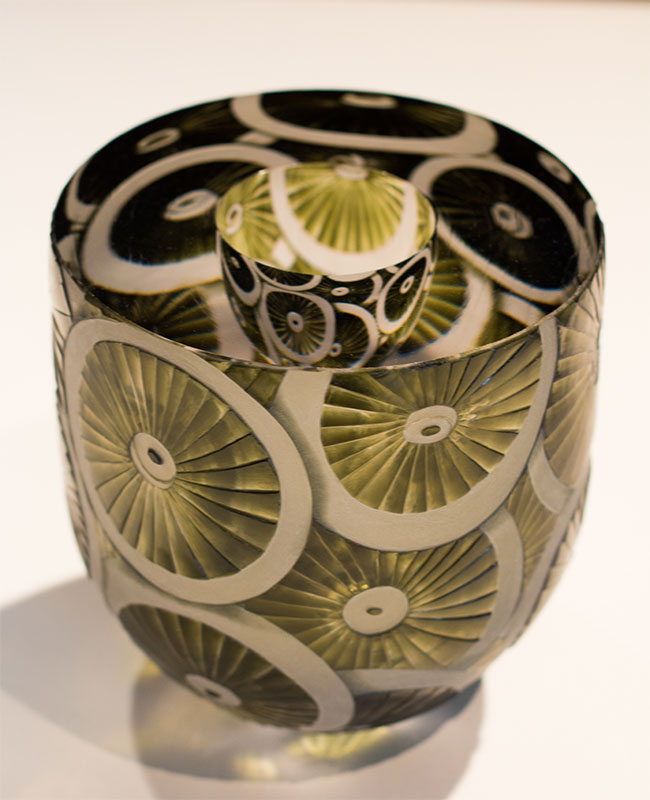 Inspired by Nature
Monette Larsen's work is inspired by corals. She explores the mathematics of the form through crochet.  Adding layers with lost-wax casting process. 
Nina Casson McGarva uses kiln casting techniques and re-firing to reshape by hand. Making each piece experimental and unique.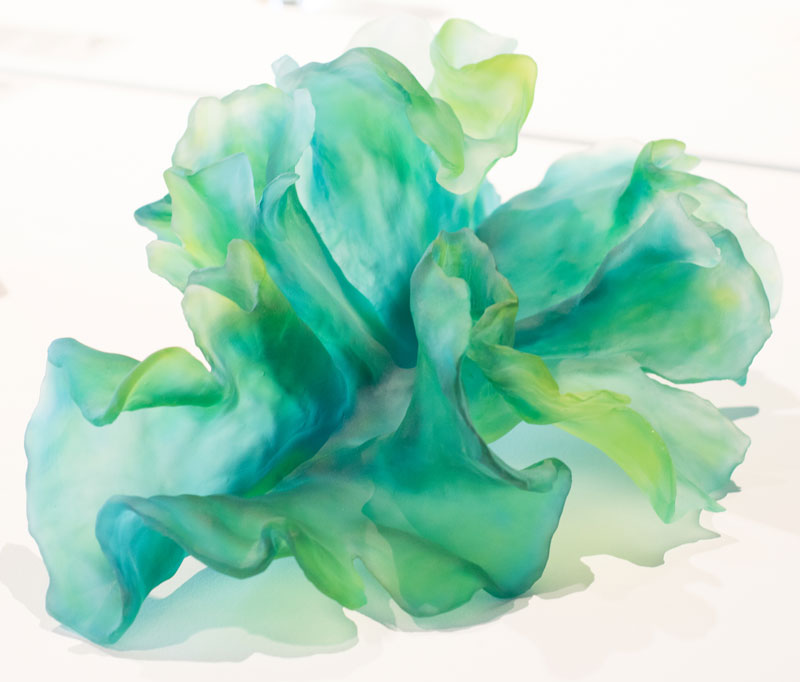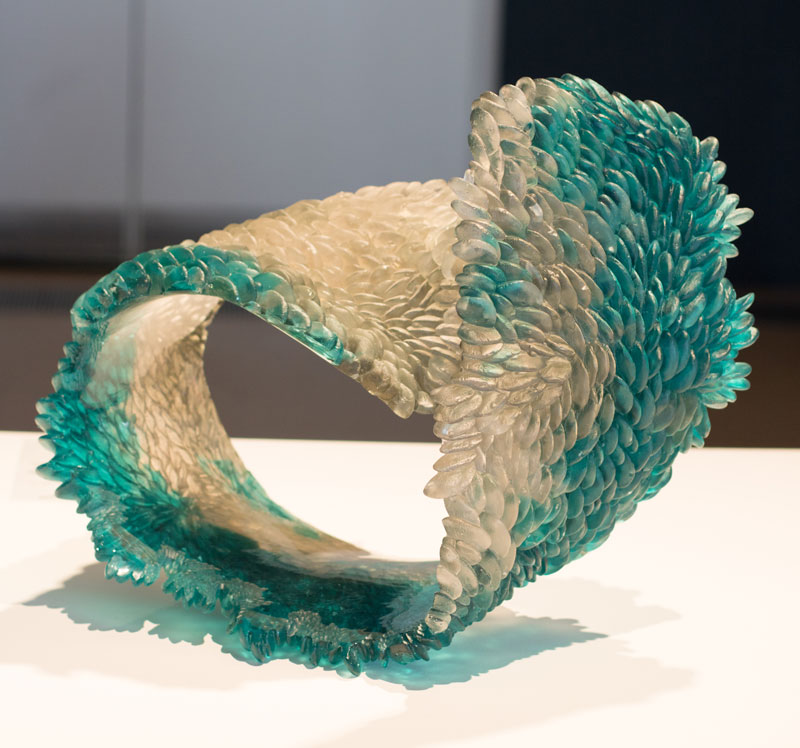 Chrispian Heath's 'Cliff Edge' translucent, icy, rock formations, capture the effects of leaning forward and leaning backwards.
The beautiful blue toned 'Carragh' by Emma Baker is inspired by rock stack and strata on the dramatic Cathiness Coast.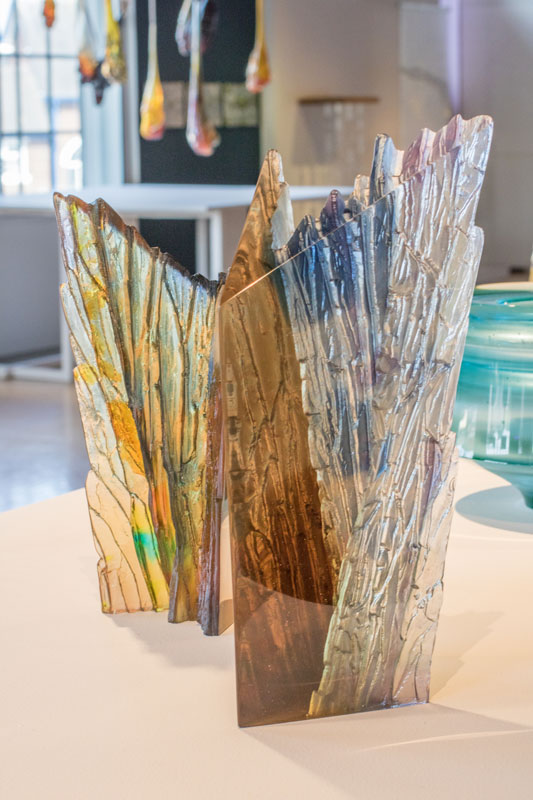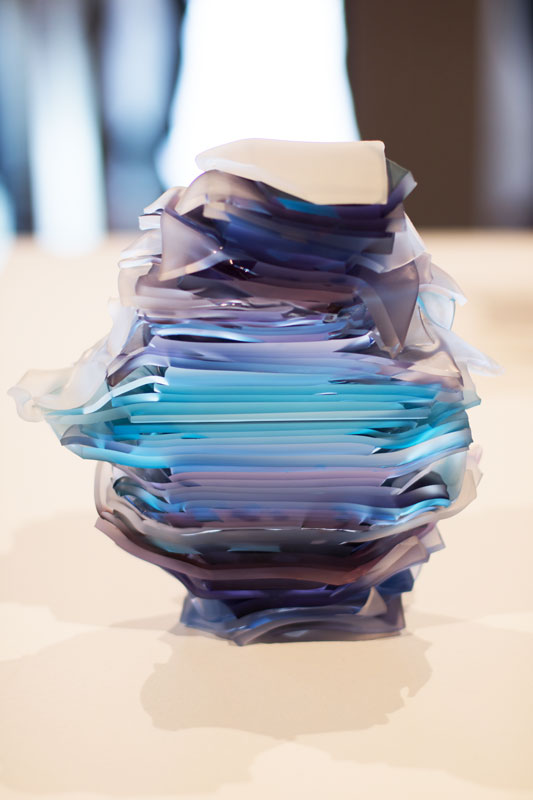 This installation by Ayako Tani is called 'Time Pillars'.  With a nostalgic reference to a time when Glass Ships in bottles were popular.  Anyako has used the similar techniques of lamp work and lathe work with Borosilate glass.
Along the same theme we have glass sculptures in bottles – I didn't manage to catch the snap the artist's label – so please enlighten me in the comments below if you know the artist's name and I can credit.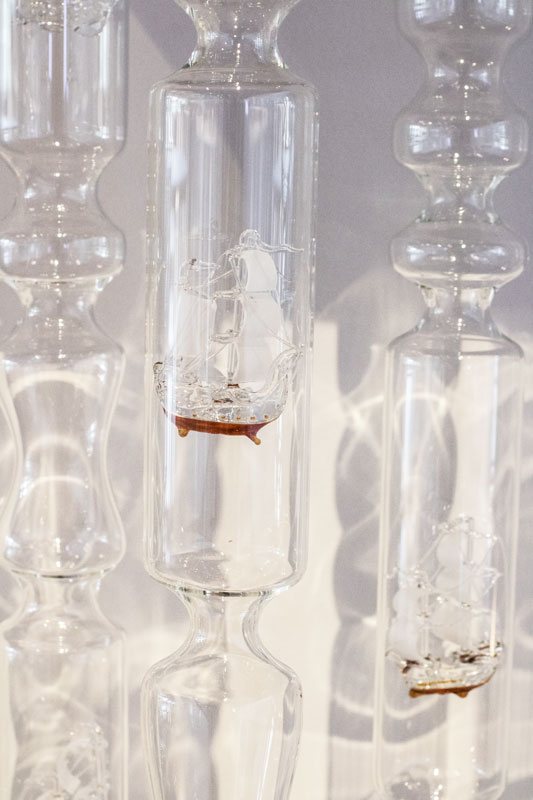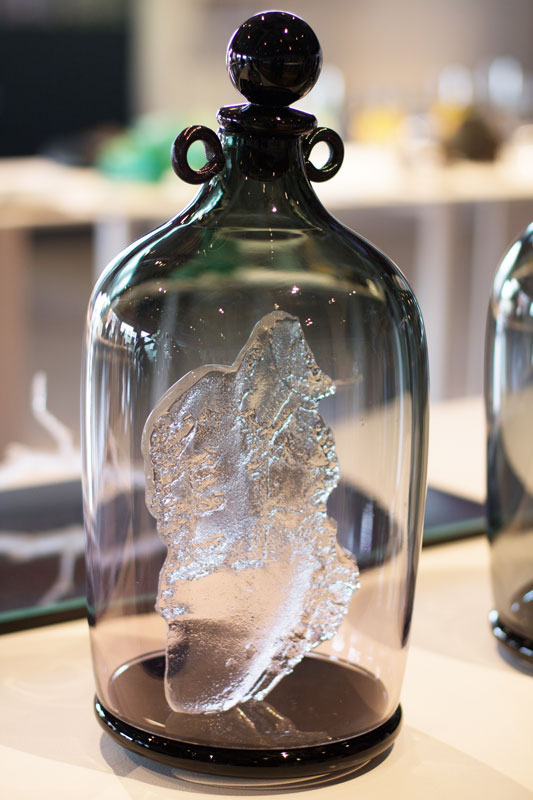 Other messages in a bottle for were from James Lethbridge and Sophie Thomas& Louis Thompson.
James created his beautiful 'Haworthia' on a vacuum flask.  Whilst Louis and Sophie were showing their concern for the environment with 'The Seven Stages of Degradation'.  Created from handblown glass and ocean glass and plastics.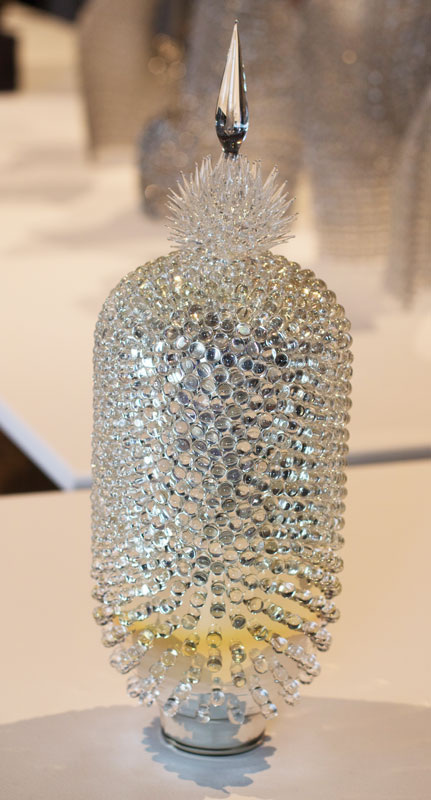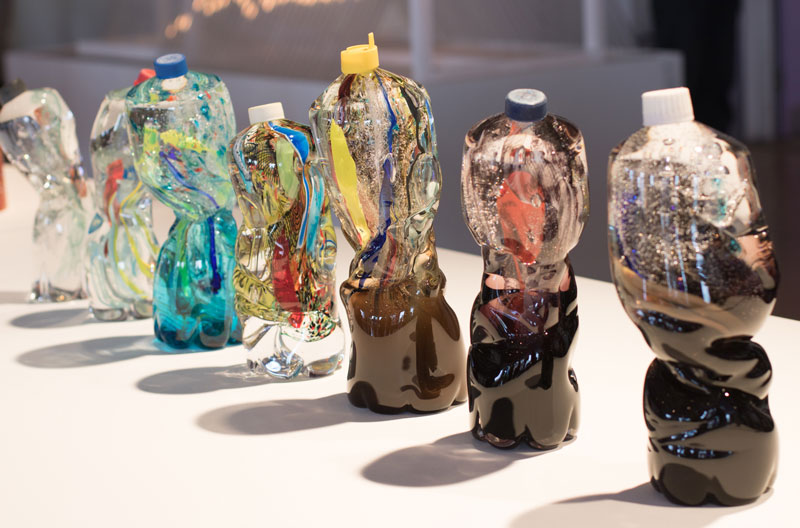 Beautiful and Bizarre
I love Bethany Wood & Elliot Walker's piece 'Deluslone – Flake'   With their Ice-cream hitting the deck.  Representing the artistic journey and those disappointing moments.  When enthusiasm becomes quashed, with the challenges and demands, the journey to success creates. 
Student Jianyong Guo has created some intriguing curiosities.  His 'Girls' were hollowed out abstracted bodies with intricate reverse oil painting on the inside. Expressing the philosophy of Chinese Tao, that man and nature should live in harmony.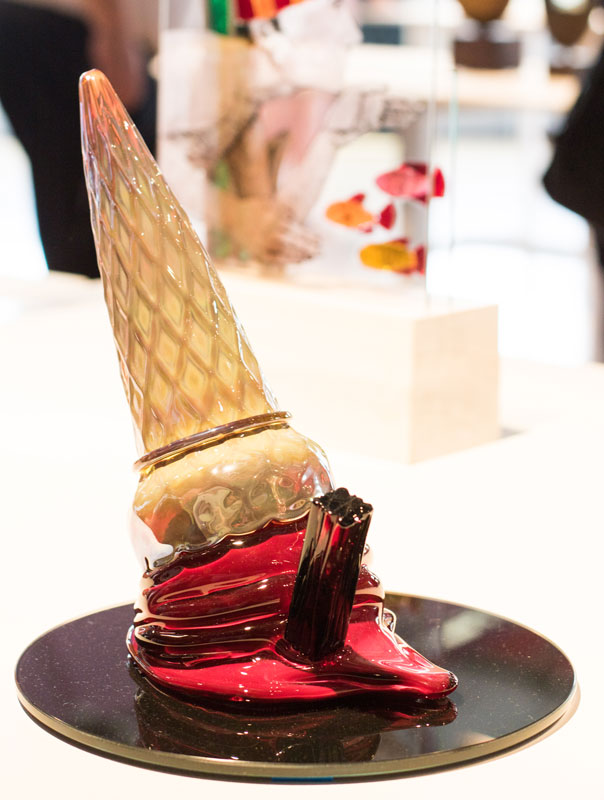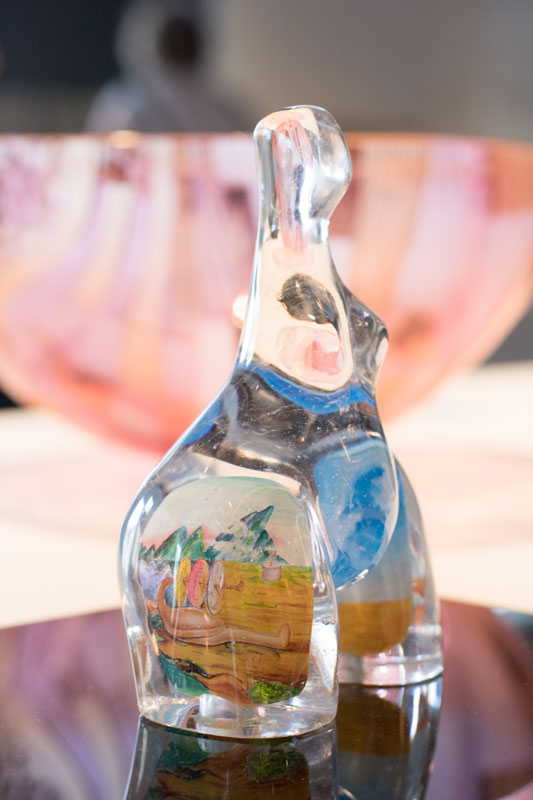 Militant Vegan and Wonderland
Other pieces that caught my eye were the delicately modelled shoes of Alison Allum.  I am not sure why this work is called 'Militant Vega' – please let me know your ideas!  Alison used the lost-wax technique, to create a mould, to fire her glass slippers in the kiln.
Also using lost-wax casting to create her work called 'Wonderland' is Hannah Facey.  Combining wine glass segments and tea cups, tied in knots.  She was inspired to show her feelings on social anxiey.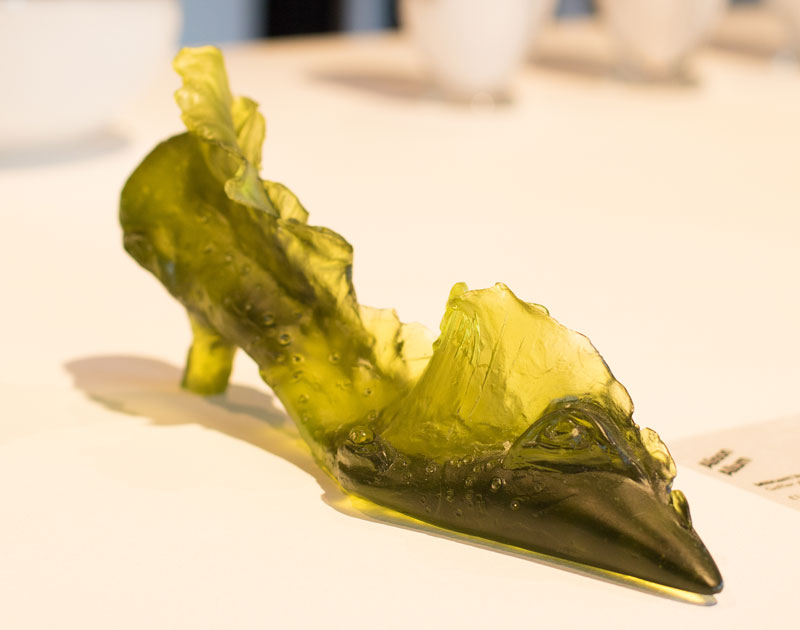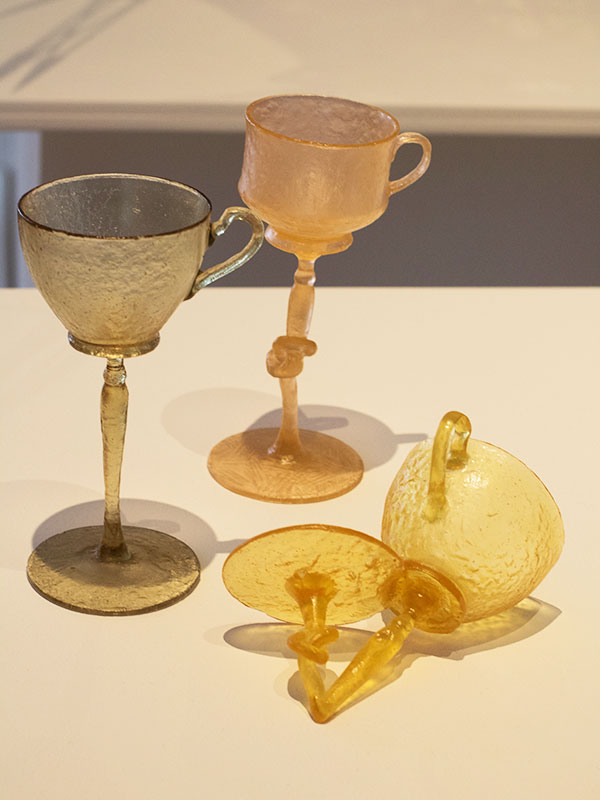 Turning on the TV
I was fascinated by Jon Lewis's 'Apertura Aurora'.  Even more so when I found that it was made from recycled television screen glass.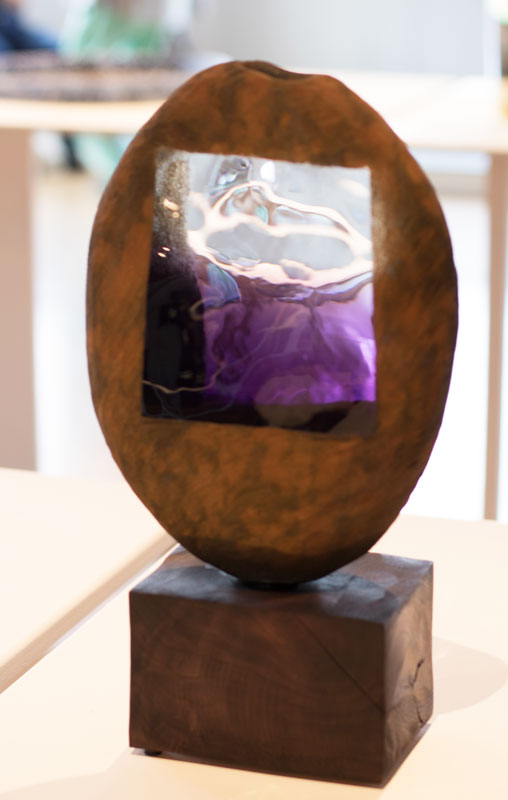 Emotive Installations
When visiting an exhibition or craft show, it's easy to be seduced by the beautiful designs.  However, when reading the artists statements, some pieces can affect you by more than aesthetics alone.  
The first of the pieces that caught my curiosity was 'Strange Fruit' by Christopher Day.  On first glance it looks like rather strange lumps of meat hanging in a butchers shop.  But it is more disturbing when you read that it represents the awful forms of torture( lynching) inflicted on slave from America Deep South.  It immediately made me feel angry and ashamed that human beings were ever allowed to do this to each other.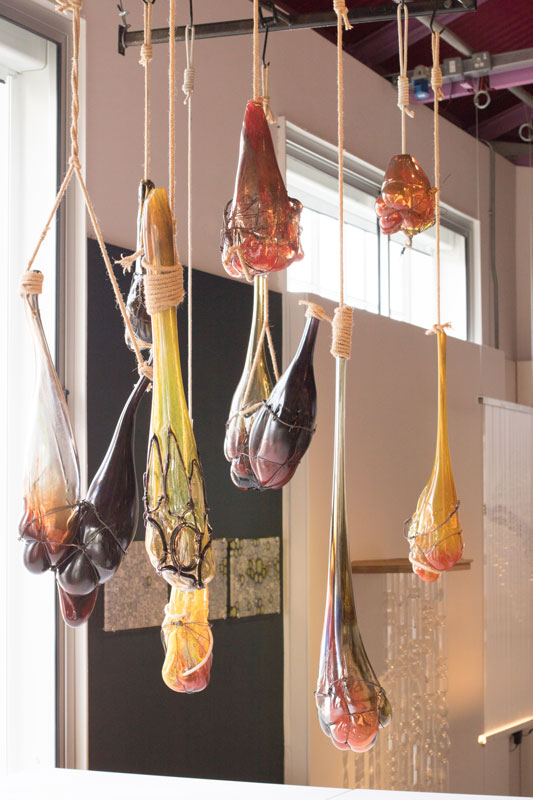 And finally the winner of The British Glass Biennale is by Jeff Zimmer. 
'The Fragility of Memory and Material'
Suspended layers of Laser -etched images on mobile phone glass.  Photos of a life shared with Jeff's first love, John, who sadly died in 1995.  Jeff states that they reveal the ephemerality of a life.  The absurd wish to ensure the memories of their time together live on – after all those who shared those memories have also gone. A very poignant and emotive work.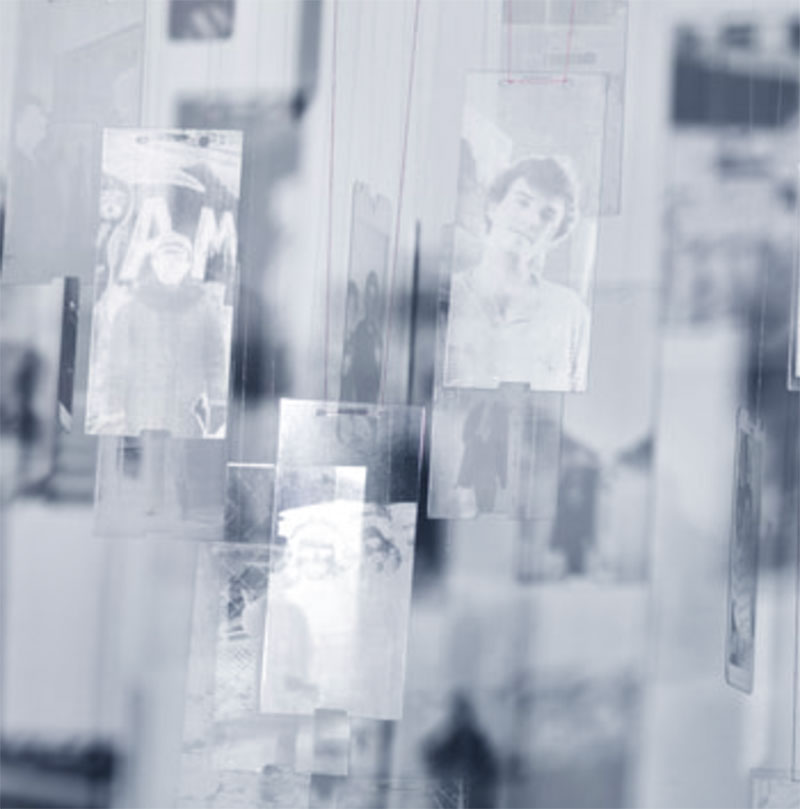 Taking one last look at the end of the day.  No, this isn't me sitting below Alec Galloway's stained glass window.  But after such an exciting and exhausting day – I know the feeling.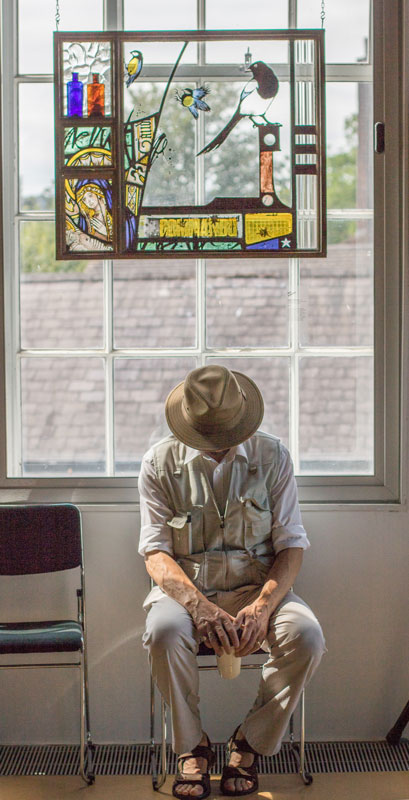 I hope you have enjoyed this brief tour.  I'd love to hear what you enjoyed at the Biennale in the comments below.  
The British Glass Biennale is on at The Ruskin Glass Centre, Stourbridge until 28th September.
You can see more from some of the amazing Glass artists featured above in our review of Collect 2019 at the Saatchi Gallery.