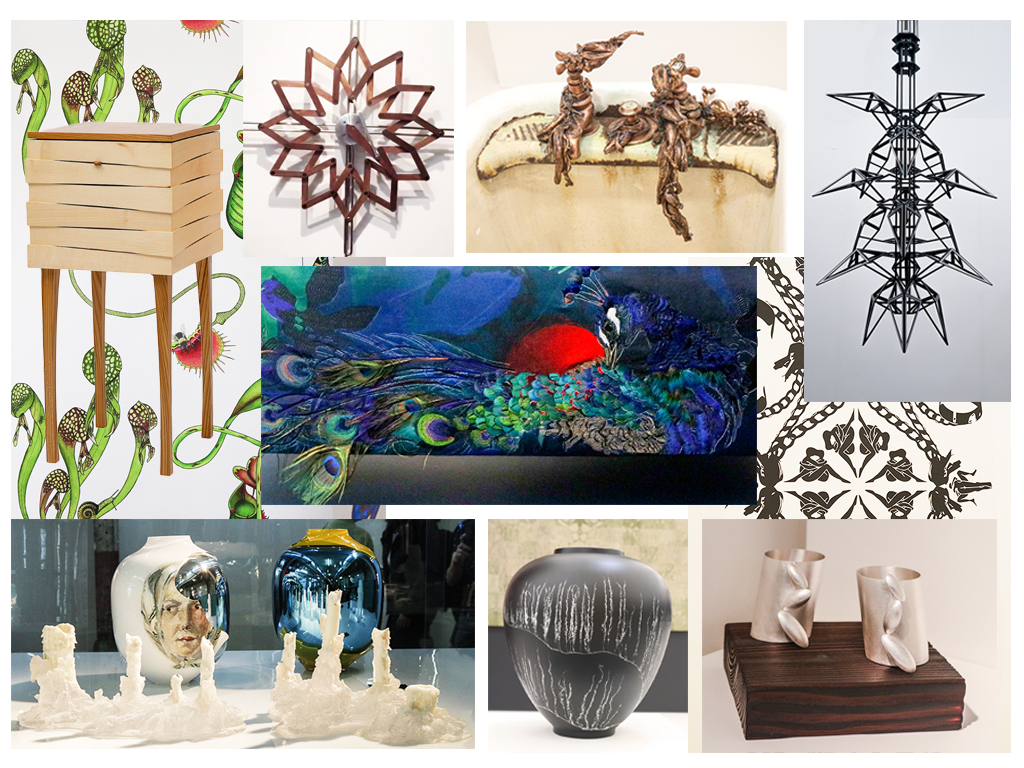 The London Design Festival
Well London really does know how to celebrate a week of Design – what an exciting week of inspiration!
With so much to see at the London Design Festival.  The week can be quite overwhelming and you really have to pick and choose where to go.  I have now edited my several hundred photographs and decided on some of the interesting high-lights to show you.
New Designers at Decorex
Although it's great to see the lavish and impressive stands of established brands – I love to discover the new design talent.  At Decorex I always head straight to the 'Future Hertitage' platform curated by Corinne Julius.
Several designers caught my eye.  Glithero designers are Tim Simpson and Sarah van Gameren.  It was so interesting to hear from Sarah the process to create their hand turned porcelain vases.  Foraged seaweed is laid onto a photo-sensitive background to create a permanent photogram design.
Katrin Spranger was drawing quite a crowd with her incredible installation.  I recognised Katrin's work from Collect at the Saatchi Gallery.  Her collection is Aquatopia – a delicate range of vessels combining laboratory glasses and copper.  The real show stopper though was her wonderfully decaying bath with ornate taps.  Katrin did confirm that all was fully functioning – but although it was a beautiful piece of work, I am not sure she was getting many orders for new bathrooms!
Marcin Rusac is young Designer producing some excellent designs in metal.  He gives his pieces a painterly quality by spraying Copper and Zinc onto a steel base.  Creating this abstract handmade design.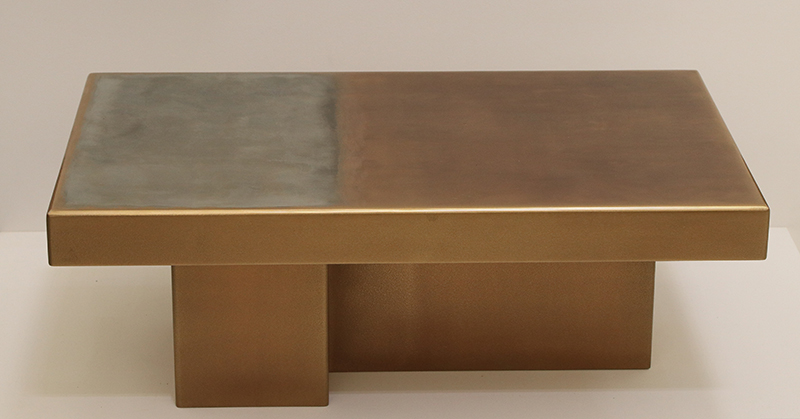 In the Craftwork section at Decorex I had to stop and admire the Kinetic pendant by David Pringle.  Kinetic works are appearing more frequently in the shows this year and are becoming so smooth and gradual that if you move to fast you miss them.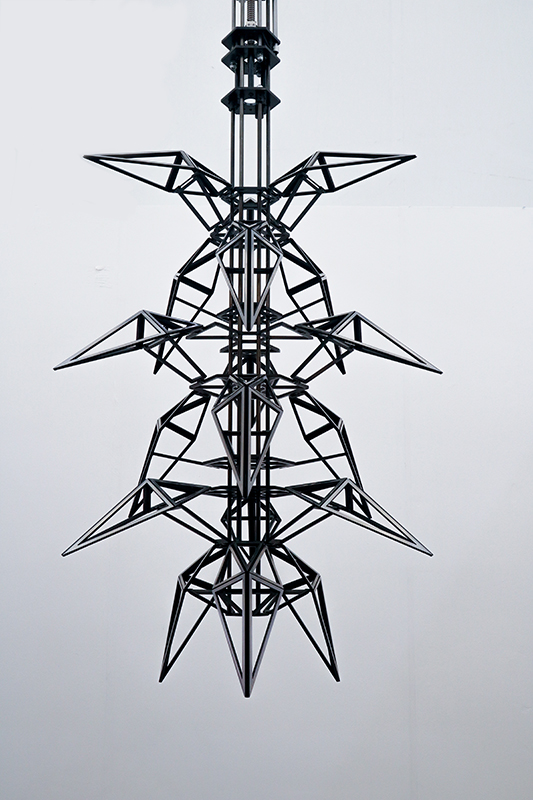 New Designers at The London Design Fair
The London Design Fair is a great place to find new talent and designers.  One designer I hadn't met before was Silversmith Alex O'Connor. Coming from a background in Sculpture and Fine Art, Alex only recently moved into Silversmithing.  It's not surprising that Alex has already won several awards, as her work is truly sublime.  Using traditional techniques of scoring, folding and forming she creates pure shapes with subtle tactile surfaces.
Glass
There was a great show of glass this year from young Designers at Academy of Arts, Architecture and Design in Prague. Just take a look at the gallery below.
Clocks
There was more Kinetic designs at The London Design Fair.  The Solstice clock from Matt Gilbert of Animaro Designs was drawing a crowd.  This clock changes shape through out the day and turns passing time into a work of art.  Just fabulous to watch.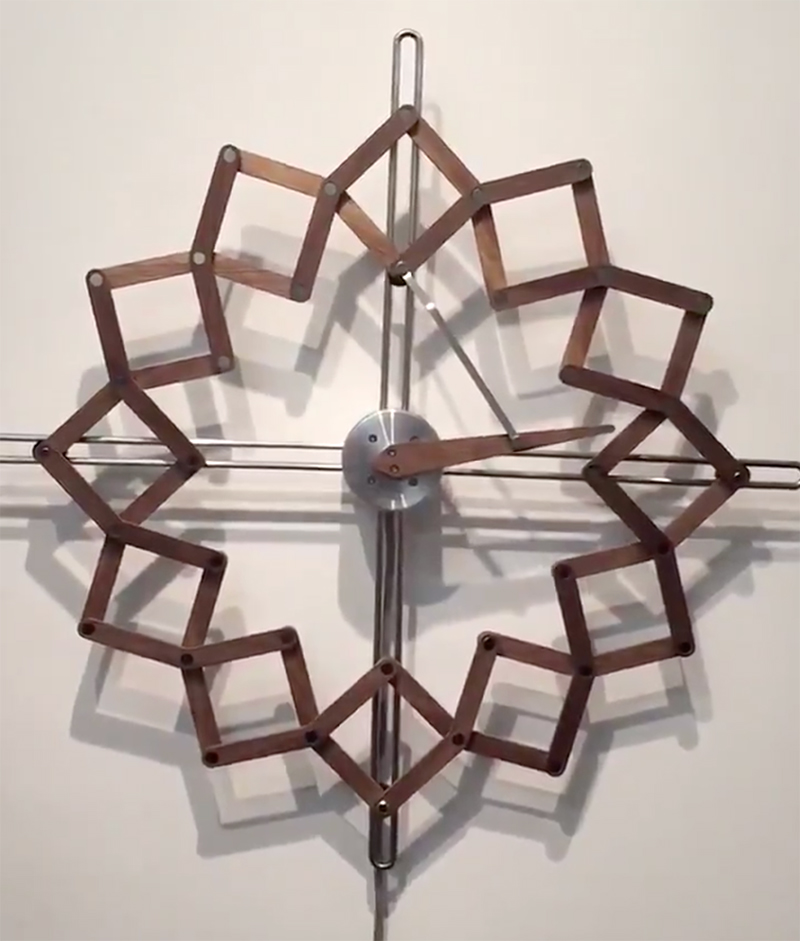 And the Material of the Year is ?
PLASTIC ?!!  Yes, this may be a shocker.  As it has become one of the planets most loathed materials.  But at The London Design Fair they celebrated the latest developments with plastic recycling.  From industrial waste to plastic bags, see the ingenious ways designers have used plastic in the gallery below.
It's always exciting to see the direction that prints are following.  I did notice there is still a rather dark tropical/botanical theme coming through again this year.  This may be heightened by green becoming quite a hot favourite for Autumn.
At Decorex, I loved the styling at Boho&Co, where they captured a beautiful dark rain forest theme.  Charlotte Jade was also rocking the tropical vibe – showcasing her palm prints and a quirky Zebra print sofa (coming up later).   And, over at 100% Design Divine Savages were showing their Geometric Aviary and Faunacation Designs.
I love the illustrative wallpapers by E O'Brennan-Pizer .  As young girl she was told she by her father that she was 'a very wilful girl'.  Now this wilful girl has gone on to create her own company Wilful Inks to showcase her beautiful creepy art.
Upholstery
The upholstery that first caught my eye was admittedly based arounds creative prints again.  Blackpop produce a unique range of contemporary designs in wallpapers and fabrics.  I also found their prints popping up in Stands other than their own.  I loved the Soane Museum stand where I spied their fabric on a rather grand dining chair.
I liked the quirky look of the zebra print sofa modelled here by Charlotte Jade and the Koket stand looked stunning with it's Vamp sofa, gilt Sepentine mirror and sconces and Simone screen.
One of my favourite designers at Decorex was Jacky Puzey. It was lovely to meet her and see her beautiful embroidered fabric on her Squirel and Peacock ottoman. Jacky has a great skill with colours and textiles on her creations.  I remembered her from the fabulous Peacock chairs in the bar last year.
I love to see the work of skilled craftsmen and was pleased to see Kevin Stamper at Decorex this year.  Kevin's latest work is inspired by a walk through the Lake District and. By washing and bleaching burr oak repeatedly he has created a undulating surface texture representing the topography  of the fells.

At the London Design Fair I was transfixed by Tom Vaughan's Nodus table in Ebonised Ash at Object.  The pure scale of it.  Certainly a very impressive piece of furniture.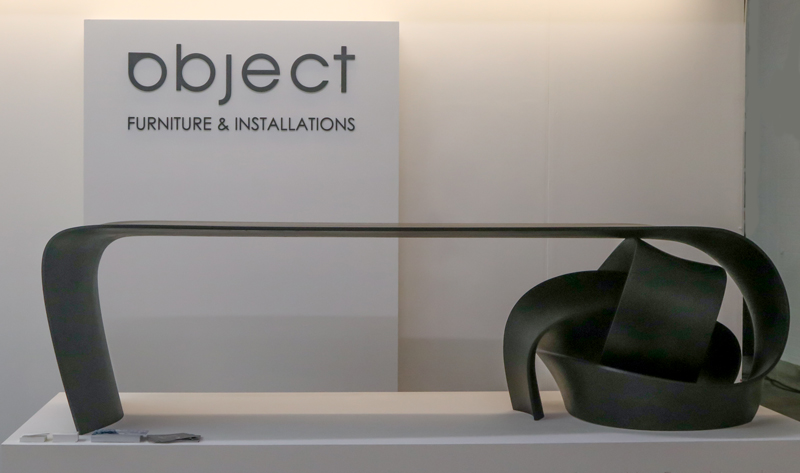 I was happy to meet Jan Waterston at The London Design Fair and see his new designs.  I have been an admirer of his award winning chair .  This year Jan was also featured at 100% Design.  Selected by Barbara Chandler of The Evening Standard for the Fresh Design Stand.  Featuring new Designers this stand also was showing one of the smallest pieces of furniture of the week.  I fell in love with this petite cabinet by Freya Whamond and Sam Bolt of Troo Studio.
Coming up soon!
If you are planning to visit The London Design Festival next year – check out their website for dates and places to visit www.londondesignfestival.com
Well that's our round-up from the wonderful Design week in London.  I hope you have enjoyed seeing some of our high-lights of the shows.  Please let us know what you have discovered at the London Design Festival and if there was anything great that we missed.
Next week we will be focusing on the Diversity of Lighting at The London Design Festival.  You won't believe what horse hair and ostrich eggs have to do with lighting.  From the weird to the wonderful – all is revealed on next weeks Blog.  Sign up to our newsletter if you don't want to miss it!