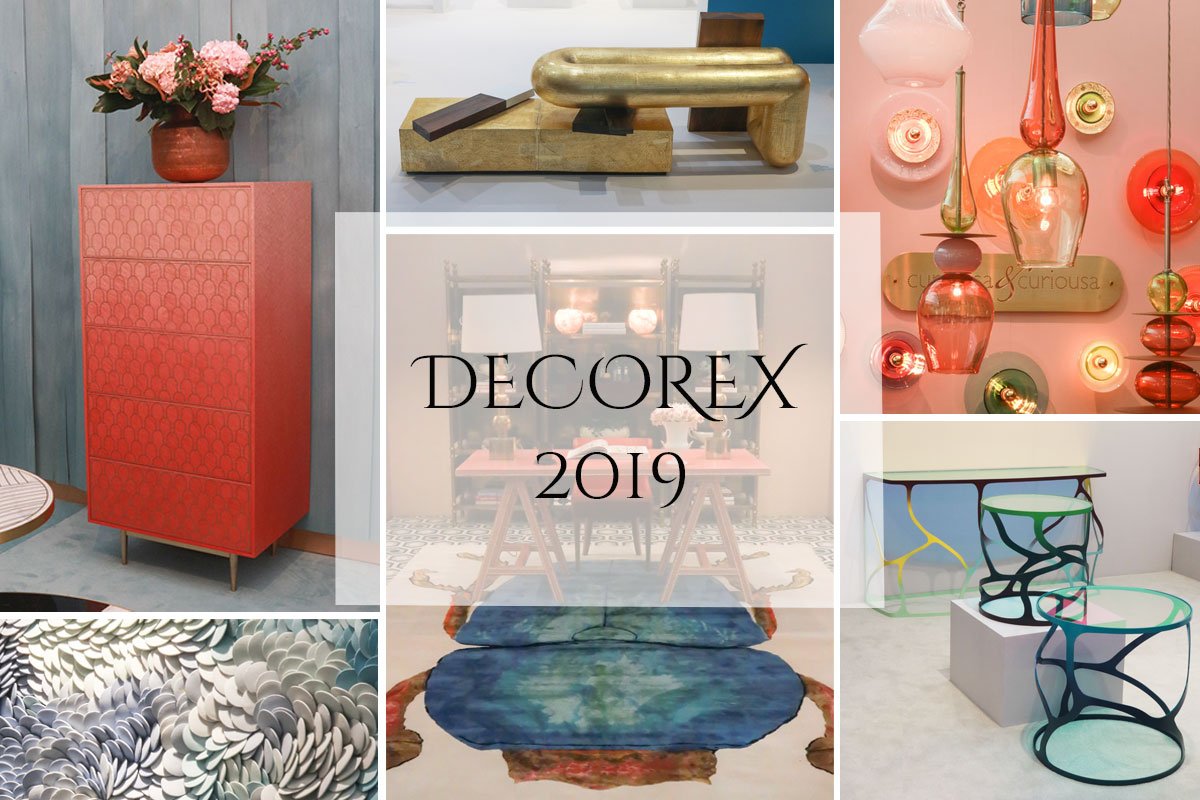 DISCOVERING THE TRENDS AT DECOREX 2019
– Looking at Decorex 2019 with a stylist's view –  it's is a great place to find inspiration.  For me, it's not just seeing the latest designs from the well known brands.  It's about how the stands are presented and styled.  The colours the designers use and the trends that they are following.  These leading high-end designers and set builders are the best in the country and at Decorex, it feels, at times, like stepping into a beautiful interiors magazine. 
As there is just so much to see it's rather overwhelming to review.  As a stylist, I am drawn to the more creative prints and any colours or designs that I feel are beautiful or interesting.  
I love to see what other people have photographed on social media and see so many things that I missed or just passed by. 
I have put together a collection of what caught my eye.  We start with some of the creative prints and follow through with a brief tour of furniture, upholstery and lighting.  
As my passion is for championing the designer/makers and new talent there is a larger feature of the Handcrafted stands at Future Heritage.  
It's great to see Kevin Stamper's latest designs at Decorex.  This years stunning new work was the Blue River cabinet.  He has now added undulating surfaces to his work to give his signature pixilated marquetry a new dimension.  You can see more of Kevin's work on his 'Meet the Makers' page.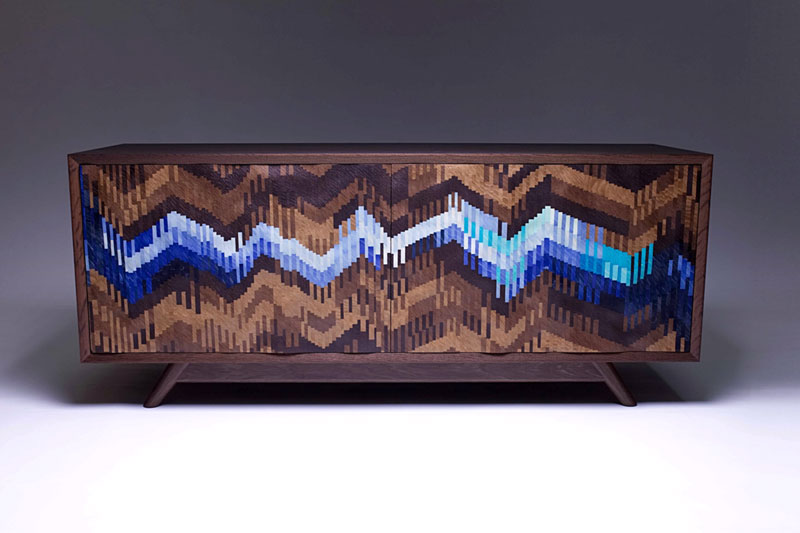 Laurent Peacock is also another maker that I admire.  Loved his 'Aesculus' collectors cabinet.  This piece was inspired by 'abstracting the construction of a conker' and I can see this with the outer skin pealed back to reveal the lighter wood inside.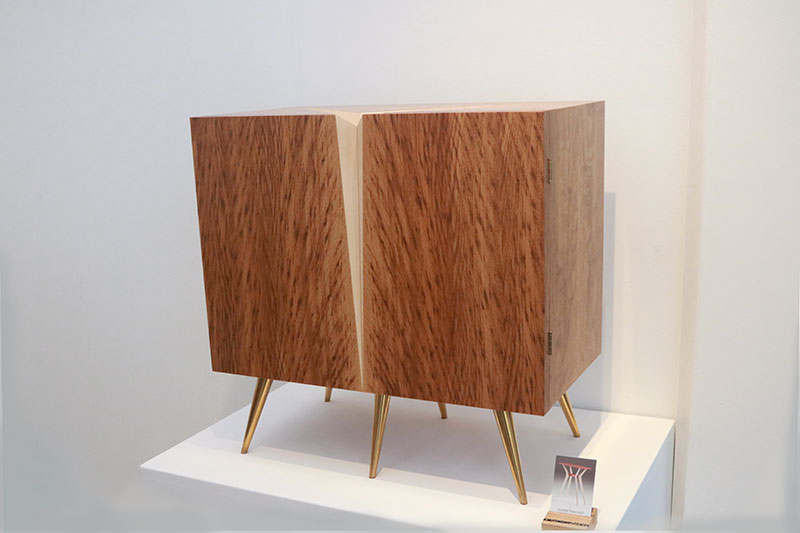 Tom Faulkner was showing his new Papillon Collection.  Inspired by a trip to California's Joshua Tree Nation Park.  The steel metal bases have a colourful ombre effect.
Zewouf & Bell had some interesting pieces on their stand, including this Makassar ebony cocktail cabinet – 'The Jaguar and the Crow'.
PRINTS
One of my favourite designers for print is Black Pop.  Their designs are always a contemporary mix on retro and vintage (with the occasional surreal element or scull popped in).  Lou Gardiner is another designer using strong pops of orange in her designs.  Originally being more focused on embroidery, she now makes prints from her original embroidered work to create her designs.  I found more eclectic vintage patterns at Mind the Gap, based in Romania.
I did miss the fact that I didn't find Timorous Beasties this year.  I always love to see wild designs they have created. However, it was great to see Kit Miles and his 'Ecclesiastical Botanica' – still one of my favourite designs (you can see it on our 'Beauteous Botanical' Mood board).  Divine Savages 'Sunset Faunication' print was gracing the walls of the Casa Botelho Stand.
LIGHTING
Curiousa & Curiousa always produce an elegant colourful collection.  Rothschild and Bickers also competing with pretty glass shades and fringing.  I loved the colourful Pooky collection.
Portuguese company Serip is always a stand that impresses.  This year with a new collection featured beautiful glass swallows on gilded branches.
UPHOLSTERY
If you want to get your upholstery seen – just cover it in bright mustard yellow.  This seemed to be a winner with me as I was drawn to the most colourful eye catching sets. I loved these rooms sets for Liang & Eimil and Pulga.
More great use of colour by Julia Von Werz.  Love your home have collaborated with Livingetc magazine to create a very cosy looking sofa – the boucle fabric looked great to snuggle in to. New trend on the way!  Also with a comfy, curvaceous design, I loved the Otter single sofa from Covet House.
RUGS
I like the simple elegant design of this rug by London based design studio, A Rum Fellow.  In contrast to its simplicity is the floral collection designed by Mary Katrantzou for The Rug Company.  And finally the amazing Bug Rug in Design Encounters.  'The Library' setting, is designed by Samantha Todd Hunter and the rug, by The Rug Company.
Future Heritage
The Future Heritage stand at Decorex is curated by Corinne Julius.  Showcasing the most exciting emerging makers and craftspeople.
James Rigler took centre stage with an impressive display of giant sized sculptural pieces.  Surprisingly made from clay.
Another amazing, giant sized sculptural piece Hsiao Chi Tsai & Kimiya Yoshikawa made from glass lenses and perspex.
It was great to see Helen Slater Stokes.  Her glass panels are created in layers of illustrated glass to give depth to the designs.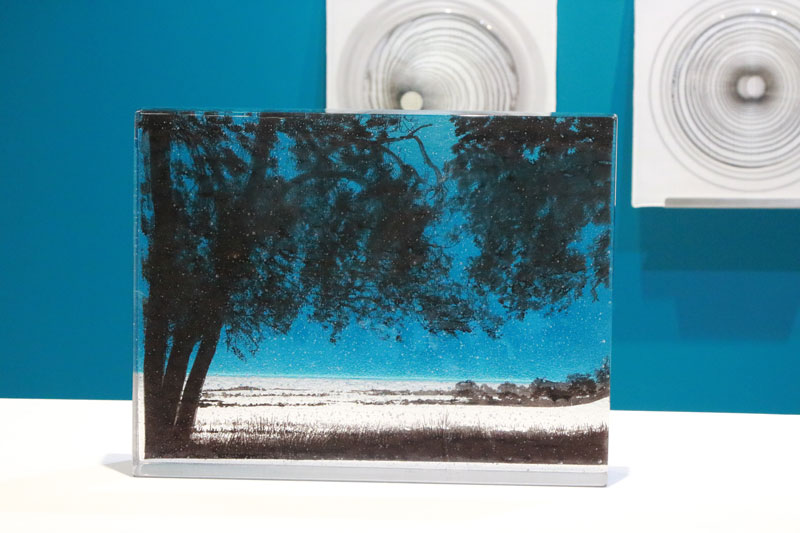 Alison Walton uses colourful ribbons of porcelain to create her ceramic sculpture.  Hazel Thorn fuses mixed metal in her sculptural designs.
Shiqi Li creates both wallpaper and jewellery and combines the two in her unique wall paper art.
Hsiao Chi Tsai & Kimiya Yoshikawa use mixed materials and lighting to create their imaginative sculptural installations.  These looked quite spectacular suspended above the stair way.
Lynne Maclachland combines 3D printing skills with hand crafting, to produce her vibrant lighting and sculptural wall art.
Luke Hope displayed an elegant collection in twisted sycamore, hand carved and shaped.
Mexican Fernando Laposse, is a designer that previously featured on our London Design Festival Blog, with his use of corn husk, to create Bio Materials.  Again, at this show he has created with sustainable materials.  A screen made with nature sponge loofa and a coffee table with with sisal.  What an incredibly inventive mind!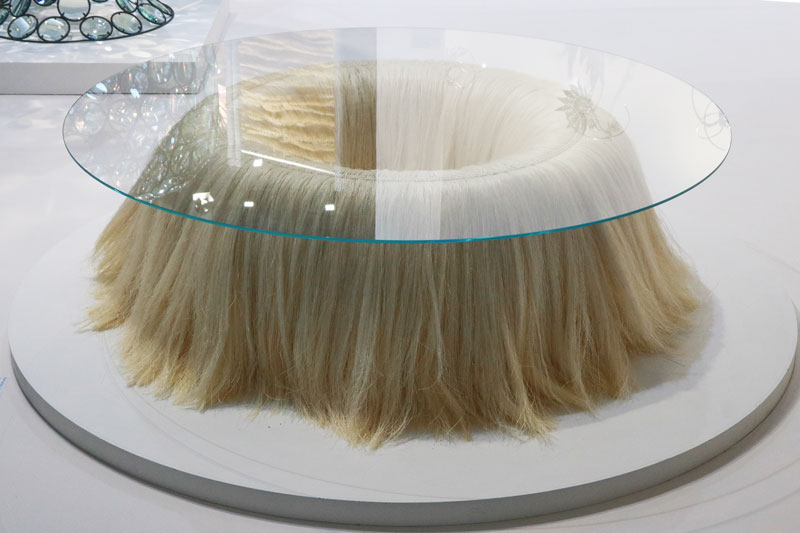 I hope you have enjoyed a quick look at the colours and trends of Decorex 2019.  For information on next years show visit www.decorex.com
If you are new to the Blog, why not catch up on some of our latest posts to see the best of this years Craftmanship and Design!