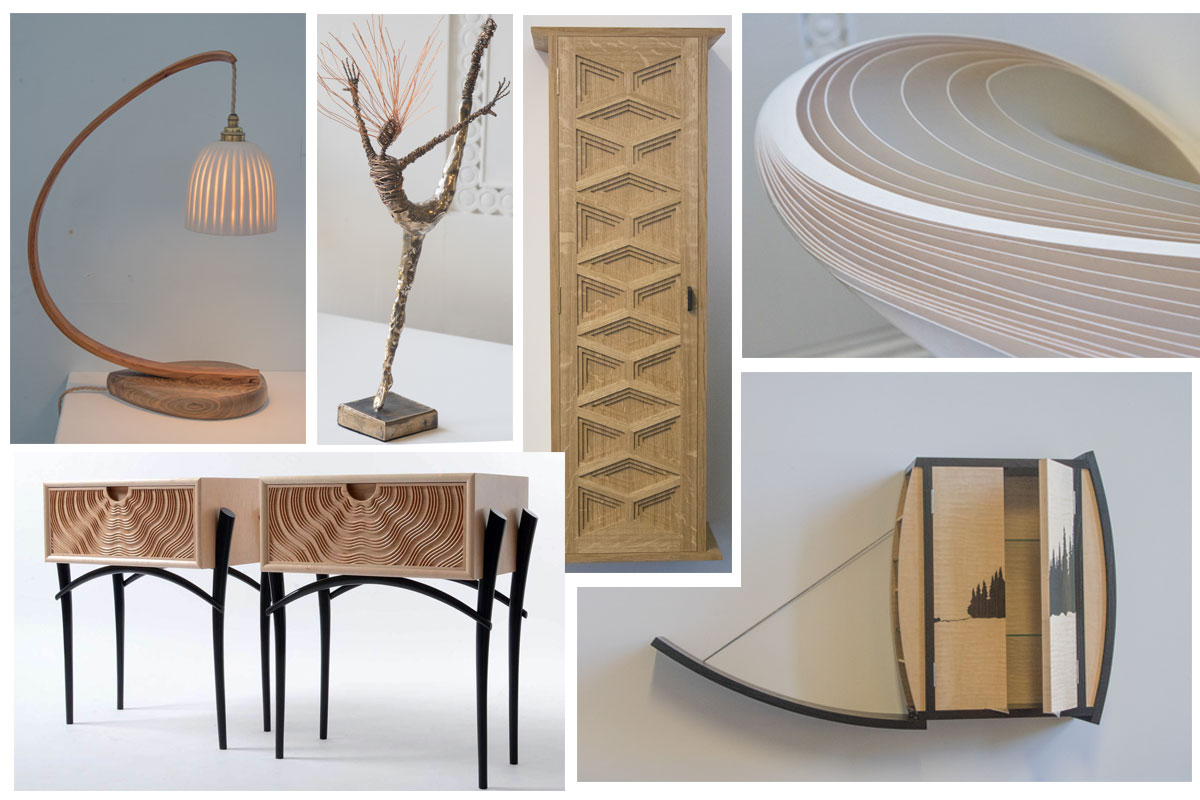 2019 – Celebration of Craftsmanship & Design
Celebration of Craftsmanship & Design takes place each year in Thirlestaine Long Gallery at Cheltenham.  It brings together a wonderful collection of craftsmen, with a strong focus on Furniture Design. 
Handcrafted furniture is always a passion of mine and I love to visit this show.  To me, it's like stepping into an art gallery.  I don't need to be able to take the work home with me, to be able to appreciate its beauty and craftsmanship.  It's so rare that you get to see so many of the countries most talented furniture designers, all in one place.  It's great to see the new trends in contemporary furniture making and how traditional crafts are still being used to create some stunning contemporary designs.
This year the Event Director, Jason Heap has invited schools and colleges to exhibit work from some of their best students.  With Rowden Atelier School, Rycotewood Furniture School , Waters and Acland Furniture School, Peter Sefton Furniture School and Williams and Cleal Furniture School taking part.  This has injected a fresh new perspective into the show.  However, with a lot of the exhibits, it is hard to tell the students work from the more experienced craftsmen.  But, there was undoubtably a young, fun, novelty element to the show this year.
Every year I try to spot a trend with the designs, and this year carved, textured, geometric patterns seemed to stand out for me.  Oak predominated most of these designs.  With the beautiful tones of the wood creating beautiful shadows and reflecting highlights.  There were some stunning designs.  
One such design that caught my attention being Matthew Burt's 'Four Pebbles pool' cabinet.  Jason Heap was on hand to show me the detail inside.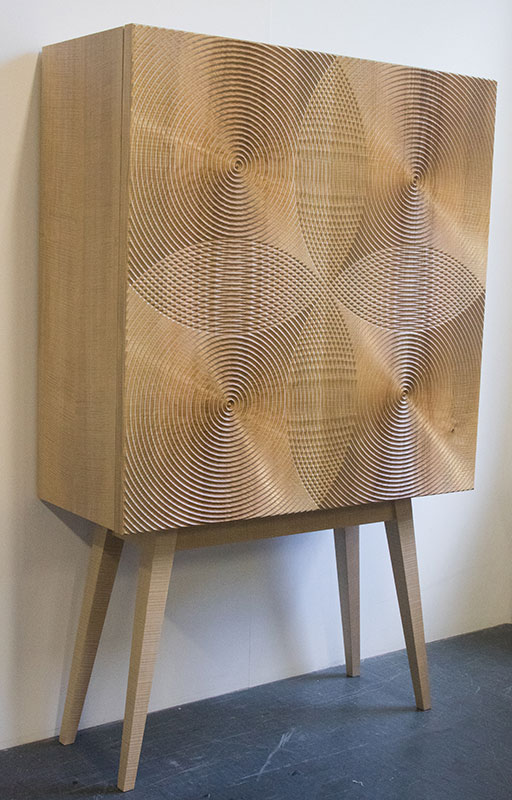 Matthew Burt –  'Four Pebbles pool' cabinet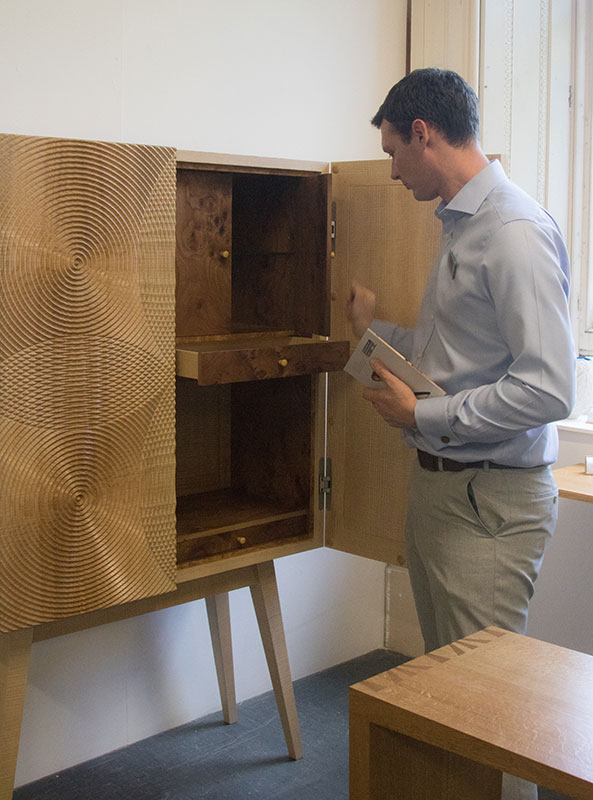 Nick James also had on show his drinks cabinet and sideboard with textured doors and beautifully finished interiors.  With handcrafted furniture, the insides of the cabinets warrant as much attention to detail as their exterior. 
With both of Nick's show pieces being sold before the end of the exhibition, this is obviously a popular design.  
Nick James – Drinks Cabinet – Video courtesy of Nick James 
Ian Creswell's 'Sum' wall cabinet, also caught my eye.  One of the smaller items on display – he describes it as 'a cabinet for gathering things'.  

Fernanda Nunez produced these bedside table inspired by a Guilloche pattern.  A student at The Waters & Acland Furniture School - she was awarded The Furniture Makers Company Design Award.  Well done Fernanda - they do look amazing!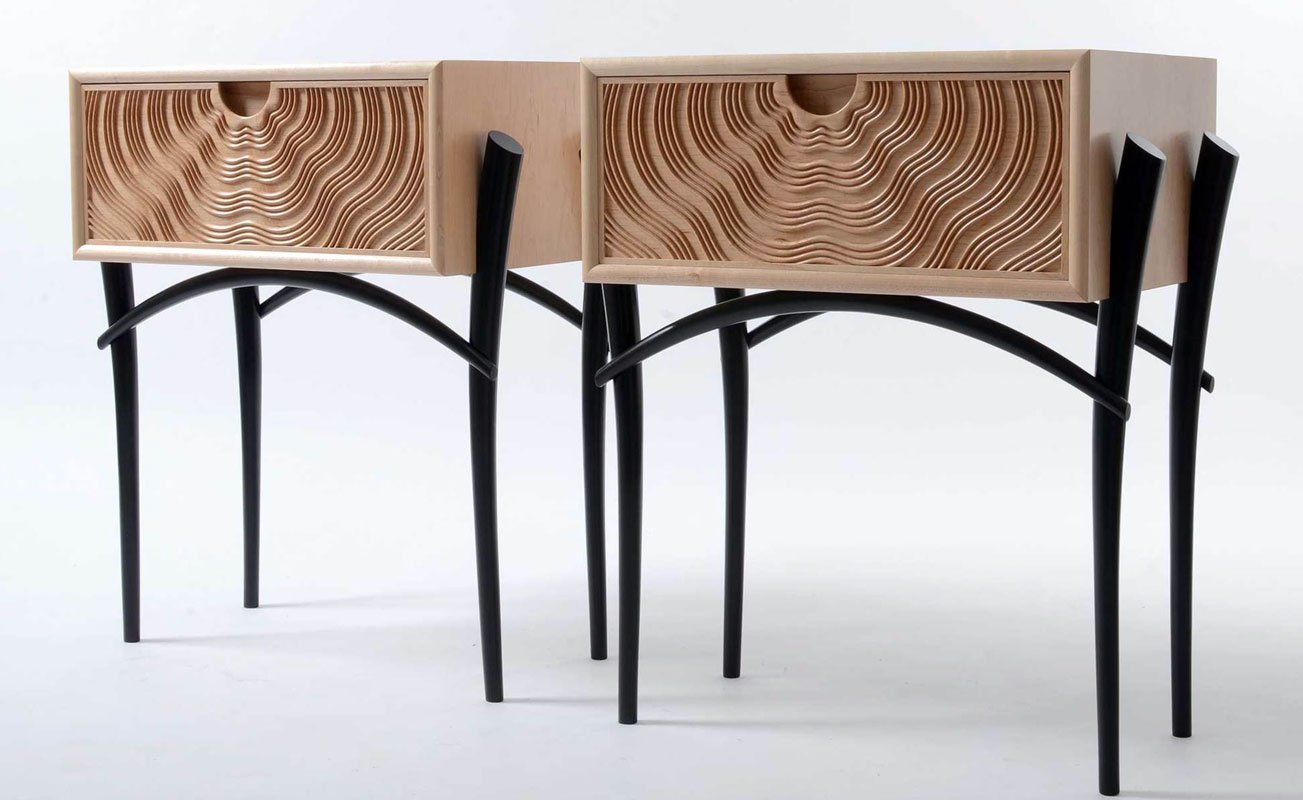 Fernanda Nunez - 'Guilloche' Bedside Tables
Patterns with Peppercorns
Laurent Peacock is constantly exploring ways of using materials in unconventional or unfamiliar ways.  This year Laurent was showing his 'Piper' range featuring a unique peppercorn surface.  However, this award-winning contemporary designer is not stopping at peppercorns.  He is now developing surfaces with mung beans and Himalayan rock salt.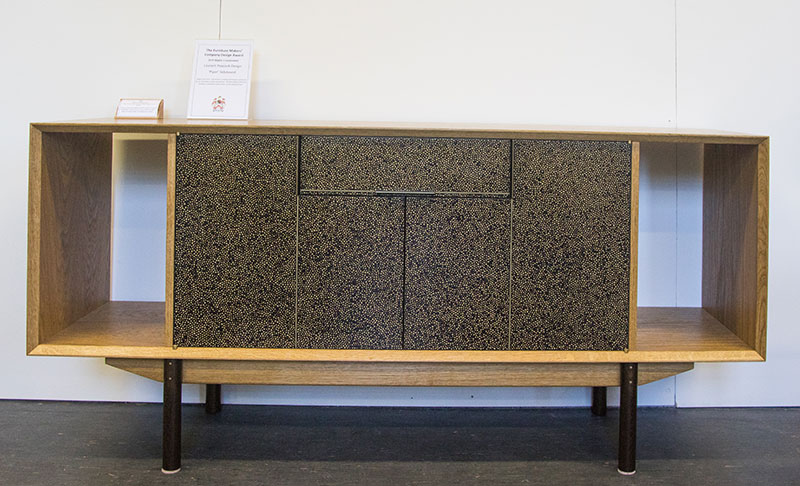 Is it Furniture or is it Art?
One of my favourite pieces from the show is this beautiful 'Ethereal' Console table from Marc Fish.  After years of mastering skills used for centuries, Marc now creates his designs with new experimental materials.  Creating fluid sculptural pieces, inspired by the curvilinear forms of Art Nouveau.  The Ethereal series uses a unique material that allows light to travel through a solid surface.  It's not suprising that Marc has been awarded several Guild Marks from the Worshipful Company of Furniture Makers.  He is also a designer that features in our review of Collect 2019.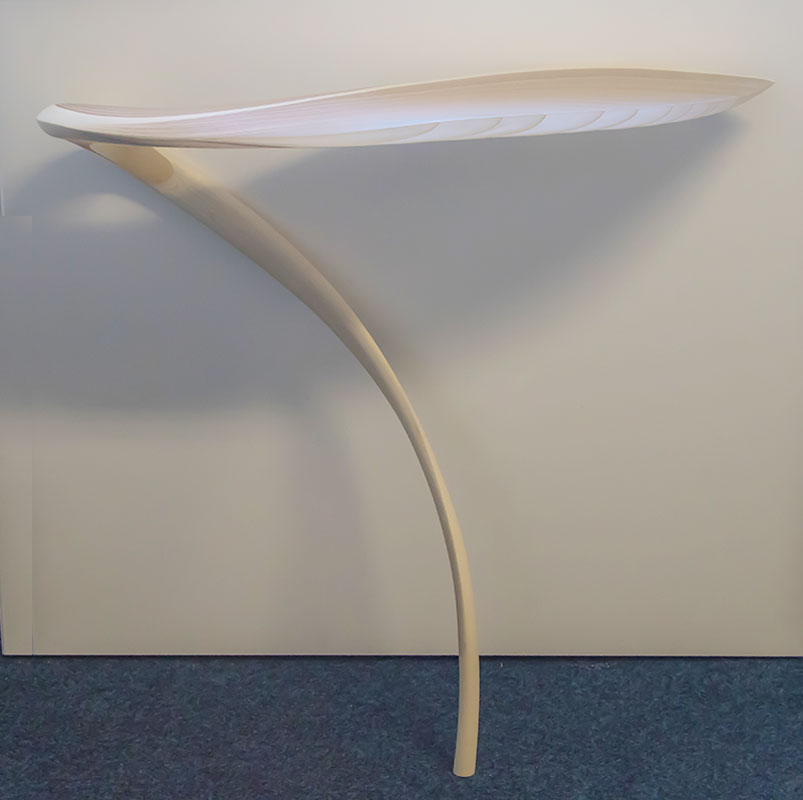 Marc Fish - 'Ethereal' Console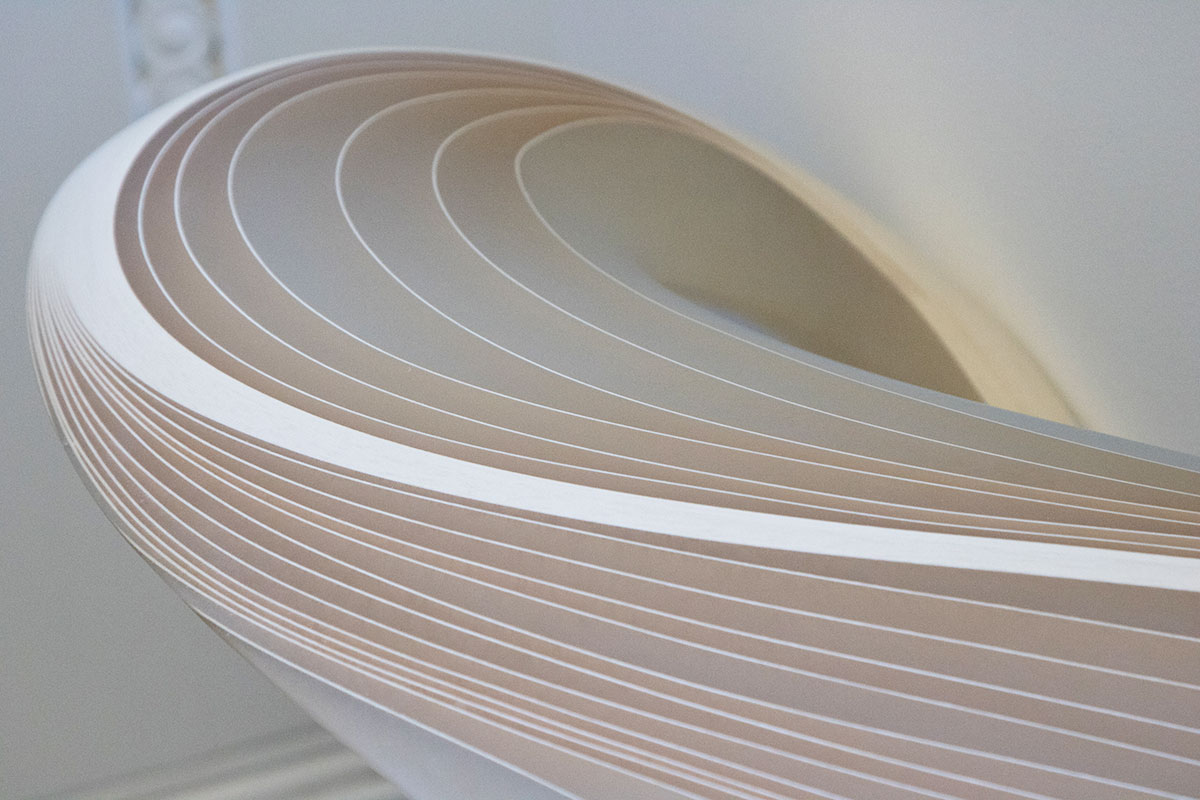 Bringing the Out-doors In

 
A fun design from Nick James is his 'Terrarium Table' in European Oak - part garden - part coffee table.  What more could you want?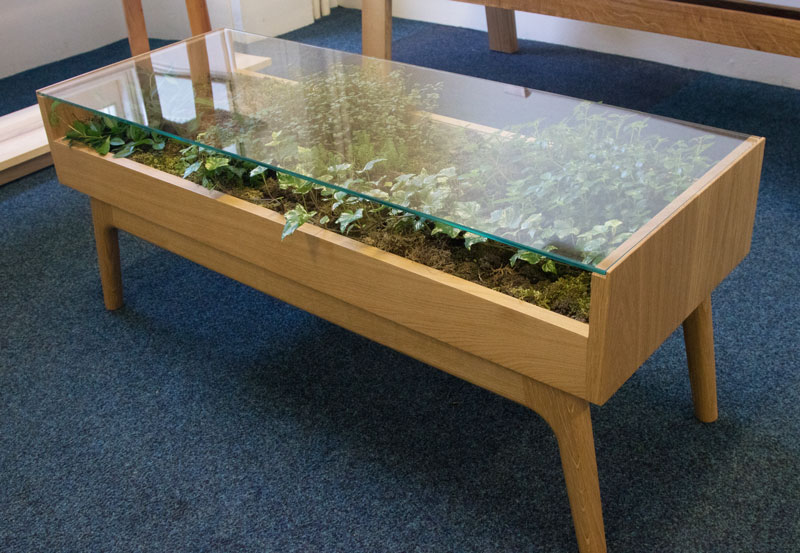 Nick James - Terrarium Table
Beautiful designs from Hannah Dowling.  Taking inspiration from nature, Hannah hand-cuts leaf details , which gracefully meander across her designs. 
I loved the clever design of her 'Split leaf ' Oak  tables that  stand as one design - but can be split to use as two tables - very clever!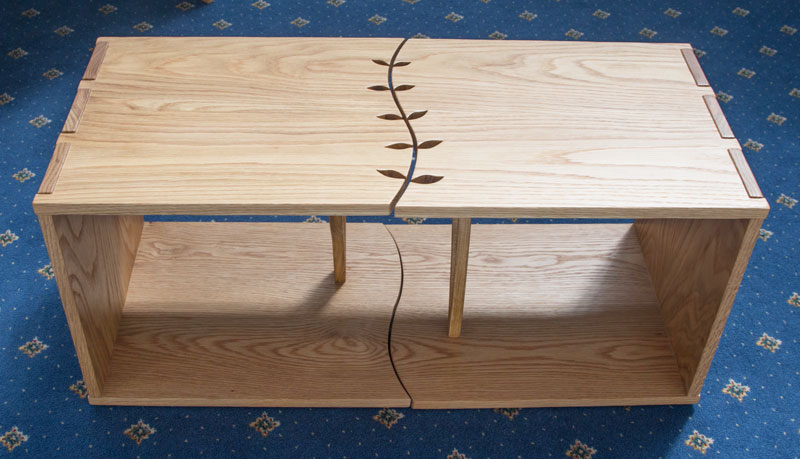 Hannah Dowling -  'Split Leaf'  coffee table 
Quite prevalent this year was a fine selection of Marquetry.  A piece that really caught my eye - 'Void' by Sam Carter.  Sam has a passion for Japaneese culture that is evident in most of his designs.  I was intrigued to see side panels opening and lowered to be suspended on chains. 
Sam Carter Furniture -  'void' 
Christine Meyer-Eaglestone is another master of Marquetry.  Although it would be hard to beat her amazing screen that was featured on our London Craft Week review.  In contrast, at the show, she was exhibiting a wonderfully subtle toned 'Spheres' sideboard.  Constructed in solid maple with hand cut marquetry in maple, black dyed Tulip veneer & Italian reconstructed veneers.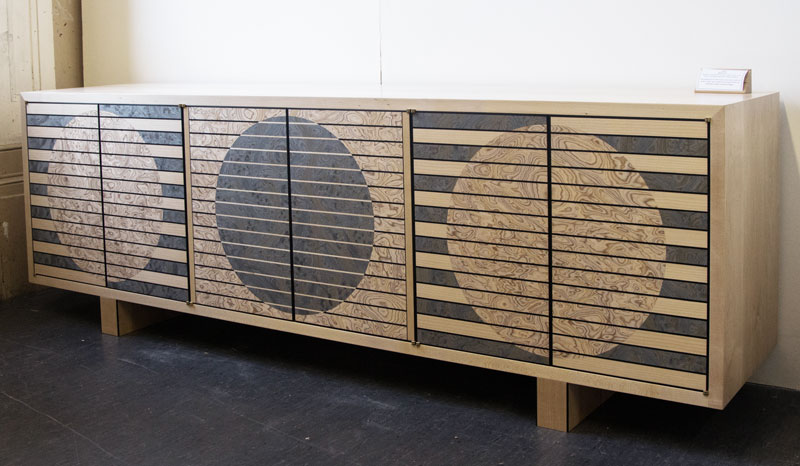 Christine Meyer-Eaglestone - 'Spheres'
You couldn't help to be transfixed, by optical illusions, created by the clever Marquetry of John and Louise Cropper.  
John & Louise Cropper - Illusion Cabinet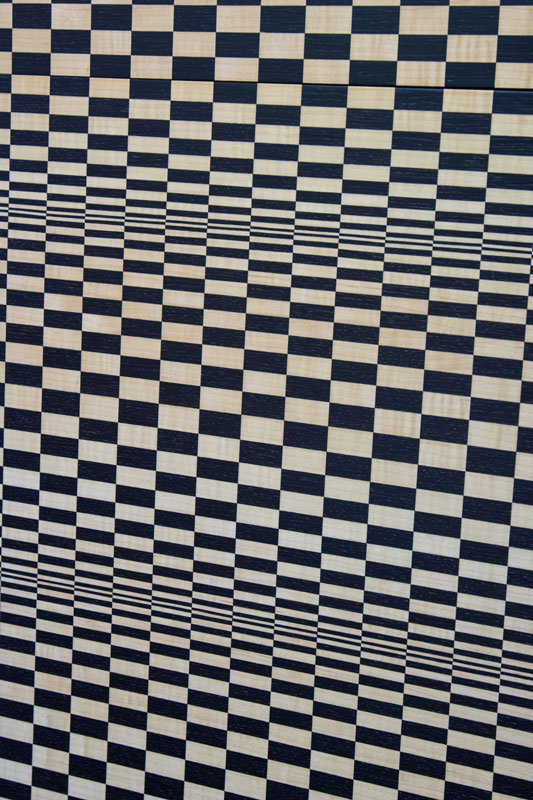 Clear Design
It's always great to see the designs of Gabriel Furniture.  They often have glass tops so it's hard get a good photo of them at this venue and do them justice.  However, I didn't want to miss featuring them this year.  So here we have 'The Whirlwind' coffee table in brown oak and glass - with its incredibly beautiful twisted sculptural base by Joshua Gabriel.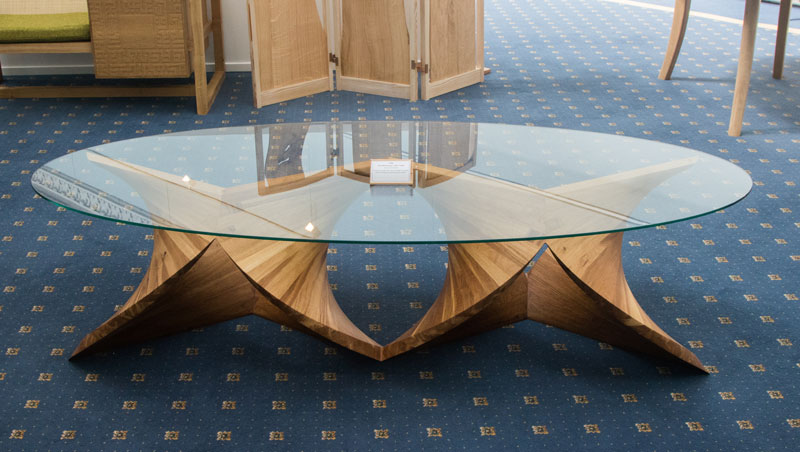 Gabriel Furniture - 'The Whirlwind' 
The Snail and the Whale
I must admit that if I could have taken anything home with me this year it would have been this lighting by Lomas Furniture.  Loving the title of this table light - 'Snail and the Whale'.  Based on a favourite bedtime story.  Its base is yew and walnut with an organic porcelain shade.  The wall hanging pendant is called 'Petite Noor' and is oak with a porcelain shade and would just look amazing on my wall.  
Lomas Furniture - The Snail & the Whale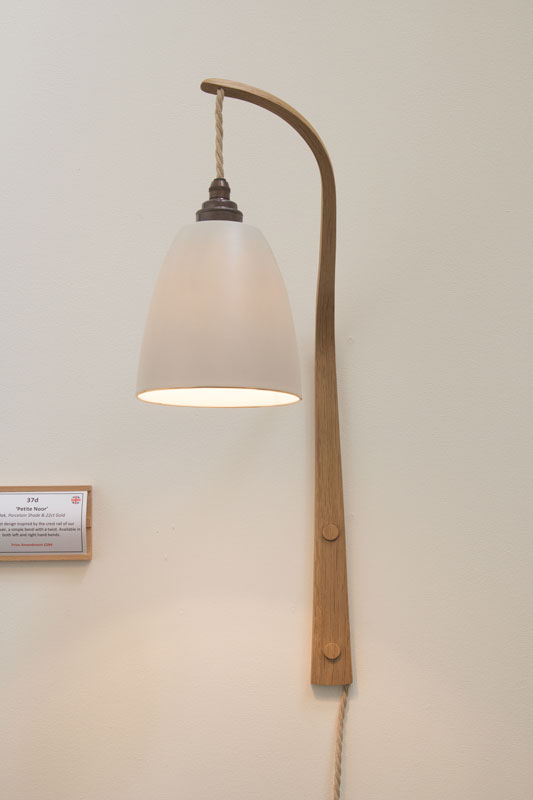 Lomas Furniture - 'Petite Noor'
Geometric lines
I had to admire the simple lines of this console by Norman Speller.  The 'Credenza'  is in Pommele  Sapele & Ash - Bleached and Lime waxed.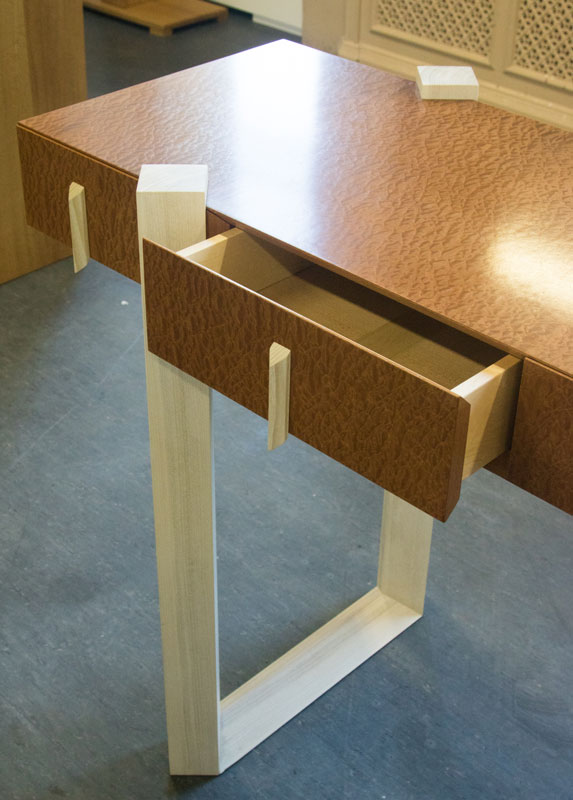 Making a Splash!
Looking like contemporary art - was this unusual piece by Toby Winteringham.  The 'Splash Cabinet' - in Fumed Oak, Oak & Cedar with direct staining onto the finished surface.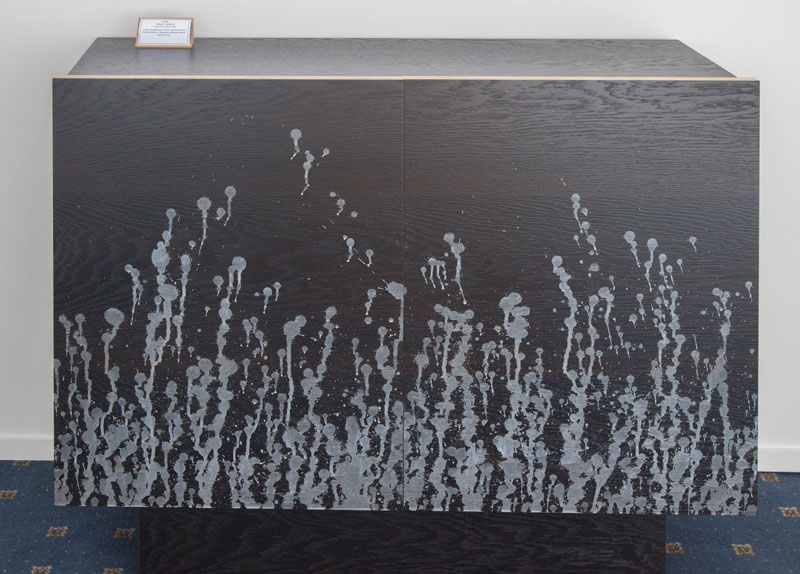 Toby Winteringham - 'Splash'
Looking in the Mirror
'Squaring the circle'  by Melando Wood and Glass.  Colourful stained glass and Oak.  Also a mirrored cutout decorated their  'Elsa Folding Screen.  A creative design inspired by Italian fashion designer Elsa Schiaparelli.  Made from Maple. Stained glass, Mirror, Copper and Valchromat.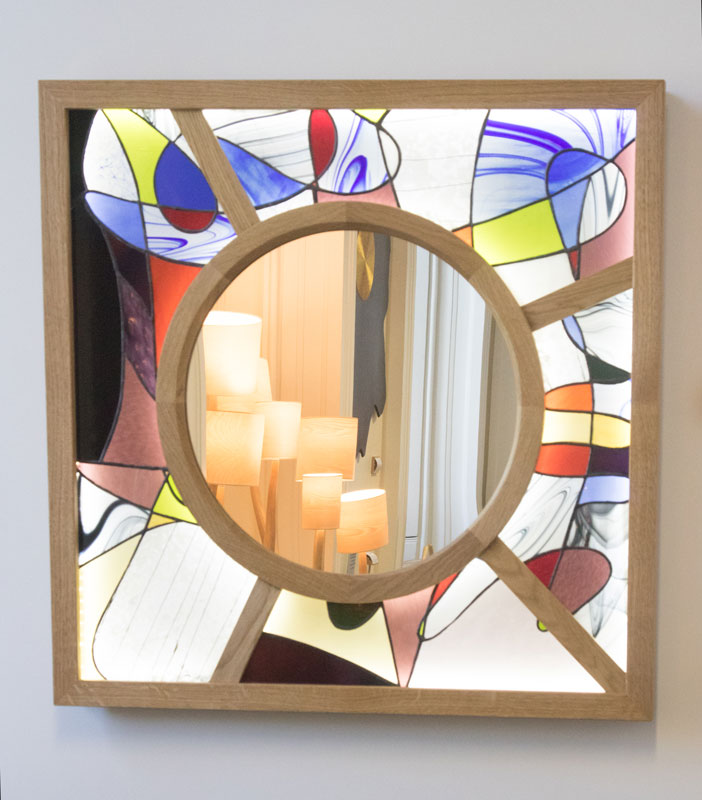 Melando  - Wood & Glass - 'Squaring the Circle'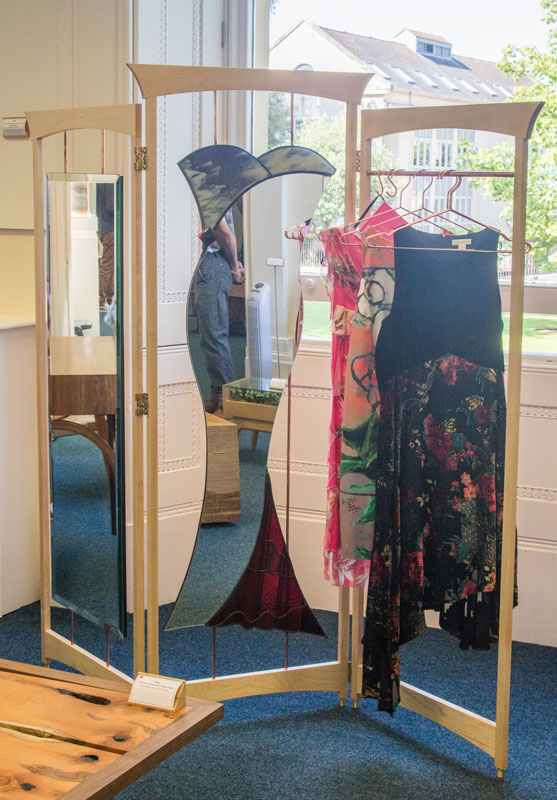 Melando  - Wood & Glass - 'Elsa' folding screen
Rachel Ducker creates her wire sculptures to capture the human form.  She creates in Bronze and wire to make unique, sculptured, wire figures.  Expressing the emotional dynamics of human nature, energy and movement.  I must admit, on such a beautifully sunny summers day, I could relate to the emotional dynamics of the lady on the right.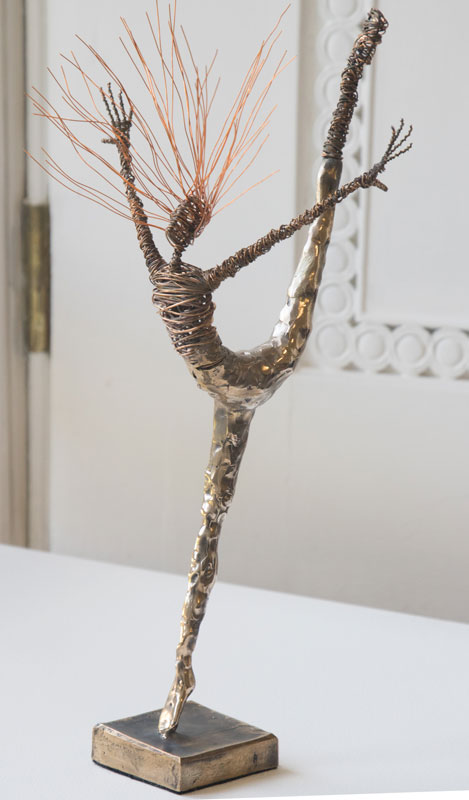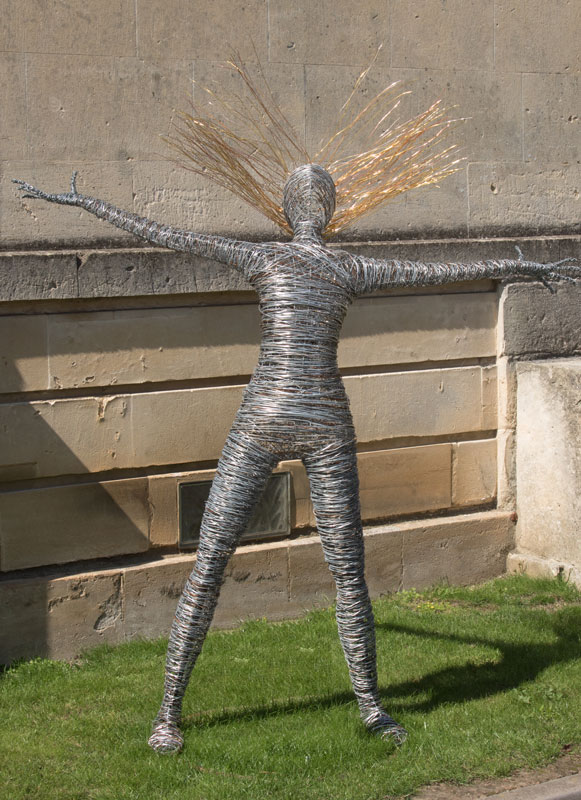 Sculpture
It always makes me smile to see the unique, figurative sculptures of Simon Conolly.  A great contrast to some of the finely detailed furniture - they always add an interesting and humorous element to the show.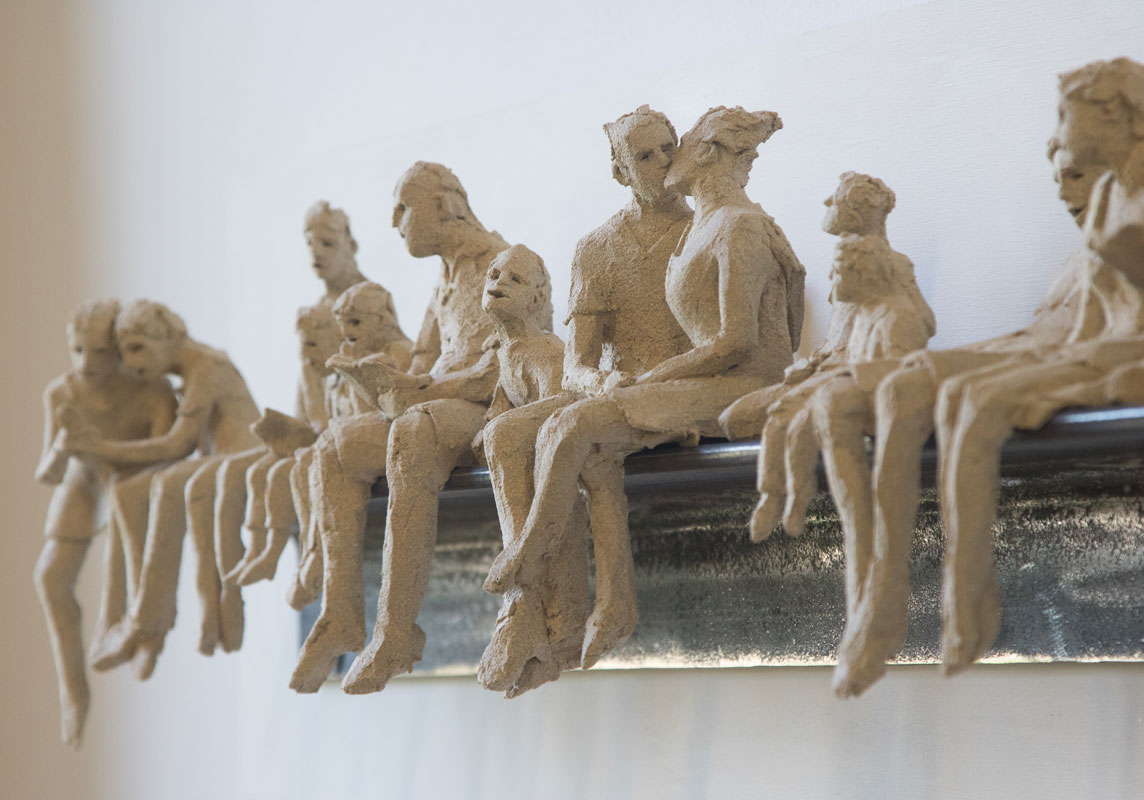 Thinking out of the Box
Exhibition Director Jason Heap was excited about the inclusion of the students work this year at Celebration of Craftsmanship & Design.  He demonstrated opening the 'Scotch Box Bar' for me.  A design inspired by the architecture of London's Barbican.  Produced by a talented Waters & Acland furniture School student,  Ben Butler.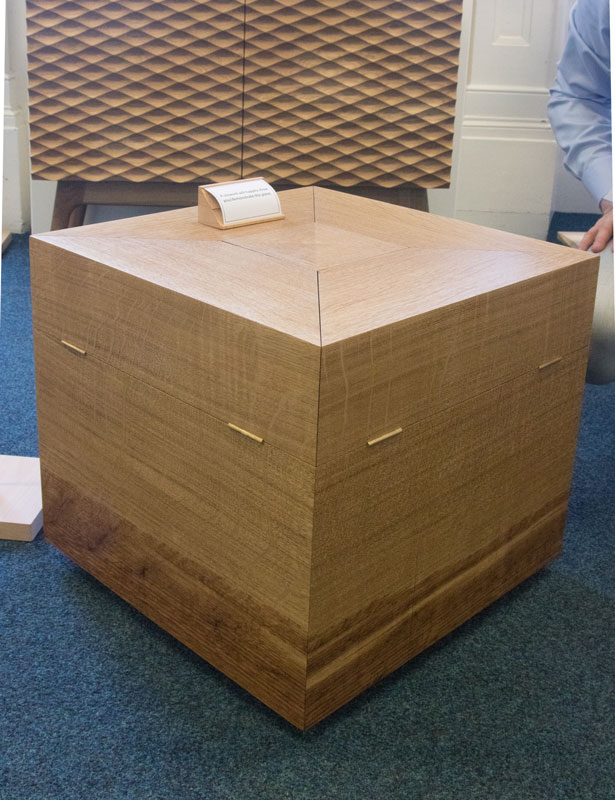 Ben Butler - 'Scoth Bar Box'
Out of this world
A young furniture designer whose design just makes you smile is Sophie Moraveg.  Sophie produced her 'Rocket' design whist studying at Williams & Cleal Furniture School.  It's created in rippled American black walnut and bronze spray.  She states 'it's made for children and designed for adults'.  So where is Rocket Man, Elton John?   I did tag him in a tweet - as this would just be perfect for Zachary & Elijah!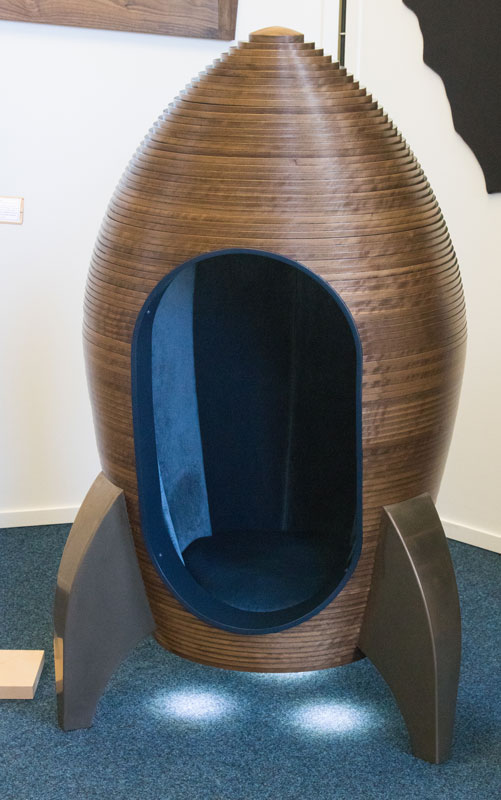 Sophie Moraveg - 'Rocket'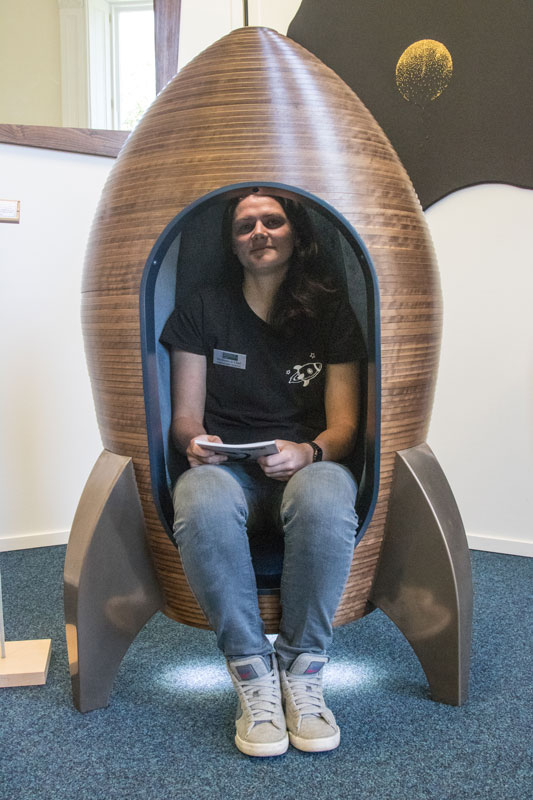 I hope you have enjoyed our highlights of our Celebration of Craftsmanship & Design review.  There was just so much beautiful Craftsmanship to see and so many photos to take.  As ever, I am sorry not to be able to include all the amazing work on show and apologise to the other great designers I have missed.
In conclusion, this really is a great show for people that love beautifully crafted furniture and great design.  For news on the show and dates for next year visit the Celebration of Craftsmanship & Design website at www.celebrationofcraftsmanship.com .
Next week we take a look at the amazing glass at 'The Festival of Glass' at Stourbridge.  Why not sign up to our newsletter, so you don't miss a post!