Butterfly prints hit the wall !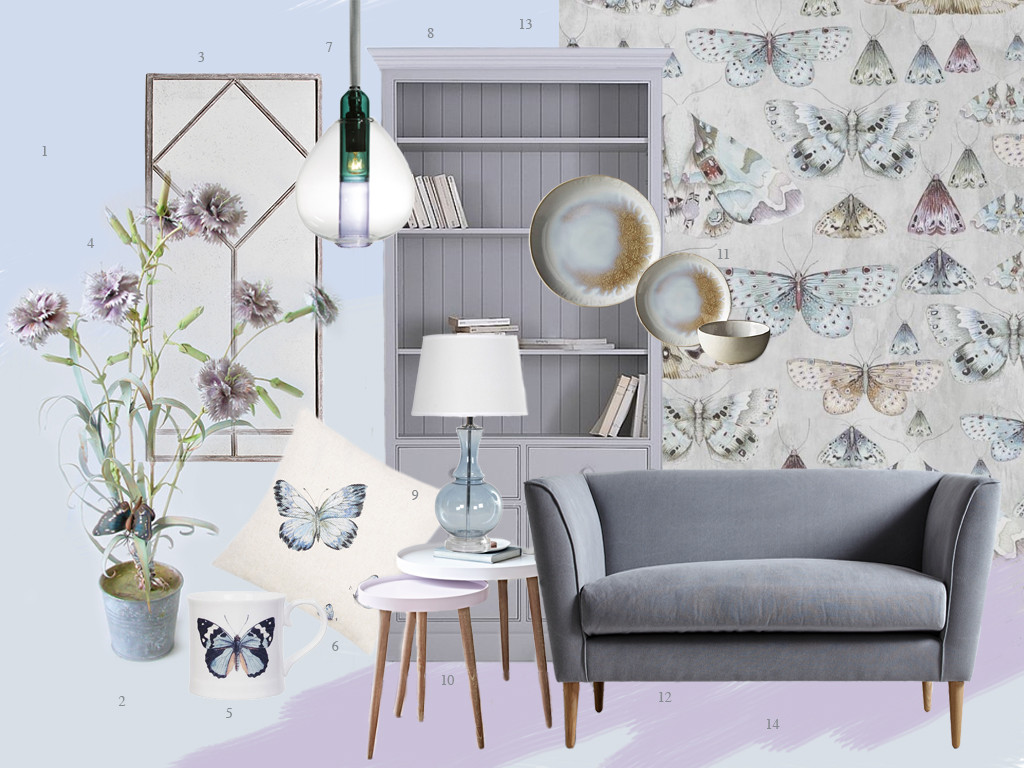 I just love this Butterfly print from Designers Guild and feeling totally spring-like at the moment it seems the perfect time to use it to create a moodboard.
With the furniture on this moodboad I have opted for pale shades of grey with the Timsbury Cotton weave sofa from Cox and Cox and painted book case from Angel and Boho .  Both of these would work well in a contemporary or period style room.  This Airadee antiqued glass mirror was a great find at Oka and the pretty blue glass table lamp is from the lighting range at Sweetpea and Willow  . 
My Artist for this theme is a sculptor featured last year in  'House and Garden'.  Carmen Almon is an American, living in Bordeaux. She makes beautiful hyper-real botanical sculptures.  Although they look quite delicate they are actually constructed from various metals. Copper and brass and are finished with layers of oil glaze over enamel.  I found this beautiful wild carnation sculpture on her website gallery.  As she exhibits her work at The Chinese Porcelain Company in New York and with other work being made to commission, her sculptures are usually only found in private collections.
My second featured Craftsman, Sarah Colson, I met at the the London Craft Festival.  I was captivated by her hand- blown glass pendants.  The light I have featured is called Collect Vitro Lux and I just love this teal and violet combination. Being so beautifully designed they are really a statement piece and a unique addition to any room. Sarah's lighting can be found on her website and items are all made to order.
If you like the idea of butterflies – but are not totally into covering your walls with them there are some great prints around .  I found a good selection at Cox and Cox with different options for framing – sets are shown below – but there are also unframed butterfly prints available .