Putting Lighting under the Spotlight at  The London Design Festival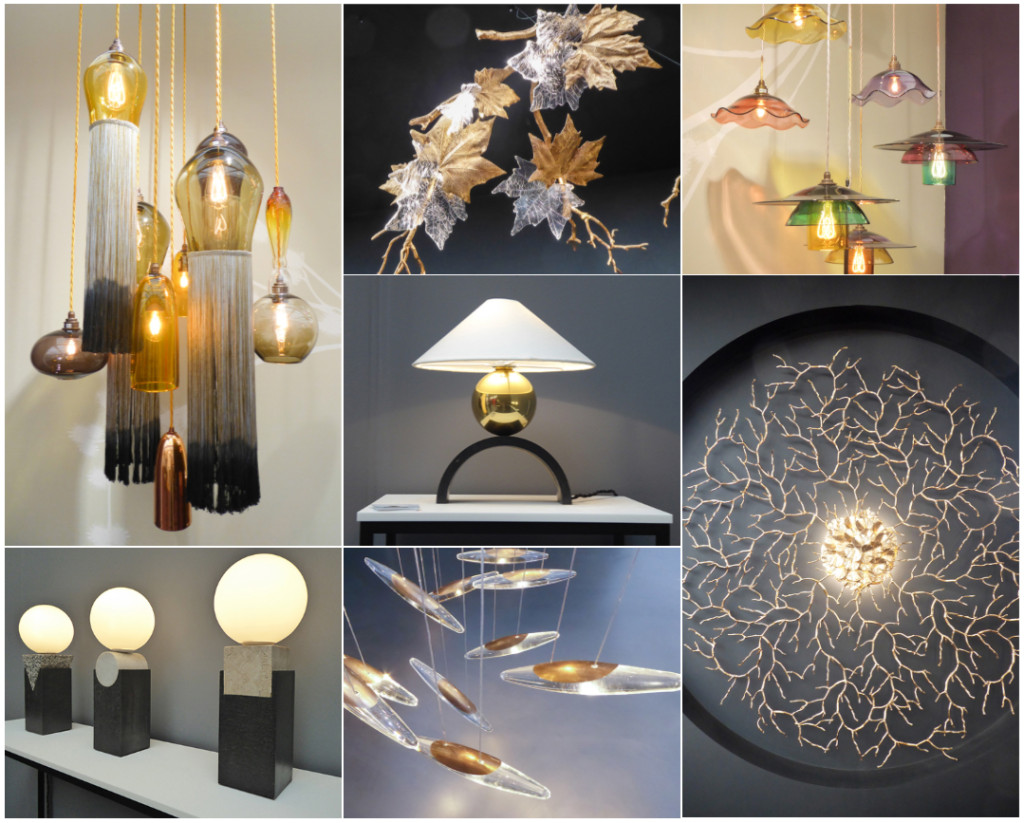 What an exciting week for Interior Design – The London Design Festival.  So many shows and so much to see. The lighting alone was so spectacular – something that I have a real passion for, so I am excited to show you some of the inspiring designs that I discovered there.
I love the diversity and creativity of the lighting this year.  From the exquisite organic creations of Serip at Decorex in Syon Park, to shades made from folded paper and musical glass chandeliers at The Design Festival in Brick Lane. This years Festival was definitely a feast for the eyes.
Serip
The first designer I love to see is Serip from Portugal.  They produce one of the most dramatic and theatrical stands at Decorex.  Serip's design concept consists in nature-inspired organic shapes. Their designs are so exquisite that they appear as works of art.  Glass droplets suspend from branch like stems to form quite magical creations. Colourful metals and icy glass is sculpted into falling autumn leaves.
Ochre
Another favourite of mine at Decorex is Ochre.  Ochre have showrooms in London and New York and although they sell directly to  customers, they mainly work with Interior Designers and Architects.  As a stylist, I love the elegance, simplicity and discrete glamour of their designs. Their 'Moonlight Murmurations' chandeliers come in 64 and 20 drop versions. Although beautiful, these looked a bit too space-agey for me.  But I did admire the latest design they have in the pebble range.  I have previously featured this collection on our Ethereal Seascape moodboard, where it worked so well for an elegant coastal style.
Curiousa & Curiousa
The final lighting from Decorex is company Curiousa & Curiousa, based in Derbyshire. Esther Patterson launched the business in 2010 with her beautiful colourful hand-blown glass.   She now has a showroom in Islington and her bespoke creations can been seen hanging in Harvey Nichols, Jamie Oliver's, Empire Theatre Liverpool and London Hilton Bankside. Ester's designs are colourful and decorative – yet have a delicacy that makes them elegant. Earlier this year she was included on our Twilight Garden moodboard.  I love the dramatic styles with overly long tassels and would love to find a place for them in my home.
Louis Jobst
On to The London Design Festival in Brick Lane.  Here, you will always find some delights and surprises, as there is always a real eclectic mix of design. I was not disappointed when I spotted Louis Jobst on his stand.  This young designer trained as an Architect and this influence is evident in his designs.  His work bridges architecture and sculpture to create the style and form of his lighting.  I had previously seen Louis featured in Elle Deco (as he had received their Accessory Design Award) and agree he would have definitely got my vote.
Kate Colin
The Scottish Design & Craft pavilion was next on the lighting trail.  Inspired by mathematical forms and nature, Kate Colin produces origami style folded paper light-shades.  Made from 100% Fedrigoni recycled paper, each design is handmade in colours to the clients specifications.  Kate was very excited to tell me of her collaboration with Byron & Gomez where her shades are combined with their floor standing Lamp Base. When I tracked down Byron & Gomez on the top floor – I did  agree, they complimented each other very well.
Carrie Fertig
My second find in the Scottish pavilion was glass artist Carrie Fertig.  Carrie's beautiful chandeliers are even more amazing when you find out that they are also a musical instrument. Carrie demonstrated by gliding her hand through the glass shards.  Each shard produced a different tone and I was surprised not to see the shattering glass that you would expect.
When not exhibiting and making, Carrie performs unique performances with composer Alistair MacDonald and percussionist Stu Brown. In this unusual collaboration Carrie Fertig makes instruments using a process of flameworking with fire. Together with pre-made instruments these are played by her and the musicians, combined with electronic and digitally manipulated sound. The audience has the chance to handle and play the instruments after each peformance.
So there you have just a small selection of the diverse lighting designs from The London Design Festival.  So many great designs and I would love to have shown them all.  I regret that I have missed seeing a few . None more so, than the mushroom mycelium lighting, designed by Sebastien Cox and Ninela Ivanova at the Design Frontiers exhibition, Somerset House. From the photographs I have seen – it's possibly not one for me.  Very organic and rusitc.  But fascinating to see a suede like material produced from a fungus – what will designers think of next ??